吸烟会给家庭造成很沉重的经济负担。吸烟本身要花钱。而且如果因此患了慢性疾病,如结核、肺气肿、肺癌、胃癌、肝癌、胰腺癌、中风和冠心病等,那么治病还得没完没了地花钱。
用毅力戒烟 (Quit Smoking with Willpower)
by Pocket Pixels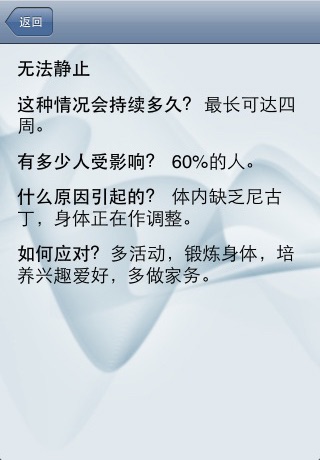 What is it about?
吸烟会给家庭造成很沉重的经济负担。吸烟本身要花钱。而且如果因此患了慢性疾病,如结核、肺气肿、肺癌、胃癌、肝癌、胰腺癌、中风和冠心病等,那么治病还得没完没了地花钱。
App Store Description
吸烟会给家庭造成很沉重的经济负担。吸烟本身要花钱。而且如果因此患了慢性疾病,如结核、肺气肿、肺癌、胃癌、肝癌、胰腺癌、中风和冠心病等,那么治病还得没完没了地花钱。

吸烟不仅仅会影响吸烟者自身的健康,还会影响其家人。在中国每年有十万人死于因被动吸烟(吸入二手烟)而导致的疾病。

"用毅力戒烟"包括两种很流行的方法来帮助您戒烟:

• 减少吸烟量:每天都规定好一系列的"吸烟时间"。逐渐地延长"吸烟时间"的间歇期,直到您完全停止吸烟为止。其道理是您吸入的尼古丁越少,您对它的依赖就越弱,这样就越容易戒掉香烟。

• 冷火鸡法或干戒法:提供一些窍门帮助您戒烟尽可能成功。

戒烟本身就够困难的了,但是要做到永不再吸烟更是非常大的挑战。最初几天,吸烟者最容易复吸。因为这几天是尼古丁戒断反应最强烈的时候。"用毅力戒烟"通过认清戒断反应的症状,提供可行的解决办法来控制症状,以帮助您对付这些反应。

甚至在戒断反应减轻以后还会有许多人复吸,特别是在戒烟的头两年。"用毅力戒烟"包括以下一些工具以帮助您不再抽烟:

• 戒烟后的好处:记录戒烟以来您节省的时间和金钱,并估计您健康状况的改善。

• 关于抽烟的一些误解:澄清关于抽烟的某些最常见的错误概念。

寻求帮助请发电子邮件至: [email protected]

Smoking cigarettes can place a heavy financial burden on the family. There is the cost of the cigarettes themselves. And in the event of contracting a chronic smoking-related disease such as tuberculosis, emphysema, lung cancer, stomach cancer, liver cancer, pancreatic cancer, stroke and coronary heart disease, there is the cost of ongoing treatment.

Smoking cigarettes not only affects the health of the smoker but also that of the family. Illness arising from passive smoking, the inhalation of second-hand smoke, kills 100,000 people in China annually.

'Quit Smoking with Willpower' includes two popular methods to help you quit smoking:

- Scheduled reduction or tapering: creates a series of 'smoking appointments' for each day. The time between these appointments is gradually lengthened until you stop smoking completely. The idea is that the fewer cigarettes you smoke, the less your nicotine addiction and the easier it will be to quit.

- Cold turkey or abrupt: provides tips to help maximise your chances of quitting.

Quitting smoking is difficult enough but staying smoke free for good is also a huge challenge. Smokers are most likely to relapse in the first few days because this is when nicotine withdrawal effects are at their strongest. Quit Smoking with Willpower helps you cope with these effects by identifying their symptoms and offering practical solutions for managing them.

Even after the withdrawal effects have abated may people relapse, particularly within the first two years of quitting. Quit Smoking with Willpower includes the following motivational tools to help you remain smoke free:

- Benefits since quitting: records the time and money you have saved as well as estimating your health improvements since quitting.

- Myths about smoking: addresses some of the most common misconceptions about smoking.

For support send an email to: [email protected]
Disclaimer:
AppAdvice does not own this application and only provides images and links contained in the iTunes Search API, to help our users find the best apps to download. If you are the developer of this app and would like your information removed, please send a request to
[email protected]
and your information will be removed.