学儿歌是儿童学习英语的最佳、最有效的方法之一。《英语儿歌》视频版通过儿歌形式提高儿童英文听、读水平,是父母、老师、以及孩子学习、播放英语儿歌的好帮手。
英语儿歌-动画视频300首
by 上海华烽电子商务有限公司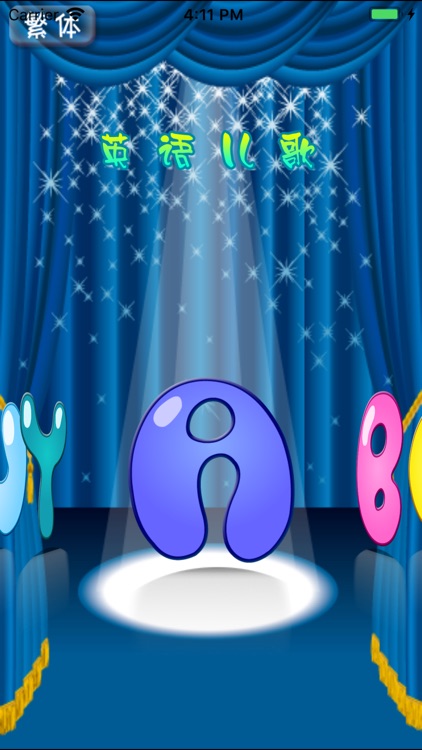 What is it about?
学儿歌是儿童学习英语的最佳、最有效的方法之一。《英语儿歌》视频版通过儿歌形式提高儿童英文听、读水平,是父母、老师、以及孩子学习、播放英语儿歌的好帮手。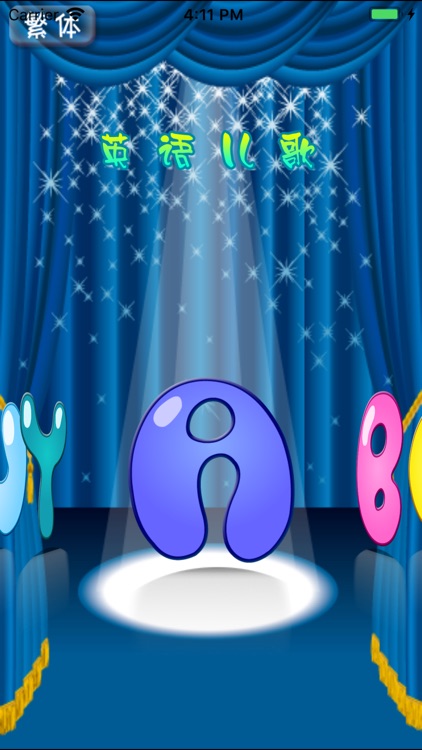 App Store Description
学儿歌是儿童学习英语的最佳、最有效的方法之一。《英语儿歌》视频版通过儿歌形式提高儿童英文听、读水平,是父母、老师、以及孩子学习、播放英语儿歌的好帮手。

产品界面清新、绚丽多彩。精选325首英文儿歌视频,让音乐帮助孩子打破语言障碍,帮助孩子掌握英语;同时配有文本字幕,方便小朋友跟着唱。产品有助于提高儿童的英语口语表达能力,激发孩子的学习热情,培养孩子的良好习惯。

《英语儿歌》视频版产品,具体包含以下英文儿歌。

1.A B C D
2.A Big Wind Blows
3.A Hunting We Will Go
4.A Ram Sam Sam
5.ABC Song
6.Alibaba's Farm
7.All about Me
8.All the Pretty Little Horses
9.All through the Night
10.Alphabet Song
11.An Apple a Day
12.Angels Watching Over Me
13.Animals on The Bus
14.Apple Tree
15.Are You Sleeping?
16.As I was Walking
17.As Light As A Feather
18.A-TisketA-Tasket
19.Autumn Leaves Are A-Falling
20.Autumn Leaves
21.Autumn Lullaby
22.Birdie's Cradle
23.Bingo
24.Billy Boy
25.Big Little
26.BeanbagBeanbag
27.Baa Baa Black Sheep
28.Black-eyed Susan
29.Catch a Falling Star
30.Clap Clap Bow
31.Clap Your Hands 1
32.Clap Your Hands 2
33.Clementine
34.Colors
35.Colors Song 1
36.Colors Song 2
37.Come on and Join into the Game
38.Cradle Song
39.Cuckoo Clock
40.Come and See My Family
41.Count the Apples
42.Davy Davy
43.Deck the Halls
44.Did You Ever See a Lassie
45.Ding Dong Bell
46.Do re mi
47.Do You Like
48.Down at the Station
49.Down by the Station
50.Day of A Week
51.Ennsy Weensy Spider
52.Fiddle-De-Dee
53.Fifteen Little Birds
54.Five Big Dump Trucks
55.Five Little Monkeys
56.Five Miles from Home
57.Fly the Butterfly
58.Follow Me
59.Follow Me ABC
60.For He's a Jolly Good Fellow
61.For My Valentine
62.Fruit I Like
63.Fruit Song
64.German Cradle Song
65.Gingerbread Man
66.Good Morning 1
67.Good Morning 2
68.Good Morning 3
69.Good Morning to You
70.Good Night to You All
71.Good Night 1
72.Good Night 2
73.Goodbye Little Fish
74.Grandma's Glasses
75.Greetings
76.Game Song
77.Goodbye Friend
78.Hands
79.Handy Spandy
80.Happy Birthday to You
81.Happy Birthday
82.Happy Wanderer
83.He Got the Whole World in His Hand
84.Head and Shoulders
85.Head Shoulder Knee & Toe
86.Hello 1
87.Hello 2
88.Hello 3
89.Hello Song
90.Here Comes the Train
91.Here I Come
92.Here We Come A-Caroling
93.Hey Diddle
94.HeyDiddleDiddle
95.HicketyPicketyMy Black Hen
96.HickoryDickory Dock
97.Hide and Seek
98.Home on the Range
99.How Are You
100.How is the Weather
等等

开发者信息

纳达书院(www.ndapk.com)是广大移动用户掌上有声阅读的良师益友,是作者、小编们实现个人数字出版的梦想乐园,是上海华烽电子商务有限公司倾情打造的移动应用市场,她面向智能手机用户和平板电脑用户,开发了音乐、诗词文、外语、早幼教、中小学、百科知识等一系列的经典移动应用。
Disclaimer:
AppAdvice does not own this application and only provides images and links contained in the iTunes Search API, to help our users find the best apps to download. If you are the developer of this app and would like your information removed, please send a request to
[email protected]
and your information will be removed.