Update As of 1.3.1

Bird Strike is the third app to get the OpenFeint Gold treatment which now allows for direct challenges of any of the modes in the game. You can challenge any of the levels in world tour or the endless mode. Also the online high scores are integrated into the app so you can see your score compared to your friends without opening open feint in app.
The update also provides four new levels in world tour which are more of an easy mode to get players into the game. Now there are 14 levels in total, and the update has also added new power-ups in game. There is a viking helmet which is a super football helmet as well as a super blast rocket to get you up quicker.
Bird Strike is even better, and now is easily the best casual endless game in the App Store, and one of the top games overall. For a mere $0.99 this is an absolute must with the updates that provide new quality features.
Update
Bird Strike's 1.2 update added endless mode which was really the only thing missing. Now you can launch gerald the bird endlessly similar to papi jump to go along with the unique level based launching included before. The game truly has everything now, and has dismissed most complaints you could have.
The endless mode is extremely enjoyable, and isn't just the same structure every time. It's now the best casual endless game in the App Store, if it wasn't before. Bird Strike is now a must buy.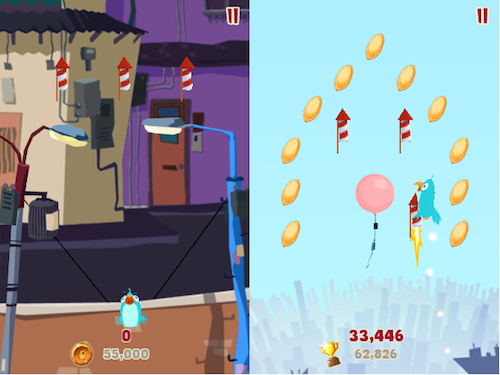 Overview
Bird Strike is a new game that shares a basic gameplay mechanic with Doodle Jump. The game is more like if you constantly get the rocket pack in doodle jump rather than the repetitive bouncing. The entire game is fast paced action as you blast upwards in multiple locations.


You play as Gerald the bird, and need to blast to a certain height where an alien ship zaps you, and then you hurtle back towards earth trying to smash as many things as possible on your way down. The game contains the launching upwards, and the falling downwards with completions to each level making it more than simply casual endless.
Features
Nine locations are included with three in the U.S., Asia, and Europe respectively. Each level is graded from bronze to gold, and if you get gold on all nine you unlock a secret level. Every level lets you collect rockets/fireworks to boost, corn to eat, and football helmets and umbrella to control your ascent.


Controls are straight forward with just tilt to control Gerald's ascent or descent. OpenFeint is included with online high score tables for each location, and 25 achievements. Every level is ranked from bronze to gold.
The Good
The best aspect about Bird Strike is it takes the endless jump mechanic, and improves on it. Now instead of endless monotony, there is a completion to each of the levels. Not only that, but after you skyrocket to the top, you then fall back down to earth with an entirely different objective.
Nine levels are included, each with different layouts and backgrounds which makes it more of a gaming experience rather than a little casual time waster. This is a time enjoyer as you blast from rocket to rocket trying to collect corn, and avoid all kinds of items including constructions beams, balloons, blimps, pollution clouds, and asteroids.


The entire game is just so much fun. The levels are split up into groups of rockets, and you need to use those to make it up to the next level. More often that not you'll hit something falling back down to the last bank of rockets, where you'll need to try it again. You have to be careful as there are at most five rockets, and if you don't make it up to the next group of rockets before you run out, you'll lose.
During your ascent you will need to pick up football helmets to blast through hazards, and even umbrellas to ease your temporary descent to collect corn. Once you reach the top, and the aliens zap you, then it's time to hit as many possible items on your descent which is always enjoyable.
The game is designed really well beginning with the nicely detailed backgrounds of each of the cityscapes. Then as Gerald fires upwards the rockets explode into fireworks. The sound effects in the game aren't the greatest, but get the job done from the launching sound to the blowing of wind as you move.


Gerald the bird is a great character who is packed with personality. It's great to see him attach to rockets as he launches upwards, and then occasionally see him with a football helmet or umbrella. Then seeing the little bird crash into huge items on the descent always brings a smile. On top of that he does little bird chirps when he blasts up, or hits something, and then also does a high pitched, "oh yeah."
If nine levels plus a secret unlockbale level wasn't enough for the small $1.99 OpenFeint is included too. Now you can compete online for the best score for each level, as well as get all of the achievements. Bird Strike has more replayability than many similar games.

The Bad
The only concern with Bird Strike is that like any game in this genre, you know what you're getting every time after the first attempt. It's just tilting the bird's ascent. Bird Srtike provides more variability than many similar games giving you levels, various backgrounds, and two gameplay mechanics in one.
After you complete the game it would be nice to have an endless level on top of the level structure.
The Verdict
Bird Strike rockets to the top of this genre, and is better than Doodle Jump. It gives you levels, two objectives, and varying backgrounds rather than just updates with different paint jobs. For a $1.99 Bird Strike is a should buy, and if you like these types of games, it's time to get to know Gerald the bird.