Today's Best Apps features the most promising releases from the last 24 hours. Thousands of apps get approved by Apple daily and we hand-select what we think are the new potential gems that we're considering for review each day.
Universal:
Spiders X by TopGame3 Inc. ($1.99, 20.1 MB): Collect all of the keys with your spiders in this puzzle game. You must draw a line for the spiders to walk on and collect the items. Collect all the items and go back into the web before the time runs out to complete a stage. The game features engaging levels and modes.
Square Planet by Majaka (Free, 42.6 MB): Roll and jump across the Square Planet and rescue your friends from the Evil Squares in this adventure game. Throughout the adventure you will be able to collect shiny rings and power-ups. You will also discover hidden parts of the Square Planet. Can you rescue all of the ball people from this planet?

Zombie Rollers by Chillingo Ltd ($0.99, 35.5 MB): The world has been infested by killer zombies and it is up to you to think fast and survive. As soon as you come in contact with a zombie you become one of them. You must run around the area and avoid them for as long as you can. There will be items in the environment that will allow you to fight the zombies. There are four mini games for you to compete in and 10 characters to choose from.
Sonic Jump™ by SEGA ($1.99, 97.7 MB): It is time to stop Dr. Eggman again with the heroic hedgehog, Sonic. In this game, you must jump up vertically and get to the end of the stage. You will have to jump carefully and collect the most gold coins. The game allows you to play as other characters like Tails and Knuckcles too. Each character has their own special abilities. The game features an endless arcade mode and boss battles.
Stupid Zombies 2 by GameResort LLC ($0.99, 31.0 MB): Stupid Zombies is back with all new levels. The game features 300 brand new stages for you to play. You can choose between a male or female character. The environment features all sorts of weapons and puzzles. There are tons of zombies to battle against.
Take It Easy by Ravensburger Digital GmbH ($1.99, 38.7 MB): Take It Easy is a challenging puzzle game for iOS. The objective of the game is to place colored pieces one at a time on the board. To score points, you must try to form continuous rows of the same color from edge to edge. One wrong move and the entire setup could become worthless. The game becomes a lot harder when you progress and begin to run out of free space.

Clumsy Cat by Dingo Games Inc. (Free, 29.7 MB): In this game you play as a clumsy cat. The owners of the house happen to leave you behind and it is up to you to make them regret it. Do as much damage to the house as you can, destroy every room including the bedroom, bathroom, dining room, kitchen, and the attic.

True Skate by True Axis ($1.99, 18.4 MB): True Skate promises to be the most realistic skating simulation game for iOS. The game offers realistic touch based physics. You can flick the board and it will react exactly how you would expect. You can drag your fingers on the ground to push. The game features a huge skate park with rails, stairs, and ledges.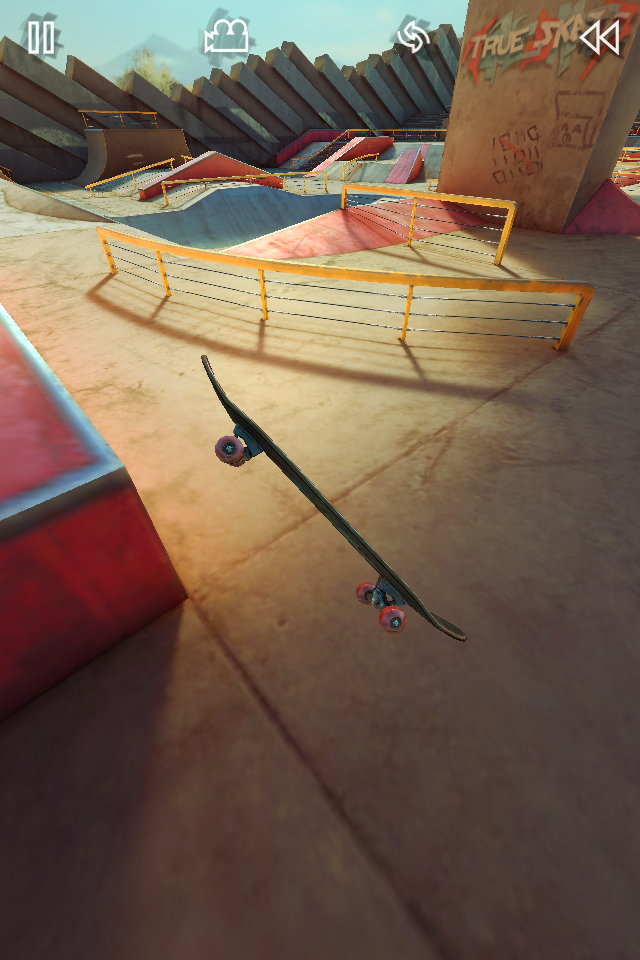 Wonder Zoo – Animal rescue ! by Gameloft (Free, 41.4 MB): In Wonder Zoo you must rescue animals from a poacher and welcome them into your zoo. You will have to head out on safari rescue missions to find and pick up endangered animals. In your zoo you breed animals and create new species as well. There are also several options that let you customize the zoo.
Mikey Shorts Halloween by BeaverTap Games, LLC (Free, 11.5 MB): The sequel to the Mikey Shorts game is back and it's free! The game features brand new levels with Halloween themed environments. You can choose from over 90 disguises to wear. The faster you finish a stage the greater your chances of gaining three stars. There is also a quick retry button so you can restart a level quickly.
Save Them All by Chillingo Ltd ($0.99, 16.0 MB): Save Them All is a side-scrolling running game. In this game, you must rescue as many innocents as you can before the time runs out. You will have to avoid missiles, and battle aliens and mutants. There is also a bullet time feature to slow down the environment.
iPhone:

A Wonderland Story by Josh Presseisen ($0.99, 37.2 MB): A Wonderland Story is a platformer for the iPhone where you control the white rabbit. It is up to you to get through Wonderland and avoid Alice at all costs. There are power-ups that you can use to aid you in each level. The game features both story and endless modes to keep you coming back for more. You can also compete on Game Center leaderboards.
Crazy Boss by Cybergate technology Ltd. (Free, 48.3 MB): The Crazy Boss is after you and you must escape from the office as soon as possible. In this game you control an employee who is sick of her boss. You must swipe left and right while she uses her chair to speed out of the office. You can also jump if you swipe up. Avoid the obstacles and get out of the office to complete the game.
SYMPHONICA by SQUARE ENIX (Free, 274.6 MB): Symphonica is a music game from Square Enix. It is based on a city which was founded by a conductor. You will play as a conductor who wants to pursue his dream of becoming the best, and what better way to do it than performing at the King Hall in the city's biggest event. You can try chapters zero to three for free and then purchase the rest. There are 20 full performances and 30 rehearsals to be played in this game.
iPad:
Finger Tied by Streaming Colour Studios ($0.99, 6.7 MB): Twist, stretch, turn, and tie your fingers to solve these challenging puzzles. In this game you must fill in a shape by moving up to four fingers on your iPad at the same time. However, as soon as you life a finger or go out of bounds, it's game over. You can play alone or have a friend lend you a hand. You may need to twist your fingers, body, or even your iPad to solve a puzzle.
That's it for today. Did we miss anything?