The App Store takes delivery of hundreds of new apps per day. The overwhelming scene makes it possible to easily overlook an exciting game, valuable productivity suite, etc. However, we have a solution. Today's Best Apps tackles this problem by providing you with a handpicked and tested list of apps that are truly worth your consideration each and everyday.
iPhone:
Huemore from Curious Satellite by curious satellite ($1.99, 8.2 MB): Somewhat of a one trick pony, this camera's forte is hue adjustment, which is the increase of a particular color. Similar to what many other photo editing apps do with filters and effects, Huemore's viewfinder provides a real-time preview when changing hue and other visual properties. Most controls are easily accessed via a top screen toolbar, including the simplicity of sliders for contrast, hue, and saturation modifications as well as a menu to save and recall up to four presets. In addition, the app supports tap to focus, four image ratios switched by performing a two finger pinch or expand gesture, four LED flash modes, and separate photo album organization.
Universal:
Super Stickman Golf 2 by Noodlecake Studios Inc ($0.99, 28.9 MB): The even more super stickman golf experience is finally here with new courses, characters, power-ups, and gameplay. Head out to the virtual courses all by yourself or directly challenge someone else in a multiplayer match. Along with the previously implemented real-time competition, which is appropriately called a race, there's a more realistic turn-based online play. The sequel features a mix of 2-D and 3-D graphics, upbeat retro arcade-style music, 20 dynamic courses, the three aforementioned play modes, and Game Center integration.
NightSky™ by Nicalis, Inc. ($2.99, 114.3 MB): Originally a Nintendo 3DS and Steam title, this physics-based platform-puzzler has an exciting mixture of peculiarity, difficulty, beauty, and diversity. After finding a fascinating sphere, your task is to navigate it through 11 different environments with many twists, turns, bumps, ramps, chasms, and much more to who knows what end. The silhouetted backdrops are strangely amazing and mysterious with a Dr. Seuss kind of vibe. While most of the play involves casually speed rolling across the rough terrain using swiping motions, other controls, such as Pinball bumpers and slow motion holds, occasionally emerge to keep things intriguing and challenging. The game also features an atmospheric soundtrack, auto-save checkpoints, three independent progress save slots, and Game Center integration.
Rock Bandits – Adventure Time by Cartoon Network ($1.99, 81.5 MB): Here's another humorous entry of the Adventure Time series that rocks. As the confident sword swinging Ice King, along with a little help from Finn, you agree to help save the kidnapped fans and manager of Marceline and the Scream Queens. The cruel act of jealously will not succeed as you smash, jump, slide, and slice your way to victory and greater heroism. The game features a story shared in comic book format, cartoon-style graphics, 20 levels, and Game Center integration.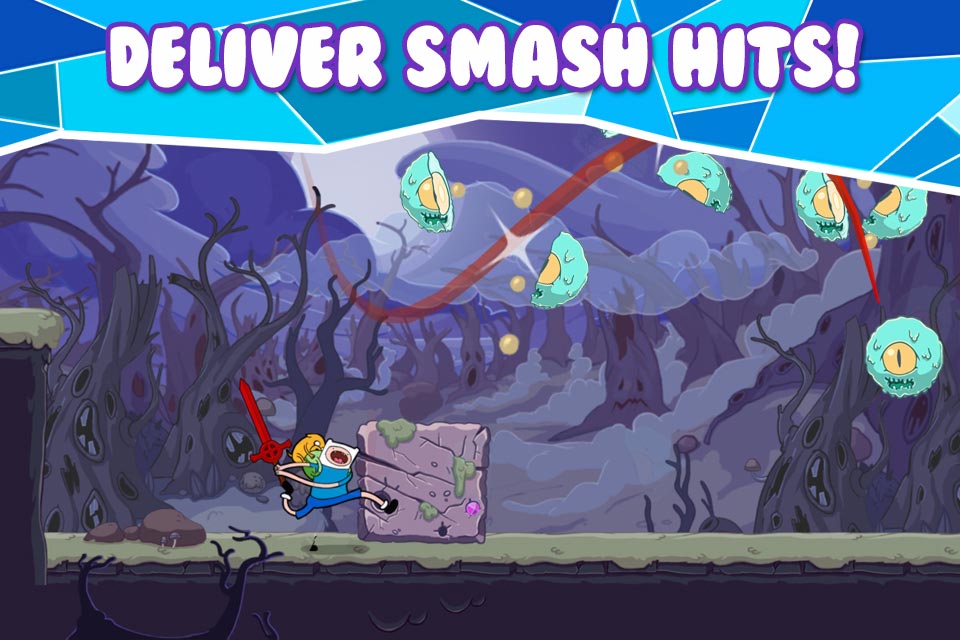 Le Vamp by High Voltage Software ($1.99, 46.3 MB): If it isn't enough that vampires must stay away from sunlight and feed their craving for blood, there's also a need to avoid angry mobs. Well, that's Le Vamp's unfortunate situation anyway, and you're going to help him avoid all of those dangers in this action-packed endless running game. While running from the furious townsfolk and trying to collect coins, trip juicy pigs to keep Le Vamp's energy up and clear a path by knocking down trees to create bridges and destroying problematic hazards, such as pumpkins. The game features simple touch and swipe control, cartoon-style 3-D graphics, whacky sounds and animations, power-ups, and Game Center integration.
Danger Boat by Pixelocity Software LLC (Free, 40.0 MB): Jump in the Danger Boat and prove those cat-like reflexes during an endless run of, well, danger on the high seas. Your mission is to collect coins, but it won't be easy as you face the unpredictable waves, icebergs, unforeseen rock beds, and even missiles and mines. However, you're not afraid of that, right? The game features top-down 3-D graphics, purchasable upgrades and more boats, tilt control, and Game Center leaderboards.
Rolling Hero by Chillingo Ltd ($0.99, 70.3 MB): This quirky physics-puzzler literally brings a challenging spin to the sub-genre. Instead of controlling the adorable character directly, you rotate the entire environment to send the rollable hero down the correct path. Ultimately, the objective is to reach Redman and save the girl, but there are other tasks to be completed along the way. To enter each portal, you need to obtain the key. Optionally, collecting flowers and the mysterious letters will be greatly influence the reward, including the possibility of more play time. The game features colorful 2.5-D graphics, 48 levels spanning four chapters, and Game Center integration.

PWN: Combat Hacking by 82 Inc. ($1.99, 38.5 MB): Satisfy those uber geeky cravings with this techno-themed puzzler. Assuming the digital life of one of eight fictitious super hackers, you'll compete through a tournament-style proving ground of strategic cyber attacks to achieve underground stardom. The attacks are a race to infiltrate networks using logical strategy and special character skills to capture all of the nodes. The game features single player campaign and quick match modes, online multiplayer mode, a 3-D graphics and user interface not unlike that seen in Swordfish, 70 network maps, and Game Center integration.
Ridiculous Fishing – A Tale of Redemption by Vlambeer ($2.99, 46.1 MB): This arcade game doesn't simulate your grandpa's fishing experience, unless he had anger management issues. Anyway, the point is, you won't get bored, or at least no where near as quickly. Sure, the idea is to catch the most fish, but not to eat. Instead, you'll be blasting them into slimy little pieces during a little target practice. The more fish you get, the more money earned, and better tools you'll buy for an even higher score. The game features pixelated graphics, bouncy retro arcade-style music and sounds, tilt and touch controls, plus Game Center leaderboards and achievements.
Heroes of Destiny by Glu Games Inc. (Free, 139.9 MB): Command a group of heroes, including a powerful knight and skillful archer, in this action-packed RPG. The journey to rid the land of the demonic beings will take you far across the land, requiring the help of other warriors along the way and use of magical powers to heal your team and defeat the immense creatures. The game features great 3-D graphics, automatically panned primarily top-down view, single finger control system, epic battle music, and Game Center integration.