With neat descriptions and handy rain alerts, this new app gives you a fresh way to see the weather.
Aerium - Weather Forecasts
by FOURBOX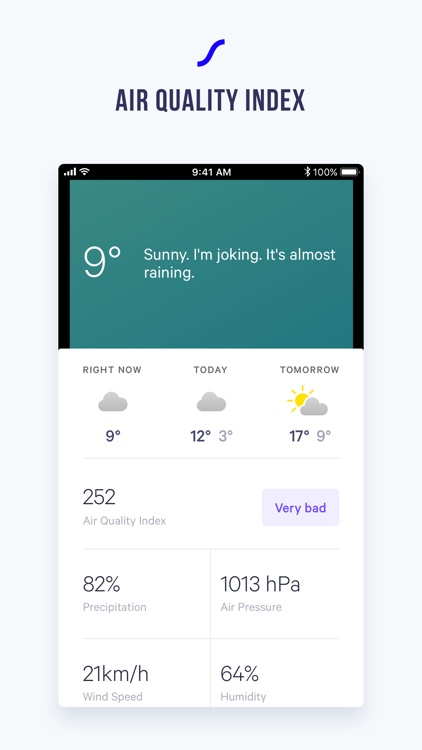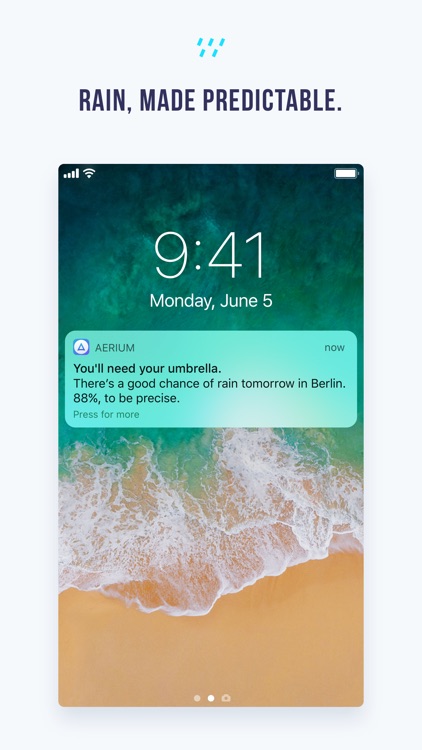 FREE

in the App Store
Aerium provides you a clear view of the current temperature along with a short description. Glance down to see the highs and lows for today and tomorrow. With no complicated settings, just select your weather type and enable rain alerts if you like.
What is it about?
For uncomplicated weather details, a super clean interface, and just the right amount of information you need to start your day comes Aerium. This simple weather app gives you a motherly or comical description of your current conditions and will notify you 24 hours in advance if rain is in your location's forecast.
For those who...
Like simple weather apps
Dislike weather apps with too many features
Not for those who...
Dislike simple weather apps
Prefer weather apps with extensive features like radar maps
Why we love it
Aerium gives you the basics you need for the current conditions, what tomorrow looks like, and the rain alerts are helpful for planning. The weather description adds a nice touch, whether it just makes you smile or giggle out loud.
Aerium is FREE but there are more add-ons
App Store Description
Featured by Apple on "Apps that we love", highly acclaimed in the startup press scene, #1 on Product Hunt, and used on a daily basis by over 100.000 people. We call it Aerium and it's truly amazing.

Aerium is a gorgeously crafted weather app that alerts you when it'll rain in your location with the day before it'll happen. Awesome, right? Its uniqueness stands in the weather descriptions that can help you out with the way you'll need to dress before going out.

With fluid animations and a really colorful forecast, Aerium is brutally simple and efficient for your daily needs.

= Features =

• ExtremeAccuracy® - get the world's most precise forecast system.
• RainAlert® - don't let bad weather to surprise you.
• Air Quality Index - know when it's unsafe to get outside.
• Know the most important details in order to have a great day, such as humidity, wind, air pressure and precipitation.
• Apple Watch. Just raise your wrist and you're good to go.
• Glances. Aerium supports multiple locations.
• Unique weather descriptions - know what to wear and when.
• Share weather with your friends. They'll love you for caring.
• Works everywhere. Worldwide. Supports both ºC and ºF.
• A beautifully crafted visual experience.
• Engineered to utilize minimal internet data and battery.

= Aerium Pro =
Aerium Pro includes a set of features that is there to help you live a healthier life by understanding better the weather around you and how it can affect you. Pro is available through a monthly auto-renewing subscription. Pro subscriptions prices are available at $0.99/month. Prices are in the U.S. dollars, may vary in other countries and are subject to change in the future.

Here's what you will get:
• ExtremeAccuracy®
• Air Quality Index
• Detailed weather report
• More cities in Glances
• Our infinite love.

You can subscribe and pay through your iTunes account. Your monthly Aerium Pro subscription will automatically renew each month and be charged through your iTunes account. Auto-renew may be turned off by going to your iTunes Account Settings after purchase. Cancellation of the current active subscription period is not allowed. When you cancel the auto-renewal, access to the Pro features will expire at the end of the current payment period.

If you don't choose to purchase Aerium Pro, you can simply continue using Aerium for free.

= Data & Privacy =
Your privacy is what matters the most to us, right after keeping your hair dry. Aerium is an ad-free application and doesn't track you or your interests, or sell your data.

Learn more about our terms, pricing & privacy policy at https://getaerium.com/blog/privacy-policy or contact us at [email protected] if you have any questions!


= Contact us =
If you have any questions or comments please send us an email at [email protected] We'll be more than happy to read your email and get back to you! #feedbackIsAGift