With neat descriptions and handy rain alerts, this new app gives you a fresh way to see the weather.
Aerium — Your weather bot.
by Raul Perte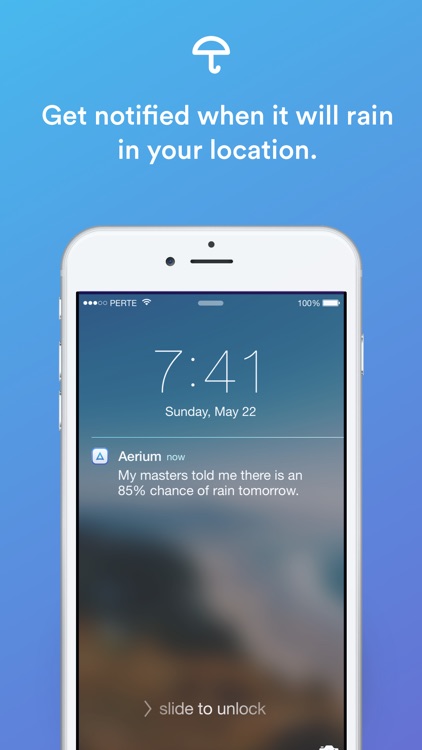 $9.99

in the App Store
Aerium provides you a clear view of the current temperature along with a short description. Glance down to see the highs and lows for today and tomorrow. With no complicated settings, just select your weather type and enable rain alerts if you like.
What is it about?
For uncomplicated weather details, a super clean interface, and just the right amount of information you need to start your day comes Aerium. This simple weather app gives you a motherly or comical description of your current conditions and will notify you 24 hours in advance if rain is in your location's forecast.
For those who...
Like simple weather apps
Dislike weather apps with too many features
Not for those who...
Dislike simple weather apps
Prefer weather apps with extensive features like radar maps
Why we love it
Aerium gives you the basics you need for the current conditions, what tomorrow looks like, and the rain alerts are helpful for planning. The weather description adds a nice touch, whether it just makes you smile or giggle out loud.
App Store Description
Aerium is a gorgeously crafted weather app that alerts you when it'll rain in your location with the day before it'll happen. Awesome, right? Its uniqueness stands in the weather descriptions that can help you out with the way you'll need to dress before going out.

With fluid animations and a really colorful forecast, Aerium is brutally simple and efficient for your daily needs.

= Awesome Features =

+ A well-designed widget that is cool enough to rock your iPhone.
+ Unique weather descriptions for you. Your mom says hi.
+ Awesome swipe navigation.
+ Social Sharing
+ Works everywhere. Worldwide. Supports both ºC and ºF.
+ A beautifully crafted visual experience.
+ Rain alert the day before it'll rain. Come on man, that's awesome.
+ Exact location based weather data from Forecast.io
+ Designed to utilize minimal system resources as well as energy.

= Disclaimers =
Continued use of GPS running in the background can dramatically decrease battery life.

= Support =
If you have any questions or comments please send us an email at product@byperte.com. Note that if you leave a support question in the reviews we won't be able to write you back, so just shoot us an email instead.

The application was designed by Raul Perte and developed by his brother, Adrian Perte.