Start from scratch or with a built-in image to create some sticker magic.
Assembly - Art and Design
by Pixite LLC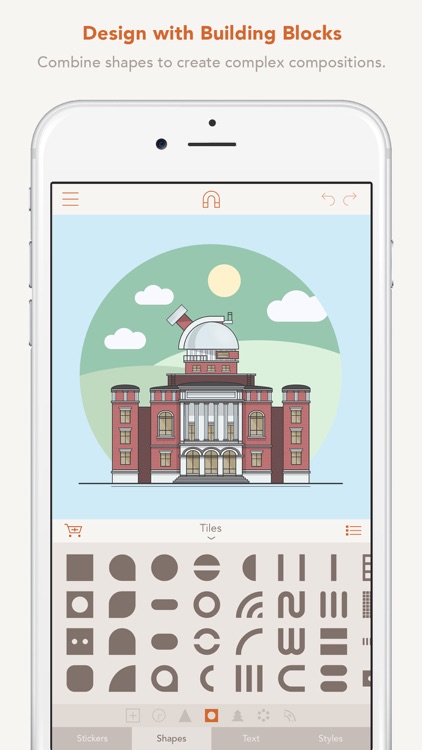 FREE

in the App Store
Assembly lets you create your own drawings and designs from scratch or choose from a large variety of stickers to customize.
Great results. With some time and patience, you can make some great results with Assembly, right from your iPhone or iPad.
What is it about?
Assembly is a wonderful app for creative and artistic minds. With editing options, you can create images from scratch and rotate, duplicate, shadow, and fill. Creating stickers is enjoyable with tons of options if you want to begin with a built-in sticker such as emojis, food, animals, vehicles, and more.
For those who...
Like creating and customizing images
Enjoy being creative
Not for those who...
Prefer to use the standard emojis
Are not interested in creating custom stickers
Why we love it
Assembly is terrific for those who really like to use their imagination with images. Create your own or start with a sticker. Then, edit and customize and share within iMessage easily.
App Details
Last updated
October 5, 2017
Release date
October 7, 2015
Assembly is FREE but there are more add-ons
$1.99

Assembly Pro

$9.99

Forever Unlock (Discontinued)

$1.99

Assembly Pro

$0.99

Badge Pack

$0.99

Botanical

$14.99

Assembly Pro

$3.99

Intro Bundle

$0.99

Characters II

$0.99

Characters

$0.99

Patterns
App Store Description
** App Store Best of 2015 ** Create stickers, icons, scenes, and other graphics using a fun and novel building-block approach. Assembly is a revolutionary new vector design tool that lets you imagine and produce quality work in half the time. Assembly's suite of professional tools comes in a simple package that anyone can use.

Instead of drawing basic shapes from scratch, save time by using Assembly's vast library of essential shapes, symbols and stickers that can be layered, stacked and positioned exactly as you need them to create your own designs. Cut-out, combine and intersect shapes to even create your own library of building blocks.

Get professional results using powerful tools found in high-end graphic design suites with the Assembly Pro upgrade. Design quickly and easily using a simple interface that provides the features you need at your fingertips. Output in high resolution JPG and PNG as well as popular vector formats SVG and PDF.

Assembly now also includes over 250 fully finished graphics (stickers) that can be customized, reused, and remixed into your own work to your heart's content.

Powerful yet intuitive, Assembly is both the perfect prototyping tool for the graphic designer on the go, and a fun, creative playground for artists of any background or skill level.

Assembly free features include:

- Over 180 basic shapes
- Over 250 fully finished stickers that can be customized, reused and remixed
- Smart snapping for easy shape placement
- Create and save your own custom stickers
- Share stickers in iMessage
- Multi-select and nested grouping
- Copy, flip and rotate shapes and groups
- Save groups and projects to the custom shape pack
- Fill, stroke, and shadow options
- 35 pre-made color palettes
- Eyedropper color sampling tool
- Optional use of color or photo backgrounds
- JPEG and PNG output up to 4096x4096 pixels
- Save as transparent PNG
- Assembly project file output
- Sync projects across devices with iCloud
- Continuously updated Inspirations section

Assembly Pro

Assembly Pro is an auto-renewing subscription service that gives you professional features that will take your work to the next level. These include:

- 21 themed shape packs with over 1,000 shapes
- Complete text engine with 25 versatile, hand-selected fonts
- Combine, cut-out and intersect shapes
- Import and export vector images in SVG
- Create and save your own custom color palettes

You can try Assembly Pro for free for 7-days with a free trial. After the free trial you will be automatically renewed to the weekly subscription which you can cancel at any time. The paid subscription costs $2.99 USD per week, $4.99 per month or $29.99 USD per year.


Privacy Policy
http://pixiteapps.com/privacy-policy/

Terms of Use
http://pixiteapps.com/terms-of-use/

===========================

Special thanks for their work and inspiration:

Daniel Britt - ( Instagram @drybom )
Harvey Beynon - ( Instagram @yourpalharvey )
Alison Chambers - ( Instagram @wingolamo )
Rob Edwards ( Twitter @raabedwards )
Davis Evans ( Instagram @daveisevans )
Cayce Garrison ( http://caycegarrison.com )
Ricardo Geraldes - ( Instagram @shine3y3 )
Lyn Hurring - ( Instagram @lynhurring )
Joel Julian - ( Instagram @joeljayjulian )
Peter Komierowski ( http://peterkstudio.com )
Alana Mandel - ( Instagram @alanamandel )
Nino Marmaladze ( https://dribbble.com/jelly-fishie )
Имя Отправителя ( Instagram @burning_chalice )
Lee John Phillips - ( Instagram @leejohnphillips )
Stephen Pine - ( Instagram @spine72 )
Allison Randolph - ( Instagram @ocean_allison )
Rolando Del Real - ( Instagram @rolando1977 )
Vico Sandoval - ( Instagram @vco.design )
Aaron Smillie - ( Instagram @aaron_smillie )
Adam Wittig - ( Instagram @addyfams )
Nathan Woods - ( Instagram @nxthxnwxxds )

https://instagram.com/abongir/
https://instagram.com/glytxh/
https://instagram.com/keynell/
https://instagram.com/mystrawberrymonkey/
https://instagram.com/svrmii/