Reference Audio Test Signal tools
Audio Tone Generator - Reference Test Signal
by TOON,LLC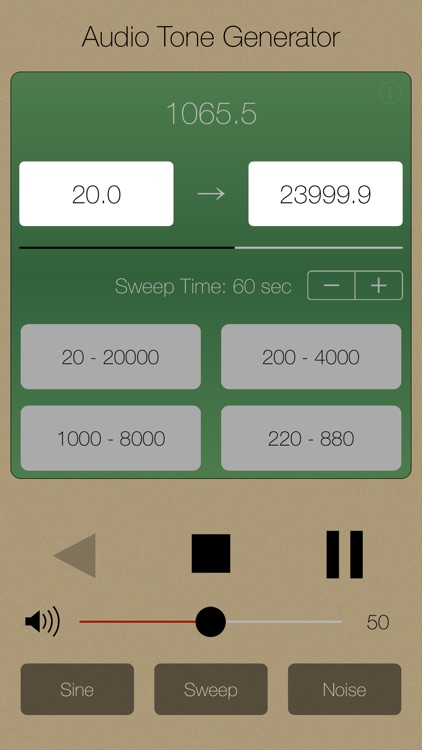 What is it about?
Reference Audio Test Signal tools. Try to check your sound system by iPhone !
App Store Description
Reference Audio Test Signal tools. Try to check your sound system by iPhone !

"Audio Tone Generator" is a powerful Reference Audio Test Signal Generator application for iPhone. This app is the high precision edition of "Audio Tone Generator Lite" app.

It creates the reference Audio test signals as Sine-wave, Frequency Sweep, White Noise and Pink Noise, and has a high precision of DVD quality and a frequency accuracy of 0.1Hz. Frequency Sweep time can be altered as desired by the user.

From the version 3.0, it has been added a new feature of the band-pass filtering on NOISE generation mode.

It will help you to make the benchmark for your audio equipment and loudspeakers, your listening environment and room acoustics or your hearing.

The signals created by this app can be best used in conjunction with external devices, such as an audio spectrum analyzer or a sound level meter.

Features:
- Supports of frequencies range between 20Hz to less than 24000Hz.
- Noise generation on NOISE mode : White Noise or Pink Noise, with Band-pass Filtering (LPF : 4kHz / 8kHz, HPF :100Hz / 400Hz)
- Sine-wave signal generation on SINE mode : Predefined frequencies - 250Hz, 500Hz, 1000Hz, 2000Hz, 4000Hz, 8000Hz, 12000Hz, 16000Hz, 440Hz (A4)
- Frequency Sweep in SWEEP mode : Predefined frequencies - 20Hz-20000Hz, 200Hz-4000Hz, 1000Hz-8000Hz, 220-880Hz(A3 - A5)
- Sweep Time Control : time span from 10 seconds to 180 seconds.
- Pause function on SWEEP mode.
- Frequency Accuracy : 0.1Hz
- Direct frequency input by the keyboard.
- Output Gain Control.
- DVD Quality Output.
- Retina Display Support

Applications:
- Testing for Loudspeakers and Headphones
- Burn-in for Audio equipment and Loudspeakers
- Testing and tuning for Audio amplifiers, Equalizers and many other Audio equipment.
- Acoustics testing
- Frequency response measurement for Audio systems using White noise and Pink noise
- Sound Masking
- Relaxation and Meditation
- Hearing Test
- Mosquito sound creation for teenagers

Note:
On the keyboard input of frequency, please press the Return key after entering a numeric value. Also, in the Sinewave Sweep mode, please press the Return key after entering continuously two numeric values.

Please be careful that the high-frequency signals of high volume in continuous may damage the loudspeakers, even if your ears do not perceive it as being too loud.

AirPlay data transmission is a wireless communication system using Apple's proprietary audio data compression. For this, there are cases where the random sound noise is generated by radio condition and the compatibility of AirPlay connection equipments. Note that it may occur at particularly high frequency band.

In addition, by having you to use it in conjunction with our Real-time Audio Analyzer app "fo-Kannon", it can be easily measured the frequency response of your Audio system. Please use the "Audio Tone Generator" app as the standard pink noise signal generator.

*** New release app ***
We have released a new powerful noise generation tool, "Octave Band Noise Generator". It can generate the programable testing noise signal by using the band-pass filtering of 1/1 octave band and 1/3 octave band as the best source for acoustic analysis.

TOON,LLC is a company that seeks the comfort of sound environment based on our acoustic proprietary technology, and we will provide tools for audio professional, sound technology, home theater installer, and anyone who loves audio.

Please visit our iOS App Support page for more information on this app.