Is your dog barking while you are out
Barking Dog - Monitor & Control - Bark'n Mad
by John Hall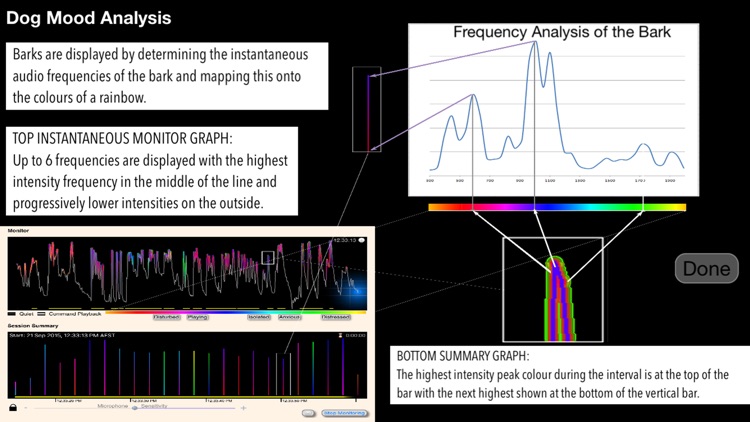 What is it about?
Is your dog barking while you are out? Is the dog next door continually barking? Run monitoring sessions to record and control excessive barking. You can see the results immediately through the use of graphical displays. The lower graph shows you a visual summary of the entire monitoring session while the upper graph shows instantaneous barking activity.
Barking Dog is $3.99 but there are more add-ons
$5.99

Full Version.

$0.99

Choose when reprimand and praise are played

$0.99

Export and Email Links to Monitor Recordings

$0.99

Use a Tritone Whistle as an Attention Grabber

$0.99

Boost the replay volume of your recorded commands.

$1.99

Remote Monitoring using iCloud Drive.

$1.99

Enable emailing of periodic updates and barking alerts.

$0.99

Email a copy of the monitoring/review screen.

$0.99

Upgrade to the color mood analysis

$0.99

Single Tone Whistle.
App Store Description
Is your dog barking while you are out? Is the dog next door continually barking? Run monitoring sessions to record and control excessive barking. You can see the results immediately through the use of graphical displays. The lower graph shows you a visual summary of the entire monitoring session while the upper graph shows instantaneous barking activity.

Was your dog disturbed? Was it lonely? Was it playing? See why your dog is barking with color analysis graphs which show the dog's mood from the sounds in the bark.

Your initial acquisition provides you with everything you need to monitor and control your dog(s) barking. Unlimited monitoring duration, playback of a recorded reprimand to check your dog when it barks followed up by praise when it stops. Fast review features save you time when you get home.

You can monitor for well in excess of 12 hours as 'Bark'n Mad' has low storage and battery usage with background and screen-off recording.

If your dog is a barker you have further optional facilities to help control it:
・ Whistles to attract your dog's attention
・ Boost the volume of your reprimand and praise recordings
・ Fine-tune when your reprimand and praise recordings are replayed
・ Support for Bluetooth hands free devices for recording and playback of reprimands and praise
・ Remotely view the monitoring session graphs on your iPhone
・ Setup periodic email updates and barking alerts for monitoring sessions
・ Access session recordings from your computer.

Additional features are available for raising or responding to complaints about barking:
・ Prove where the monitoring session was recorded
・ Email download links to recording copies
・ Email download links to guaranteed unaltered recording copies
・ Capture and email monitoring and playback summary graphs as required.

Where barking complaints have occurred we recommend that both parties to the complaint (the neighbor and the owner) run Bark'n Mad to record barking and work together for a solution.

APP STORE REVIEWS

Excellent!!! Brilliant!.....highly recommended. Listen to what your dogs have been up too while your out. Very sensitive microphone. Absolutely genius app. Just what I was looking for to help train my dogs to be quiet while I am out and find out if the neighbours are over exaggerating. Picks up every single noise and very long recording time. Hope more quality apps like this to follow. Great tool.
                          …

We recently got a rescue dog not used to having his own 'pack' and certainly not to being left alone. We were concerned he might be barking and that this would annoy or worry neighbours. We tried this app for the first time today and it worked perfectly! After an hour in, he started whining and barking a little, enough for the '20 second' criteria to be reached and the prerecorded 'quiet' message to be played. To my amazement listening to the recording afterward, he quietened down, was rewarded with the 'praise' I had recorded, and was quiet for the rest of the time we were out! Just amazing.
                          …

I would like to say, however, that your App completely solved my "barking dog" problem, and in one hit! Our dog is a reasonably well trained golden retriever, but our neighbour informed us in strained tones (so I guess it must have been going on for a while), that whenever we both went out, which was infrequent, the dog barked incessantly until our return. In more desperation than any real hope, I picked up my trusty iPad and googled.  Your App came up, so I installed it and tried it.  I had noted the "Record reprimand" and "Record praise" bits.  I was looking forward to hearing the result. From its first use, the dog, now, never barks when we go out, even if I don't leave the iPad! I think he's still trying to figure out how I knew, and was able to tell him off when he couldn't see me!
Congratulations on a fantastic App!
                          …
Please read the other reviews …