With an array of features, this vector graphics tool is sleek and robust.
Bez - Vector Illustration
by Juicy Bits
watch trailer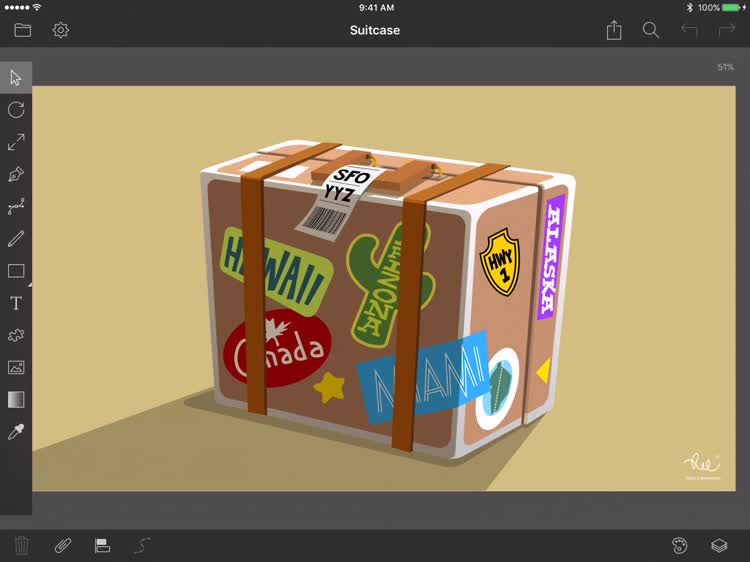 FREE

in the App Store
Bez offers simple settings, easy navigation, and many useful features. Just to name a few, the app has support for multiple styles per object, unlimited layers and groups, a symbol library to store shapes, Boolean shape operations, and support for Smart Keyboard and Apple Pencil.
Simple settings. General settings allow you to show and hide items such as outlines, rulers, and guides. Editing settings let you adjust the snap to objects, grid, or the nearest number as well as offset duplicates and auto-convert small shapes.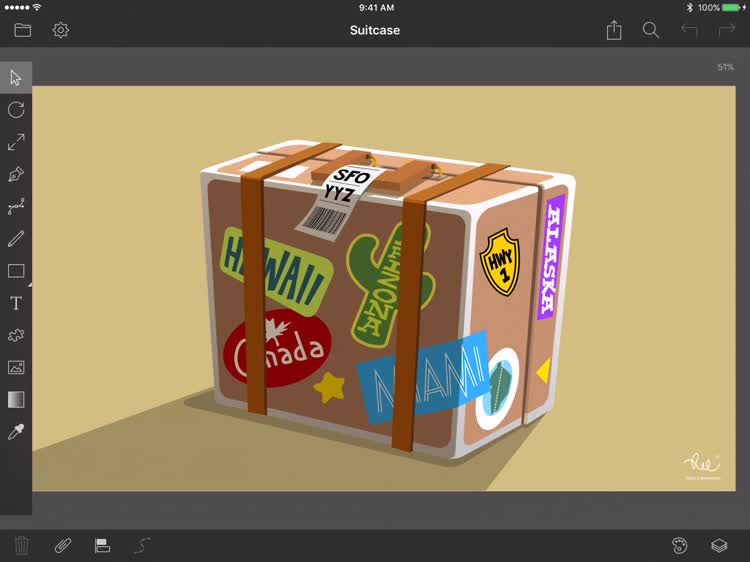 Easy navigation. The bottom navigation makes for a sleek interface. Edit options include selections, copy, and paste. You can arrange, align, and distribute. Change your artboard size to suit your needs and hide and lock layers with a tap.
Keyboard shortcuts. If you have a Bluetooth keyboard connected to your iPad, you can use several shortcuts to get things done quicker. You can zoom, select, share, rotate, scale, and more. To access a full list of shortcuts available, just hold down the Command key on your keyboard.
Template options. From your main screen, you can easily pick a template to begin with and there are several options. From the default 800 by 600 pixels to specific sizes for iPad, iPhone, and Apple Watch, there are great options. Plus, you can create a custom template if you like.
What is it about?
Bez for iPad gives you the features you need to create the perfect pieces of art. With interactive tools for creating new shapes, editing corners and curves, and scaling to that exact size, you cannot go wrong with Bez.
For those who...
Create and edit vector graphics
Not for those who...
Do no create or edit vector graphics
Why we love it
Bez is a vibrant vector graphics editor that you can tote with you on the iPad. With easy navigation, simple settings, and all of the tools you need to create beautiful images, Bez is a must-have.
Bez - Vector Illustration is FREE but there are more add-ons
App Store Description
Bez (a nod to Pierre Bézier's eponymous curve) is a friendly vector graphics editor that makes it easy to create beautiful and precise art on your iPad and iPad Pro. With full support for Slide Over, Split View, Smart Keyboard, and Apple Pencil, Bez is a flexible and professional tool for designing high-quality illustrations.

The free version of Bez enables you to do almost everything, and a single in-app purchase unlocks these additional features:

• High quality output to PNG and SVG
• Import and export documents to services like iCloud and Dropbox
• Import SVG, OTF, TTF, and ASE files
• Copy alpha images to the clipboard

Included features:

• Designed for touch, Smart Keyboard, and Apple Pencil
• Interactive tools for creating new shapes and easily editing corners, curves, and line segments
• Support for multiple styles (strokes, fills, and shadows) per object
• Rotate, scale, and translate objects interactively or by entering numeric values
• Unlimited layers and groups for flexible document organization
• Full undo and redo support for worry-free editing
• Snap to objects, a grid, or individual pixels, and use smart guides for accurate spacing
• Symbol library for storing common shapes
• Shape alignment and distribution tools
• Boolean shape operations like combine, subtract, intersect, and exclude
• Pan and zoom up to 4,096% for precise edits