For an amazing surround sound effect, this music player rocks.
Boom: Music Player & Equalizer
by Global Delight Technologies Pvt. Ltd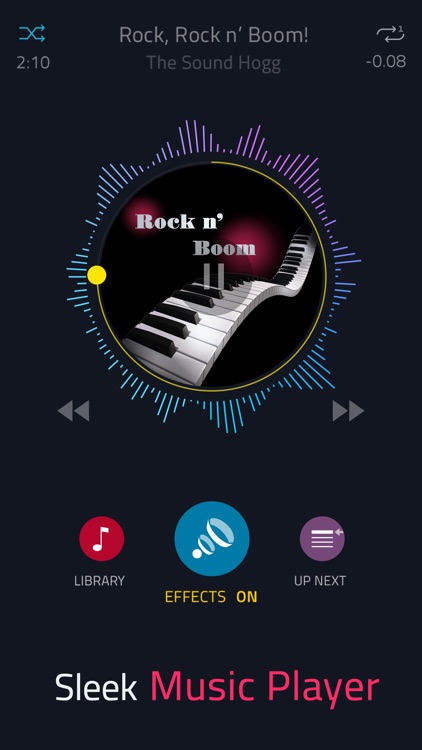 FREE

in the App Store
With Boom: Music Player with Magical Surround Sound choose your headphone type and then adjust the other settings for shake gesture and crossfade as needed. Turn on the Effects and listen to your tunes in 3-D surround sound with a customizable equalizer.
Adjust your settings. For the best possible effect, first choose your headphone type. You can then set the Shake gesture to play the next song or play or pause the current song. Set the Crossfade duration between tracks, enable the Visualizer while the song is playing, and set the Sleep Timer for listening at bedtime.
Turn on effects. To get the full power of the app, turn the Effects on and adjust them as desired. You can activate and deactivate the various areas within the 3D Surround settings. Then select from Equalizer settings which include auto, bass boost, acoustic, pop, rock, and many more. You can also use the slider to adjust the audio intensity.
Music library and playlists. You can browse through your music library easily by song, album, artist, playlist, or genre. The app also lets you set up custom playlists as well as mark songs as favorites for quick access. You can turn on the shuffle, repeat, and adjust the volume from the main screen.
What is it about?
Boom: Music Player with Magical Surround Sound is not only super easy to use but provides excellent, quality sound. You can spot the difference immediately by enabling the Effects. The sound is crystal clear, the Equalizer options give you the perfect effect, and the app provides a truly immersive experience with any type of headphones or even without.
For those who...
Listen to music on their iPhone or iPad
Are looking for a surround sound music player
Not for those who...
Do not listen to music on their iPhone or iPad
Do not want a new music player app
Why we love it
If you often use headphones to listen to music on your iPhone or iPad, how good is the sound? Could it be better? If you are ready to experience your tunes the way they were meant to be heard, then check out Boom: Music Player with Magical Surround Sound. With amazing clarity and great features, immerse yourself in a 3-D sound experience.
Boom: Music Player & Equalizer is FREE but there are more add-ons
$2.99

Magical Effects Pack

$1.99

Happy Holidays Pack

$0.99

Under A Dollar Pack

$2.99

Remove Ads

$2.99

Festival Special Pack
App Store Description
Are you looking for a finer Equalizer? Do you crave for a better Bass Booster for your music? Do your ears desire a 3D Surround Sound feel coming out of the headphones? Here's Boom, an app worthy of being your Default Music Player!

YOU — the music lover. Your music defines YOU. Listening to low quality music and wondering if it could be better has brought you here. And now it's only a quick download that remains between YOU and an experience where you won't just listen to tracks, but will FEEL YOUR MUSIC!

But before we get into details, here's what the App Store Editor had to say about Boom —

"With a sleek and easy-to-use interface, Boom: Music Player with Magical Surround Sound lets you free your music of that compressed feel, breathing new life into every nuance of your favourite tracks — just the way the artists intended. This app boasts a range of features to deliver that edge, including a mind blowing 3D Surround setting, equalisers and audio intensity effects designed to work with any headphones. Once you've heard your choicest tracks on Boom, there'll be no going back."

Clearly, Boom is the best equalizer for your iPhones and iPads, worthy of being your default music player. Here's why all the praise —

— 3D IMMERSIVE MUSICAL EXPERIENCE:
Boom is based on our patent-pending 3D Virtual Surround Audio Engine which lets you immerse deep into a magical 3D Surround Sound experience. It allows every subtle note of your favorite tracks to express itself vividly and give you a realistic feel — just like you'd hear them in a concert. You may switch between any of your headphones, but the experience will remain the same incredible!

— PERSONALIZED EQUALIZER PRESETS:
When your taste of music meets our handcrafted equalizers, magic gets created. Each preset is curated to perfection to match the varied choices of your music.

— MULTIPLE LIBRARY ACCESS:
There should be no end to your music and so we enable you to access your music not only from the phone's library but also from Dropbox and Google Drive. You can even download tracks to store on your phone and enjoy at will.

— AUDIO INTENSITY CONTROL, CUSTOMIZED PLAYLISTS, SLEEP and several other features give you complete control over your music.

So, whether the beat gets dropped or the tempo amplifies, with BOOM you are going to FEEL YOU MUSIC like you've never had!

Note: Technical restrictions prevent Boom to support live streaming tracks.

Please leave your positive reviews and ratings to further encourage us :) You can also follow us on social media.

Twitter - https://twitter.com/boomapp
Facebook - https://www.facebook.com/boomapp

*** If you have a Mac, do check out Boom 2 for amazing audio on the Mac App Store at http://apple.co/1Vjj4XR ***