BottlesTonight — Simplified bottle service booking at clubs and events
BottlesTonight: Bottle Service, Tickets, Concierge
by BottlesTonight, Inc.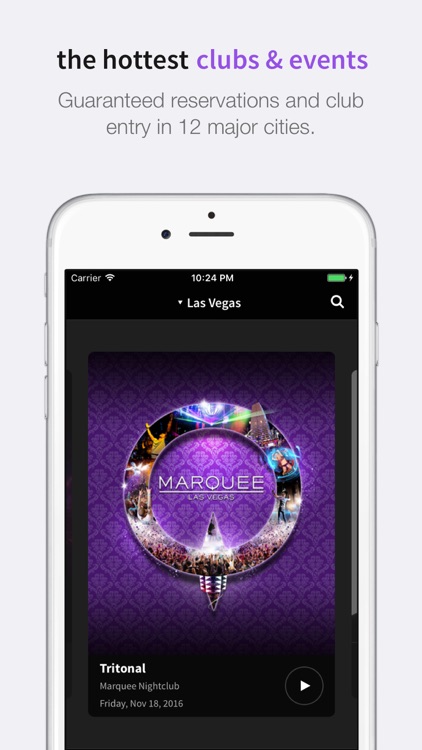 What is it about?
BottlesTonight — Simplified bottle service booking at clubs and events
App Store Description
BottlesTonight — Simplified bottle service booking at clubs and events

Elevate your nightlife experience with BottlesTonight. No more lines, painful negotiating and no waiting at the bar. We have teamed directly with top nightclubs, lounges and events to offer you the best VIP access and bottle service purchasing experience right from your smartphone. Transparent pricing, clear communication of what you're buying, personal concierge, AND no shady promoters.

CURRENTLY AVAILABLE IN: Chicago, Las Vegas, Los Angeles, Miami, New York, San Francisco, Scottsdale, South Bay Area, Tempe, Washington DC with more locations being added each month.

Features:

- Instant connection to all of the clubs and lounges in your city.

-Dedicated events tab: discover where your favorite DJ's are playing. Hit the "play" button to preview their sound and tap to book bottle service at their events.

-Plan & Book up to 30 days in advance. Especially great for bachelor and bachelorette parties and other event coordination. #getinspired

-Pre-select your table section: choose your price, table size and location all before you get to the club...no shady promoters needed here.

-Personalized concierge ready to assist and ensure an amazing experience.

-Apple pay enabled.

-Secure mobile transaction using Paypal's Braintree processor.

-Access to fun bottle service packages.

-Looking to save some mullah? Look for line-strikes through prices on some club menu items.

-3D Touch (For iPhone 6s, 6s Plus and above): quickly access your reservations.