Easily check on your pet anytime with spare equipment
Cam2Pet – Dog Monitor & Pet Camera
by App runner KG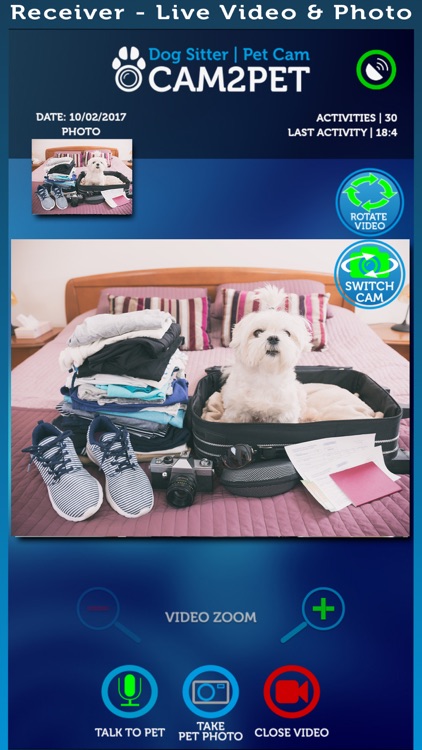 FREE

in the App Store
When you have a spare smartphone, tablet, or computer around the house, you can turn that into your pet camera and keep an eye on your pets remotely.
What is it about?
Cam2Pet is a great app that allows anyone to turn a spare smartphone, tablet, or even a computer into a fully featured and functional pet monitor. With Cam2Pet, users are able to zoom in on their pets, rotate the view, speak to their pets, take photos or record video footage, live stream what their pet is doing, and much more. The app is super easy to set up and while it requires a subscription to use all of the features, there is a 7-day trial that is now included so you can give Cam2Pet a full test drive before committing. It's a great alternative for more expensive equipment since you can repurpose old gear, and there are a ton of features included with the app.
For those who...
Want to repurpose old gear around the house instead of buying new equipment
Want to monitor their pets remotely
Want a lot of fun features in their pet monitoring system
Not for those who...
Don't need to watch their pet remotely
Prefer to buy new gear
Don't want to pay for a subscription
Why we love it
Cam2Pet is a simple and powerful pet monitoring app that gives us peace of mind when we are away from our furry companions.
Cam2Pet is FREE but there are more add-ons
$2.99

Licence OR valide 1 mois

$4.99

Licence OR valide 3 mois

$1.99

Licence PREMIUM valide 1 mois

$3.99

Licence OR valide 2 mois

$3.99

Licence PREMIUM valide 3 mois

$2.99

Licence PREMIUM valide 2 mois
App Store Description
Cam2Pet – the first real Dog Monitor & Pet Camera App!
Be with your pet, even when you are not at home - Cam2Pet makes it possible. Developed and tested for and with pets (dogs and cats) under real conditions!

What makes Cam2Pet one of the best pet cam apps out there?
The features like Live Video and Talk to Pet (min. 3G Connection needed) and the fact that it works cross-platform (desktop, smartphone and tablet) certainly are one of the main reasons.
With Live Pet Cam Features like "Record Pet Video" and "Take Pet Photo" you may hold on unique moments and share with your friends.
You will never again be without your pet and your pet will never again be without you!
Set up and have fun with your pets with this pet cam wireless app.

How to set up and use Cam2Pet:

1. Choose your home station and activate it (it can be a desktop or tablet)
2. Activate your receiver on your mobile device that will stay with you
3. To watch your pet while you are not at home, tap "open video"

Important Note: If you have any problem or any suggestion, please contact our Support - [email protected] - before you write a bad review!! We like to help you. Only this way we can develop the app and make it better!! Thank you!!

• Cam2Pet – Dog Sitter & Pet Cam App Features:

• NEW FEATURE: Password Reset !!

• 7 days full Version (GOLD) for free (for new Clients only).

• 8x digital Video Zoom and higher Video Resolution - max 18fps in our Gold Version. Recommend to use in 4G and WI-FI Network.

• Download Picture - from now on you may download your Pictures at the Activity Report Detail View of Photo / Video to your device.

• Switch Cam - use the camera switch on the Receiver to switch between front and back camera of your Pet Station.

• Rotate Video - rotate your Live Video Screen, if it is, because of any reason, not in the correct position.

• Take Pet Photo - Create photos to capture unique moments - anytime, anywhere. Minimum requirement 3G-Network. 

• Live Video Stream- Participate your pet's life even from abroad! 

• Record Pet Video - Record a video of your pet and share it with your friends! 

• Talk to Pet - Talk to your pet whenever you want. Best voice and reception quality, starting from a 3G network. 

• Auto Sound - Automatic response of the Pet Station, if your pet feels alone and you are not able to calm it down by himself.

• Record Own Sound - record your individual sound or melody to calm down your pet!!

• 100MB Webspace to administrate your Snapshots and Videos, you did with the Cam2Pet app. 

IMPORTANT NOTE: 
Please install the application on at least two (2) Devices. Define one device as "Pet Station". This is the device that will stay near the pet. 
Define the second device (the one that stays near you) as "Receiver." 

To use all the features of our App every where and any time you may upgrade to the Premium / Gold Version with In App Purchase.

• Gold License for 1 Month: EUR 1,99
• Gold License for 2 Months: EUR 2,99
• Gold License for 3 Months: EUR 3,99
//
• Premium License for 1 Month: EUR 0,99
• Premium License for 2 months: EUR 1,99
• Premium License for 3 Months: EUR 2,99
• Premium License for 12 Month: EUR 9,99

IMPORTANT: 
Once you purchased a license, it is valid for all devices, on which the Cam2Pet App has been installed. 

On purchase you accept our privacy policy http://www.cam2pet.com/privacy-policy/ and our End User License Agreement: http://www.cam2pet.com/terms-of-use/