Get your financial affairs in order with machines.
Clarity Money - Budget Planner
by Clarity Money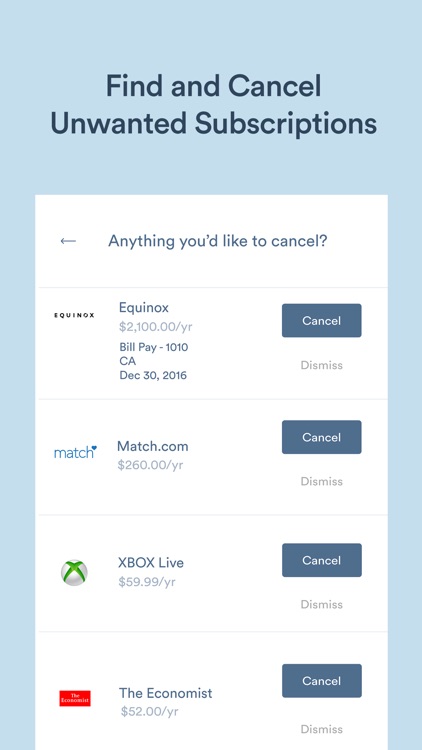 What is it about?
Clarity Money gooses up basic budgeting with data science and machine learning to analyze your personal finances and give you tips and analysis to help you save. It will also let you manage your accounts and keep everything sorted in a smart, clean interface.
Why we love it
The idea of using data analysis and machine learning to help our finances is a powerful one. Putting these robots to work for us to save us money is an interesting use. Plus, they don't have emotions, so they won't judge us for some of the weird junk we buy.
Clarity Money supports Siri commands
Show
me
my
balances
in
Clarity
Money
Show me my balances in Clarity Money
App Store Description
Featured by Apple as one 2017's "New Apps We Love" -- Clarity is your personal financial advocate. Clarity Money uses data science and machine learning to analyze your personal finances and help you make smarter decisions with your money. Seeing is believing!

What else does Clarity Money do for you? Our free app will help you save money, plan your budget, track your spending and expenses, protect your credit score, lower your bills, and manage all of your accounts, in one place. Here's what else Clarity can do for you:

- Stop unwanted accounts and subscriptions from charging you
- Find you better credit card deals based on your spending habits
- Cancel and lower your bills
- Manage your budget and expenses
- Help you payoff debt
- Create a savings account
- Transfer money between your bank accounts
- Generate your credit score for free

Find out why TechCrunch, Mashable, and Business Insider are talking about Clarity:

"[Clarity] combines a number of the best features of existing money-management apps into a one-stop-shop. The app lets you cancel subscriptions, and suggests how to manage credit (by offering a credit card to consolidate debt and provide the best card for a particular type of consumer). The company also identifies bills that are negotiable and provides a service that automatically renegotiates for a lower rate. Finally, the Clarity Money app also lets users set up a savings account that will automatically withdraw money from a personal account." - TechCrunch, 2017

"The iOS app is sort of a combination of Mint, which tracks your financial health, and Digit, which saves money in small increments. Clarity asks for your financial information, and from there tracks your spending and suggests ways to save. The app will look out for deals to lower your bills, suggest subscriptions you could cancel and help you save money for specific goals." - Mashable, 2017

"It uses data science and machine learning to negotiate bills, create a savings account, find lower interest rate credit cards and/or personal loans, transfer money between accounts, and deliver actionable insights based on your spending patterns, credit score and credit cards." - Business Insider, 2017

"It also trained me to review my transactions daily, a necessary evil in the age of digital spending. I haven't pulled the trigger on cutting my subscriptions and switching my credit card just yet, but I am seriously considering both." - Barron's, 2017

This is what real Clarity Customers say about the app:

"A must-have budget and expense tracking app for people who want to be more conscious of their finances. The ability to cancel subscriptions that are wasting money is pretty amazing. Highly recommended."

"This app really helps with budgeting and monitoring spending, expenses and debt."

"Best way to manage your finances. This budget app allows you to stay on top of every transaction while offering keen insight into your spending habits, subscriptions, and debt."

"An excellent app to track finances and manage debt."

"I've become obsessed with money, budgeting, and saving. Clarity tells me how much money I've spent, what subscriptions I have, and makes saving and budgeting money easy."

Clarity Money is your financial champion and advocate, watching your back and looking for ways to save you money while keeping you on budget and in control of your finances. Download Clarity Money today!