CleverShuttle fährt dich günstig und grün von Tür zu Tür
CleverShuttle - Fahrdienst Berlin München Leipzig
by GHT Mobility GmbH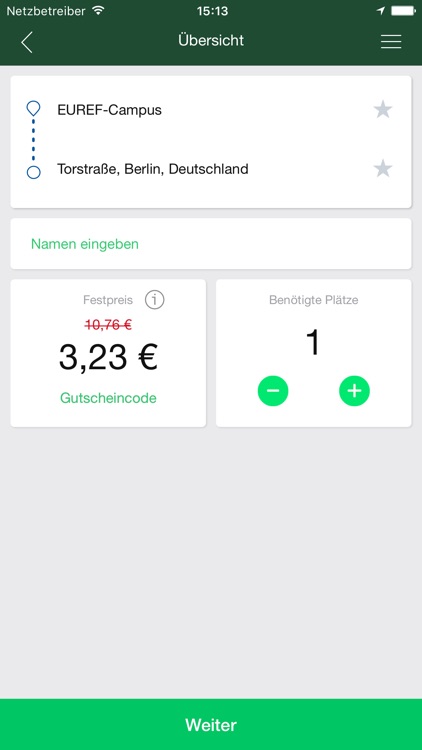 What is it about?
CleverShuttle fährt dich günstig und grün von Tür zu Tür. Lasse Dich von einem unserer Fahrer abholen und bequem an Dein gewünschtes Ziel fahren - und das mindestens 50 % günstiger als ein Taxi.
CleverShuttle supports Siri commands
Get
me
a
ride
to
the
airport
using
CleverShuttle
Can
I
use
CleverShuttle
for
this
ride?
How
close
is
my
CleverShuttle
ride
Get me a ride to the airport using CleverShuttle
Can I use CleverShuttle for this ride?
How close is my CleverShuttle ride
App Store Description
CleverShuttle fährt dich günstig und grün von Tür zu Tür. Lasse Dich von einem unserer Fahrer abholen und bequem an Dein gewünschtes Ziel fahren - und das mindestens 50 % günstiger als ein Taxi.
Unser Fahrdienst ist clever und effizient: Leute, die auf ähnlicher Route unterwegs sind, werden gemeinsam befördert. Aber egal, ob sich Mitfahrer für Deine Route finden oder nicht, Du fährst immer zum garantierten Festpreis. Dank des Sharings kannst Du nette Leute kennenlernen, Geld sparen und etwas Gutes für Deine Stadt tun, denn gemeinsam Fahren bedeutet weniger Verkehr und weniger Lärm auf den Straßen.

CleverShuttle ist genehmigt und 100 prozentig gesetzeskonform.

Du hast Fragen zu Deiner Buchung, unserem Dienst oder Du möchtest uns einfach ein Feedback geben? Dann schreibe uns eine E-Mail an: [email protected]


Und so funktioniert's:
1. Start und Ziel eingeben (durch Eingabe von Adressen oder durch Bewegen der Karte)
2. Fahrtvorschlag annehmen (in einem Fahrtvorschlag siehst Du, wann Dein Fahrer Dich abholen kann, wann Du an Deinem Ziel ankommst und was die Fahrt kosten wird)
3. Unser Fahrer holt Dich ab und bringt dich an Dein Ziel (während du wartest, wirst Du ständig über die Ankunft des Shuttles auf dem Laufenden gehalten)
4. Bezahle in der App per Kreditkarte oder PayPal, oder einfach in bar beim Fahrer