It is no more necessary to use more applications for communication with your environs
ClinkMe 1.6.6
by Syscom Software spol. s r.o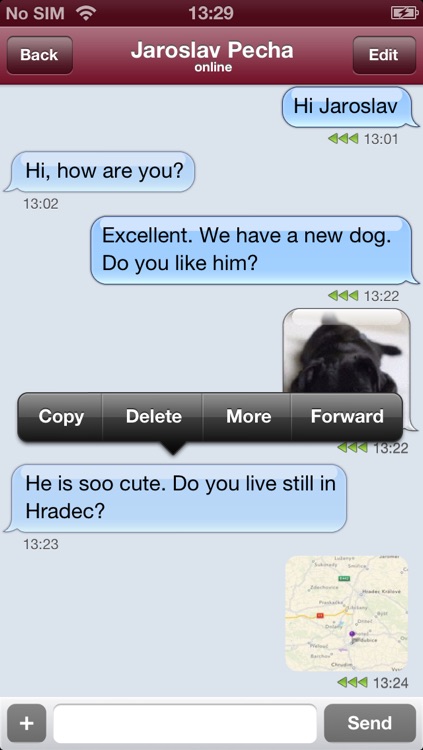 What is it about?
It is no more necessary to use more applications for communication with your environs! 
ClinkMe 1 is FREE but there are more add-ons
App Store Description
It is no more necessary to use more applications for communication with your environs! 
ClinkMe  enables to: 
*SEARCH FOR CONTACTS EASILY, QUICKLY AND INTUITIVELY
*COMMUNICATE FREE (CALL, SEND MESSAGES, ANNEXES, SHARE LOCATION AND CONTACTS)
*PLAN CALLS AND MANAGE THE LIST OF CALLS TO BE SETTLED 
*MANAGE FAVORITE CONTACTS
*CREATE AND MANAGE GROUPS OF CONTACTS
* ALL COMMUNICATION IS ENCRYPTED, USING THE ASYMMETRIC CRYPTOGRAPHY, PEER-TO-PEER CALLS RUN PRIMARILY
ClinkMe is available in Czech, English, German, Spain and French. 
**Data communication
- CALL AND SEND MESSAGES free to all friends having the ClinkMe installed 
- SHARE CONTACTS, CURRENT LOCATION, SEND ANNEXES free from all your devices with installed ClinkMe 
- Only the internet connection (Wi-Fi or 3G network of your operator) is needed 
**Easy work with contacts
- SEARCH FOR CONTACTS irrespective of diacritics, by different criteria.  Search is facilitated by TWO KEYBOARDS with different methods of searching
- Define PHONE NUMBER PRIORITY (sequence) for the contacts with more phone numbers
- Manage and communicate with the most frequently used contacts using FAVORITE ITEMS.
- Call immediately using SPEED DIAL
- Manage CONTACT GROUPS directly on your device
**Call planning
- PLAN specific date and time of your CALL 
- At the preset time the device asks you to call, even if the application is not activated.  
**PROFI package of functionalities  
One-time purchase of the ClinkMe PROFI version enables:
*BROADCAST MESSAGING 
*LOCKING OF MESSAGING AND CALL SCREENS
*cWRITER for easy message distribution by different methods (SMS/iMessage, email or via ClinkMe message) to different contacts.
**Encrypted communication
By purchasing the SECURE package you will be subscribed the option to generate your OWN SYMMETRIC KEYS to be exchanged with your vis-à-vis to reach the top level of message and call security. 
Safety will be further increased by the option to set TIME VALIDITY OF MESSAGES 


Již není nutné používat více aplikací pro komunikaci s Vaším okolím!
ClinkMe Vám umožní:
*SNADNO, RYCHLE A INTUITIVNĚ VYHLEDÁVAT KONTAKTY
* ZDARMA KOMUNIKOVAT (VOLAT, POSÍLAT ZPRÁVY, PŘÍLOHY, SDÍLET POLOHU A KONTAKTY)
*PLÁNOVAT HOVORY A SPRAVOVAT SEZNAM HOVORŮ K VYŘÍZENÍ
*SPRAVOVAT OBLÍBENÉ KONTAKTY
*VYTVÁŘET A SPRAVOVAT SKUPINY KONTAKTŮ
* VEŠKERÁ KOMUNIKACE JE ŠIFROVÁNA POMOCÍ ASYMETRICKÉ KRYPTOGRAFIE, VOLÁNÍ PROBÍHÁ PRIMÁRNĚ PEER-TO-PEER
ClinkMe je dostupné v češtině, angličtině, němčině, španělštině a francouzštině.
**Datová komunikace
- Zdarma VOLEJTE A POSÍLEJTE ZPRÁVY se všemi přáteli, kteří mají nainstalované ClinkMe
- Zdarma SDÍLEJTE KONTAKTY, AKTUÁLNÍ POLOHU, POSÍLEJTE PŘÍLOHY ze všech Vašich zařízení, kde máte nainstalované ClinkMe
- Potřebujete pouze internetové připojení (Wi-Fi nebo 3G síť Vašeho operátora)
**Snadná práce s kontakty
- VYHLEDÁVEJTE KONTAKTY bez ohledu na diakritiku, podle různých kritérií. Vyhledávání Vám usnadní DVĚ KLÁVESNICE s různými způsoby vyhledávání
- Definujte si PRIORITY (pořadí) TELEFONNÍCH ČÍSEL u kontaktů, kde máte čísel více
- Spravujte a komunikujte s nejčastěji používanými kontakty pomocí OBLÍBENÝCH POLOŽEK
- Volejte ihned pomocí RYCHLÉ VOLBY
- Spravujte si SKUPINY KONTAKTŮ přímo na Vašem zařízení
**Plánování hovorů
- NAPLÁNUJTE SI HOVOR na konkrétní datum a čas
- V nastavený čas Vás zařízení vyzve k realizaci hovoru, a to i v případě, kdy aplikace není spuštěna.
**Profi balíček funkčnosti
Jednorázový nákup PROFI verze ClinkMe Vám umožní:
*BROADCAST MESSAGING
*UZAMYKÁNÍ OBRAZOVEK MESSAGINGU A VOLÁNÍ
*cWRITER pro snadné rozeslání zpráv různými cestami (SMS/iMessage, email nebo prostřednictvím ClinkMe zprávy) na různé kontakty.
**Šifrovaná komunikace
Nákup balíčku SECURE Vám předplatí možnost vygenerování VLASTNÍCH SYMETRICKÝCH KLÍČŮ, které si vyměníte s Vaším protějškem pro nejvyšší úroveň zabezpečení zpráv a hovorů.
Bezpečnost ještě zvýšíte možností nastavení ČASOVÉ PLATNOSTI ZPRÁV.

KONTAKT

[email protected]
www.clinkme.net
Disclaimer:
AppAdvice does not own this application and only provides images and links contained in the iTunes Search API, to help our users find the best apps to download. If you are the developer of this app and would like your information removed, please send a request to
[email protected]
and your information will be removed.