Play your music anywhere directly from Google Drive, DropBox, Box, OneDrive, Amazon Cloud Drive, Mediafire, ownCloud and your personal NAS
CloudBeats: music player
by Cronosell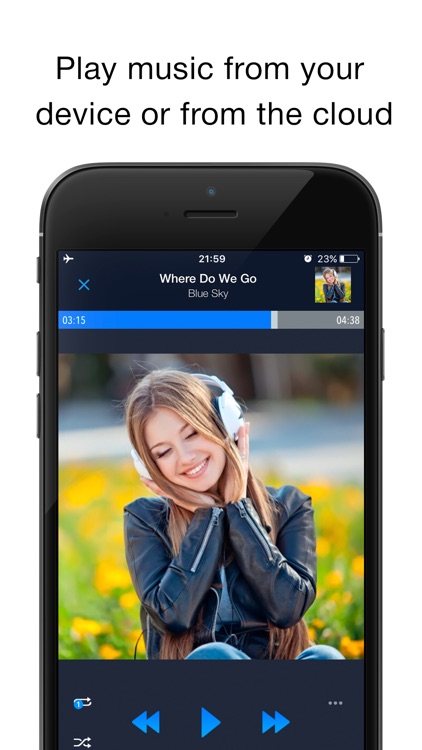 What is it about?
Play your music anywhere directly from Google Drive, DropBox, Box, OneDrive, Amazon Cloud Drive, Mediafire, ownCloud and your personal NAS. Save space on your device as you no longer need to keep large audio files on your iPhone and sync with iTunes.
For those who...
It's a great option for those who need to save on local storage space.
Not for those who...
CloudBeats requires access to every corner of your cloud services, so if privacy is a huge concern, skip this one.
Why we love it
If you have a large library of audio files, CloudBeats is the app for you. Just send it all off to Dropbox, Google Drive, Box, OneDrive, ownCloud, or Mediafire and stream it.
App Store Description
Play your music anywhere directly from Google Drive, DropBox, Box, OneDrive, Amazon Cloud Drive, Mediafire, ownCloud and your personal NAS. Save space on your device as you no longer need to keep large audio files on your iPhone and sync with iTunes.
CloudBeats has been on the market for 4 years already and is still regularly updated and supported by developers.

We've got free CloudBeats app for you to try before making a purchase.

FEATURES
・ supported clouds: Dropbox, Google Drive, OneDrive, Box, Mediafire, Amazon Cloud Drive
・ stream from personal clouds that support webDAV, including ownCloud and Network-Attached Servers (NAS) by Synology, QNAP, WD and others*
・ download albums, playlists, folders or files onto device for playback in offline mode without internet
・ connect to shared folders in the cloud
・ create multi-cloud playlists and synchronize them between multiple device
・ access library by Artists, Albums and Genres
・ last.fm scrobbling
・ shuffle entire library or just one folder with Radio mode


PLAYER
・ plays mp3, m4a, wav and FLAC
・ plays audiobooks and podcasts
・ repeat all, repeat one and shuffle
・ background playback and locked screen controls
・ album cover art
・ speed up or slow down of playback
・ sleep timer
・ embedded lyrics display
・ plays via Airplay and Bluetooth

* Streaming is not possible over https if you have self-signed ssl certificate installed on your server
** Please note that the app cannot play drm protected files purchased on iTunes Store.
*** Google Music service is not supported