Best place to share and find recipes shared by home cooks like you
Cookpad - great recipe sharing
by Allthecooks, LLC.
FREE

in the App Store
Cookpad provides tons of delicious home-made recipes. Browse through dishes, save those you like, and publish your own tasty recipes.
Search, browse and get cooking idea for your dinner.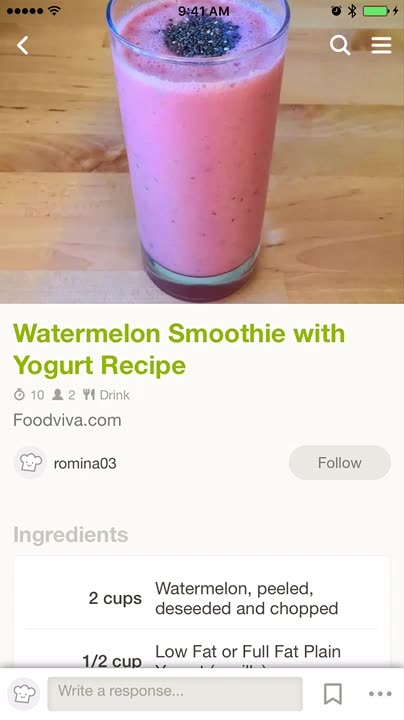 Bookmark your favourite recipes and save them all in one place.
Follow your favorite cooks in their cooking adventure.
Share your recipes with your friends and family.
What is it about?
Best place to share and find recipes shared by home cooks like you.
Cookpad is FREE but there are more add-ons
App Store Description
Best place to share and find recipes shared by home cooks like you.
تعرّفي على تطبيق كوكباد، أكبر موقع وصفات طبخ في العالم العربي. إنه التطبيق المجاني الأوّل في العالم الذي يضم أكثر من 155,000 وصفة بيتيّة شهيّة ومبتكرة حضرها امهر الطباخين من مختلف الدول العربية. (التكملة بالعربية في الأسفل)

Cookpad provides a unique social and safe environment for people to search for and save recipes, publish recipes and photos, or share recipes and cooking moments privately with friends and family in our new chat and recipe chat features.
If you give photo-sync permission you'll see all your food-related photos on your phone organized by year and month to help organize this month's cooking. Cooking is easier, more fun and never lonely with Cookpad.

Cookpad is currently available in English, Spanish, Indonesian, Arabic, Vietnamese, Thai, and Portuguese. Choose preferred language the first time you start the app.

Features

Choose how to see latest recipes published by recipes published near to you, recipes published by authors you follow or trending recipes.

Search by recipe, ingredient or food type and find cookable content. All recipes have been published by home cooks. You can share a photo of your version with the recipe author when you make it.

Save recipes you like while browsing and make them later. Your saved recipes have their own search making it easier to find exactly what you're looking for.

Publish recipes at your own speed, for your own private use, to share in the private chat with family or friends or to share publicly on the app. You can take photos while you cook and add instructions later. By saving as you go, you decide if and when to publish publicly.

Cookpad Premium - Popularity search.

In some languages, Cookpad offers a Premium service.
- With premium you can search recipes by name or ingredients and see results listed in order of recipe popularity
- Subscription is by monthly auto-renewable payment. You can cancel your Premium service any time in App store
- Premium monthly cost varies according to location
- Cookpad Premium service is currently available in Spanish (only in Spain and Argentina), Indonesian and Arabic - we hope to release it for English-speaking users soon.
- For more information please consult Cookpad Privacy policy: https://cookpad.com/uk/privacy and Terms of Service: https://cookpad.com/uk/terms

Cookpad is a unique global initiative aimed at helping to make home cooking more fun and easier worldwide. Join us!
Contact: [email protected]
-------
حمّلي تطبيق كوكباد واكتشفي اجدد واروع وصفات الطبخ والحلويات الشهية لتحضريها في مطبخك بدقائق فقط!

سيساعدك هذا التطبيق في تجهيز سفرتك لكافة المناسبات والاعياد والعزائم، وتزيينها بأشهى المأكولات من أطباق رئيسية ومقبلات وشوربات وحلى وحلويات لتفاجئي بها اسرتك وضيوفك وتسعديهم بألذّ المذاقات.

انه ايضا التطبيق الافضل للمبتدئين في الطبخ، إذ يضم وصفات سهلة وواضحة لتحضريها في مطبخك خطوة بخطوة.

اجعلي طبخ كلّ يوم متعة مع كوكباد واكتشفي أروع الميزات التي لن تجديها في اي تطبيق وصفات آخر:
-تابعي أصدقائك الطباخين وشاركيهم وصفاتك الخاصة؛
-احفظي وصفاتك المفضلة لتجديها بسهولة، او حتى حمليها وشاهديها من دون انترنت؛
-دردشي مع اصدقائك الطباخين حول اي وصفة تريدين ان تستفسري عنها؛
-ابحثي عن اي مكوّن او وصفة سهلة وسريعة من المطبخ العربي والعالمي وستحصلين على وصفتها بأكثر من 100 طريقة مجربة ومضمونة مئة بالمئة؛
- جربي اكلات واطباق ووصفات طباخي كوكباد وشاركي معهم صور طبخك وحلوياتك من خلال ميزة التعليق بالصورة.
- ستجدين في هذا التطبيق وصفات طعام سهلة وسريعة واكلات مختلفة من طبخ وحلى وحلويات لتحضريها في مطبخك وتفاجئي اسرتك على السفرة بأكلات اشهى والذ من اكلات المطاعم خاصة في شهر رمضان والاعياد.

اجعلي من مطبخك مطعما لك ولأسرتك وحضري فيه اي طبق او اكلة تحبينها لأن كل الاطباق والاكلات سهلة المنال مع هذا التطبيق الممتع!

فقط حمّلي تطبيق كوكباد المجاني لتجدي اجدد والذ الوصفات والاكلات والحلويات الباردة السريعة لسفرة كل يوم وكافة المناسبات السعيدة!

سفرتك دائما احلى مع كوكباد.

لاي سؤال او اقتراح راسلينا على [email protected] فرايك يهمّنا!