[Note specific to iOS 10
DocuWorks Viewer Light
by Fuji Xerox Co., Ltd.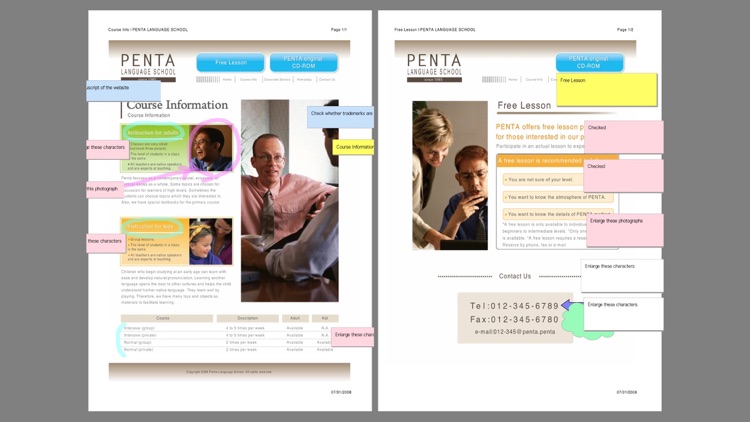 What is it about?
[Note specific to iOS 10.3]
DocuWorks Viewer Light is FREE but there are more add-ons
Rp 15ribu

Annotation Editing Function
App Store Description
[Note specific to iOS 10.3]
If a document applied a document name including Kana-characters accompanied by Dakuten/Handakuten (voiced consonant marks) or accented characters (hereinafter, "relevant characters") is sent from iTunes for Windows to the app, it cannot be displayed or handled normally. Before sending documents, confirm on Windows that the document names do not include relevant characters. If documents on the app need renaming after sent, use iTunes for Windows. Documents can be handled normally if relevant characters are removed.
When a document is opened on the app and saved with a document name including relevant characters, an error message may appear but it will be saved normally.

On iOS 8, it may take some time until the DocuWorks document is displayed. In this case, update your Viewer Light to the latest that supports iOS 8.

Handling the DocuWorks Document on Google Drive When you open a DocuWorks document on Google Drive, DocuWorks Viewer Light may not appear in the application list.
In this case, perform the following steps.
1. In the application menu of your Google Drive, tap "Add to Reading List".
2. Launch Safari and tap the URL of the DocuWorks document in the Reading List.
3. Tap "Download".
4. Select DocuWorks, or tap "Open in" to choose DocuWorks in the application menu.

Tapping a link to the DocuWorks file on Safari may sometimes result in the screen going gray and DocuWorks Viewer Light failing to launch.
In this case, long-press the link, copy the URL, and then paste it in the Safari address bar to show the file.

A "Digital Paper" DocuWorks file viewer for iPhone and iPad.

● Features available with DocuWorks Viewer Light
- View DocuWorks files, display double pages, zoom in and out, show or hide annotations.
- Show in "NotePads" all the notepads pasted in a file and then tap one to jump to a corresponding page.
- View files stored in DocuWorks binder in "Documents in Binder", and files stored in DocuWorks container in "Documents in Container". Tap a file to move to the first page of the document.
- Jump from link annotations to pages within a file or web pages you want to visit.
- View PDF files.
- Open a DocuWorks file protected by the password.
- Searching and copying texts in a DocuWorks file.
● Features available with fee-based functions
- In the annotation functions, add marker and text notepad annotations, and change the attribute.
- Move or delete existing annotations.
- Register and use the annotations added onto the DocuWorks files by using PC, iPhone, and iPad.
● How to transfer DocuWorks files
- Synchronize with iTunes on your computer
- Send as e-mail attachments
- Download from web pages links
● Operating environments and supported file formats
- OS: iOS 8.0, iOS 8.1, iOS 8.2, iOS 8.3, iOS 8.4, iOS 9.0, iOS 9.1, iOS 9.2, iOS 9.3, or iOS 10
- Models: iPad 2, iPad (third generation, fourth generation), iPhone 4S, iPhone 5, iPhone 5s, iPhone 5c, iPhone 6, iPhone 6 Plus, iPhone 6s, iPhone 6s Plus, iPhone SE, iPad mini, iPad mini 2, iPad mini 3, iPad mini 4, iPad Air, iPad Air 2, or 9.7-inch iPad Pro
- Supported file formats: DocuWorks document (xdw file), DocuWorks binder (xbd file) and DocuWorks container (xct file) created with DocuWorks Ver. 4 or later, and PDF.
- DocuWorks files secured by methods other than a password are not viewable.
- PDF files secured by a password are not viewable.