Doggy Buddies is a dog sitting network where friends help friends find a dog sitter
Doggy Buddies (DoggyBnB) - dog sitting network
by The Good Bear, Inc.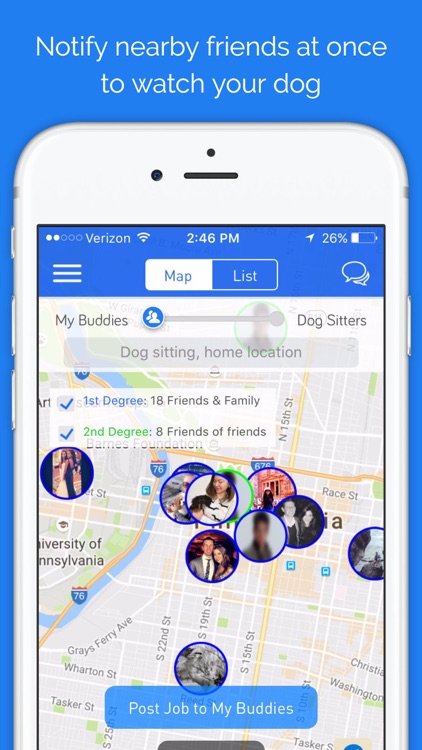 FREE

in the App Store
With Doggy Buddies, you can find a pet sitter nearby by posting a job. Include important details about your pet, the details of the job, and a reward you are willing to offer. You can communicate with sitters from within the app and payments are handled via Venmo.
What is it about?
Doggy Buddies is a dog sitting network where friends help friends find a dog sitter.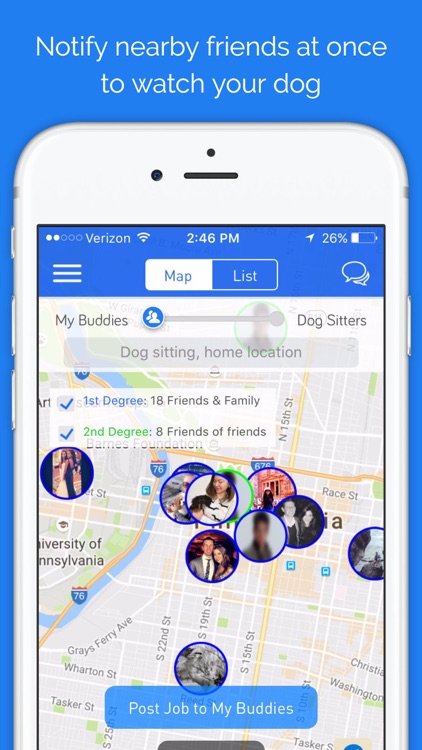 App Store Description
Doggy Buddies is a dog sitting network where friends help friends find a dog sitter.

With the Doggy Buddies app, dog parents are connected to friends and dog sitters from their social network in a single, easy to reach place.

Whether you are going away on vacation, need a last minute sitter or stuck late at work the Doggy Buddies app gives you the smartest and fastest way to reach out and get help from the friends and people you turn to naturally without having to ask around one by one, corner friends or worse, turn to strangers/kennels for help.

To use the app, Just tap a button to request friends to watch your dog and notify all of your available options nearby at once. In a matter of moments, friends and dog sitters you know will let you know if they are available to help.

Sending a job to friends and dog sitters you know is easy - here's how it works:
• Just open the app and see which friends and friends of friends are nearby
• Tap the button and tell us what care you need, when you need it, offer a reward and add any important details about your pet
• The app will tell you exactly which friends and dog sitters around you will receive your request, allowing you to add or remove sitters at your discretion
• Hit send and wait for friends and dog sitters to respond if they are available. Select the person you prefer and confirm. You can message back and forth any remaining details.
• When they job is complete the app will settle any payments through Venmo and allow you to rate and review your dog sitter

Want to be a dog sitter?
• Download the app, login and complete your profile.
• Add, invite and connect to as many friends and dog parents you know on the app.
• All of your job opportunities to watch dogs and make $$$ will come through who you know and who your friends know
• The more friends and dog lovers you are directly connected to, the more expansive your network of opportunities becomes through 2nd degree shared friends and 3rd degree relationships.
• When jobs are complete, get paid automatically through the app


Have a question? Email us at [email protected]