Assemble your dream team of soccer superstars
Dream League Soccer 2018
by First Touch Games Ltd.
watch trailer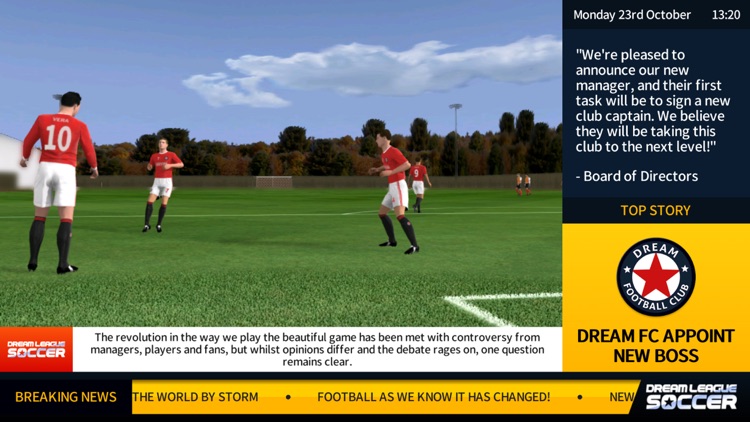 FREE

in the App Store
The worthy successor to the original Dream League Soccer, Dream League Soccer 2016 prides itself primarily in its roster of real FIFPro licensed soccer superstars from which you can build and manage your dream team.
Dream team. Diego Costa, Aaron Ramsey, and other top players licensed by FIFPro are featured in Dream League Soccer 2016. Choose from their lineup to create and customize your dream team of soccer superstars.
Dynamic gameplay. Dream League Soccer 2016 boasts Metal-enhanced graphics with 60fps support along with a smart tactical AI and a stadium upgrading system, making for a soccer simulation experience that's as authentic and addictive as can be on mobile. The game also includes iCloud game syncing and ReplayKit gameplay sharing. What's more, it features a soundtrack by indie rock band Sunset Sons.
Global competition. Of course, your building and managing a dream team will all be for naught if there's no way to test their mettle in the field. Good thing Dream League Soccer 2016 includes six divisions and more than seven cup competitions for your team to conquer. There's also Dream League Online, where you can pit your team against other players' dream teams from around the world.
What is it about?
If you enjoyed the original Dream League Soccer, then you're going to love its leveled-up version, Dream League Soccer 2016. The new game lets you build and manage your dream team of real-life soccer superstars licensed by International Federation of Professional Footballers (FIFPro), the worldwide representative organization for tens of thousands of professional football players. It also enables you to create your own stadium to showcase your players and kick your way to the top in its worldwide online tournament.
For those who...
... enjoy playing soccer simulation games. ... are fans of FIFPro licensed soccer superstars.
Not for those who...
... don't care about soccer or football or whatever the sport is called.
Why we love it
Dream League Soccer 2016 is a stunning simulator that should prove quite enjoyable to anyone who enjoys creating, customizing and controlling soccer teams. That it features a lineup of real-life FIFPro licensed soccer players only adds to its overall appeal.
Dream League Soccer 2018 is FREE but there are more add-ons
$1.99

Bundle of Coins

$3.99

Stack of Coins

$6.99

Cup of Coins

$11.99

Case of Coins

$19.99

Locker of Coins

$1.99

Promo Pack

$3.99

Starter Pack
App Store Description
Dream League Soccer 2018 is here, and it's better than ever! Soccer as we know it has changed, and this is YOUR chance to build THE best team on the planet. Recruit real FIFPro™ licensed superstars, build your own stadium, and take on the World with Dream League Online as you march towards glory, on your road to Soccer Stardom!

Download Dream League Soccer 2018 for FREE now!

*****************************************************
IMPORTANT

This game is free to play, but additional content and in-game items may be purchased for real money. To disable In App Purchases, go to Settings/General/Restriction.

Coins can be earned during gameplay or gained by watching videos, but can also be bought in packs ranging from $1.99 - $19.99.

This app uses Wi-fi or mobile data (if available) to download game content and advertising. You can disable mobile data usage on this game from within Settings/Mobile Data.

This app contains third party advertising. Advertising is disabled if you purchase in game currency from the shop.

*****************************************************
MANAGE YOUR DREAM TEAM
Sign top superstar players such as Gareth Bale and Andrés Iniesta to create your very own Dream Team! Choose your formation, perfect your style and take on any team who stands in your way as you rise through 6 Leagues to top the prestigious Elite Division. Have you got what it takes?

REALISTIC NEW GAMEPLAY
Be prepared for smart, tactical AI to form a challenging and addictive experience. With all new visuals, realistic animations and 60fps dynamic gameplay (compatible devices only), Dream League Soccer 2018 is the perfect Soccer package which captures the true essence of the beautiful game.

GO GLOBAL
Dream League Online puts your Dream Team against the very best in the world. Work your way through the ranks to prove your team is the greatest!

FEATURES
* FIFPro™ licensed players brings the most authentic Dream League Soccer experience to your hands!
* Freedom to create, customize and control your very own Dream Team!
* 6 Divisions to work your way through, and over 7 Cup competitions!
* Build your very own stadium to showcase your superstars!
* Develop your players with more accuracy and intent
* Season objectives to keep you engaged and coming back!
* Game Center achievements & leaderboards to see who is the greatest!
* Customise and import your very own kits & logos!
* Optimized for Metal compatible devices
* Sync game progress between devices with iCloud!
* Exclusive soundtrack provided by The Luka State, Holy Oysters, Beth Thornton, The Ninth Wave, Eat More Cake & The Ramona Flowers!

*****************************************************
VISIT US: firsttouchgames.com
LIKE US: facebook.com/dreamleaguesoccer
FOLLOW US: twitter.com/firsttouchgames
WATCH US: youtube.com/firsttouchgames