Duolingo is Apple's iPhone App of the Year
Duolingo
by Duolingo
What is it about?
Duolingo teaches you Spanish, French, Italian, Portuguese, and more in a fun learning environment. In a game setting, you can level up and compete with friends as you learn a new language. The app has a casual yet upbeat feel to it and is top tier choice.
A better way to learn. Fun games, smart animations, and a cute mascot (we love the Duolingo owl!) make this app the perfect conduit for teaching a foreign language to young -- or old -- children.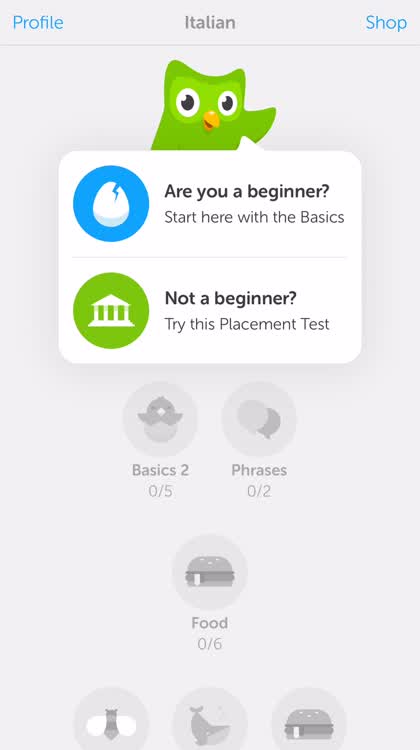 Skip classes (for all the right reasons). Do you already have the basics of your chosen language in place? No problem: in Duolingo, it's possible to jump a few classes ahead (after demonstrating your knowledge, of course!). If you choose to zoom ahead in this way, Duolingo will give you a short test to complete and will then adjust your scheme of work accordingly.
Profile perfect. Duolingo provides registered users with a profile, too. This allows students to track their progress towards learning, or even mastering, their chosen foreign language. As mentioned, for educators, a separate (but similar) set of tools is available in order to monitor entire classes. But for individuals looking to check on their own progress, either inside or outside of the classroom, Duolingo's profile feature offers the perfect solution.
Why we love it
If you are interested in learning a new language, look no further than the colorful and fun Duolingo.
Duolingo is FREE but there are more add-ons
$2.99

Streak Repair

$4.99

Basket of Gems

$4.99

Streak Repair

$3.99

Streak Repair (4)

$9.99

Duolingo Plus

$9.99

Streak Repair

$1.99

Pile of 40 Gems

$1.99

Basket of Gems

$9.99

Chest of Gems

$6.99

Streak Repair
App Store Description
Duolingo is Apple's iPhone App of the Year!

Duolingo is the world's most popular way to learn languages with over 200 million users.

23 languages to choose from. Super fun and free — Spanish, French, German, Italian, Portuguese, Russian, Irish, Dutch, Danish, Swedish, Turkish, Norwegian, Polish, Hebrew, Esperanto, Vietnamese, Ukrainian, Welsh, Greek, Hungarian, Romanian, and Swahili. Oh, and English too.

"Far and away the best language-learning app." —The Wall Street Journal

"Duolingo may hold the secret to the future of education." —TIME Magazine

PC Magazine Editors' Choice for Language Learning: "Among iPhone apps for learning or practicing a language, you can't beat Duolingo."

"The most productive means of procrastination I've ever discovered. The short lesson blocks are painless and peppy, and reaching the next level (and then the level after that) becomes addictive." —Slate

Duolingo is changing the way people learn languages.

With Duolingo, you learn a language for free. You have fun while you learn, leveling up and competing with friends.

Yeah, it's pretty sweet.

--------------------------------------------

If you choose to purchase Duolingo Plus, payment will be charged to your iTunes account, and your account will be charged for renewal within 24-hours prior to the end of the current period. Auto-renewal may be turned off at any time by going to your settings in the iTunes Store after purchase. Current Duolingo Plus subscription price starts at $9.99 USD/month. Prices are in U.S. dollars, may vary in countries other than the U.S. and are subject to change without notice. If you don't choose to purchase Duolingo Plus, you can simply continue using Duolingo for free.

Privacy Policy: https://www.duolingo.com/privacy
Terms of Service: https://www.duolingo.com/terms