With Easy Banking App, you have your bank at your fingertips – literally
Easy Banking for smartphone
by BNP Paribas Fortis - Belgium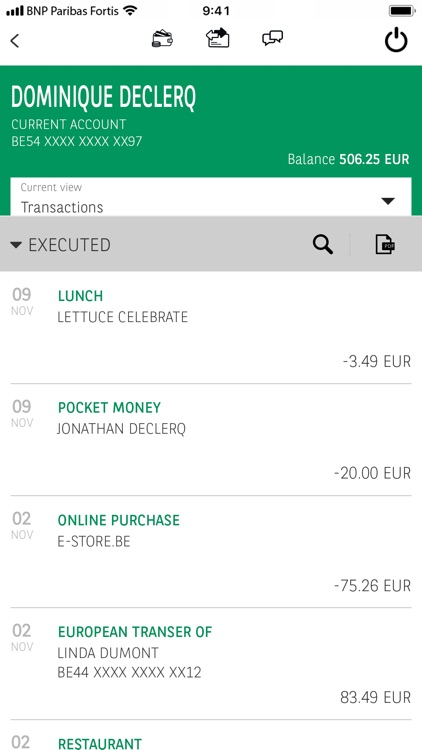 What is it about?
With Easy Banking App, you have your bank at your fingertips – literally!
App Store Description
With Easy Banking App, you have your bank at your fingertips – literally!

With Easy Banking App, you can carry your bank with you on your smartphone. The app includes all the functions you might need for your day-to-day banking.

Some of the options available in the Easy Banking App :
• Log on securely and easily with Touch ID or a password and device recognition;
• View your current and savings account balances;
• Consult the transactions carried out in the last six months;
• Use the handy search function to find a transaction quickly;
• See your expenditure on your credit card in the current month;
• View your investment products in portfolio;
• Make transfers immediately or with a specified execution date;
• Manage your beneficiaries;
• Consult an overview of your insurances;
• Execute European direct debits;
• Consult your account statements;
• See the progress you are making to unlocking your bonuses;
• Bancontact: pay quickly, both online or in a store, or pay back your friends through QR codes;
• Zoomit: pay easily your gas, water, electricity or phone bills;
• Apply for banking products in just a few easy steps.

Easy Banking App is extremely user-friendly and has an attractive layout with clear visuals and easy navigation.

Do you have questions or any experiences you want to share?
Join us on https://www.bnpparibasfortis.be/community

Easy Banking App is a supplementary Easy Banking Web service and is immediately available to all BNP Paribas Fortis customers aged 18 (or 15 with parental consent) and over who have Easy banking Web. Download the free app and get started right away!