The Official App For Easy Music School

Easy Music School 2
by Cindy Barba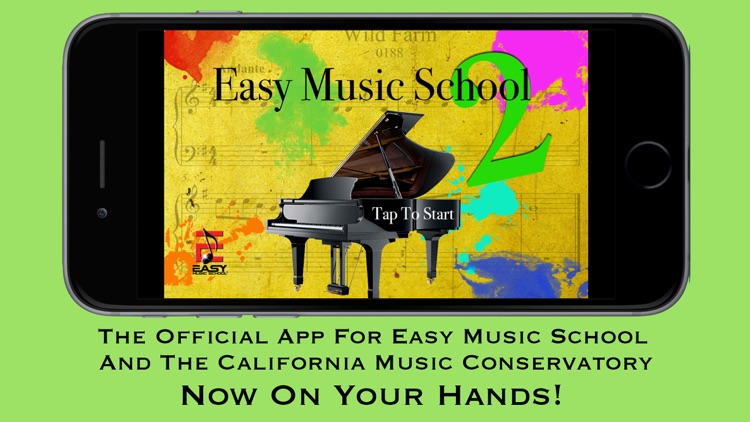 What is it about?
The Official App For Easy Music School!
App Store Description
The Official App For Easy Music School!
35 Years of experience teaching music.

It's like a real Piano Teacher. App Number 2 now ready!
Test it with real students.

** More than 1 million people have learned music, using the Easy Music School system **
** Base on the music program of the California Music Conservatory **

This is the second App on the series. With longer songs, more Music Theory and a lot more
to learn. If you have App Number 1, this is the next step.

-*-*-*-*-*-*-*-*-*-*-*-*-*-*-*-*-*-
EASY MUSIC SCHOOL GUARANTEE
When you finish all the music program of the California Music Conservatory
and the Easy Music School, you will be able to:

Play the piano professionally
Play any song you want by ear
Read any music sheet right away
Jam, play along, improvise with any group or band
You will know ALL the scales, and ALL the chords
You will be able to compose or write music
You will know music perfectly.
You could even teach music if you like

And the most important thing...

You will enjoy listening to music a lot more!
-*-*-*-*-*-*-*-*-*-*-*-*-*-*-*-*-*-

One lesson at a time, learn with this great App/Book!
Each page will teach you one lesson, one study, one song, one exercise.
Take all the time you need on each lesson, and you will learn to play piano.

In this app number 2, you have more Music Theory, Finger Studies, Exercises to read music,
Scales, Chords, and many more longer and nicer songs, all of them in ORDER!

The best thing for this series is that you don't need to look for anything else
out there, everything will be here in order, organized, ready for you to learn.

In this App Number 2, there are 2 scales, more chords, and a Key Signature Chart.

This app has 79 Lessons. From 122 to 201. This is the continuation of Easy Music School 1,
If you know a little bit, you can start here with this App.

This app is not recommended for kids under 12, is better for older kids or adults.

NO ADDS AT ALL - You get the full app! 79+ Lessons
NO PERSONAL INFORMATION IS COLLECTED
IT'S AND APP AND A BOOK
TAP TO PLAY A MUSIC SAMPLE

I have developed this app with a lot of love, an all the experience I have learned in 35 years
of teaching, is in this app. Take one lesson at a time, make sure you can play that song, or
that exercise before moving to the next lesson, and complete all the music program of the
California Music Conservatory and Easy Music School at your own pace.

** This app has **
-*-*-*-*-*-*-*-*-*-*-*-*-*-*-*-*-*-
23 Lessons on Music Theory.
16 Scales Lessons with C and G
5 Arpeggios Samples
7 Songs with Chords
9 Piano Studies
5 Rhythms Samples
11 Solfeos / Reading Music Exercises
20 Songs, longer and nicer
~ And much more...!
-*-*-*-*-*-*-*-*-*-*-*-*-*-*-*-*-*-

Easy to use. Simple to follow. Very effective piano lessons.
For only $1.99 you will not regret it, it's a great app for you or anyone who really wants
to learn how to play the piano, and learn music the right way!

Developed by
Victor M. Barba

Music teacher for more than 35 years of experience
Author of more than 24 books published all over the world
Creator of more than 10 educational apps for the family

Thanks for all your support!

-*-*-*-*-*-*-*-*-*-*-*-*-*-*-*-*-*-
The California Music Conservatory program offers at least 1000 lessons or more,
This App is the number 2 App of a series of Apps, and it has the first 79 more lessons
From 122 to 201. Music has a lot to learn, you could not put all the knowledge
in one App. Takes time and space.

Easy Music School No. 3 is under development now!
-*-*-*-*-*-*-*-*-*-*-*-*-*-*-*-*-*-
Disclaimer:
AppAdvice does not own this application and only provides images and links contained in the iTunes Search API, to help our users find the best apps to download. If you are the developer of this app and would like your information removed, please send a request to
[email protected]
and your information will be removed.