••• Today Only Mac version – 40% Off •••
eXtra Voice Recorder: record, edit, take notes, and sync with Dropbox (Perfect for lectures or meetings)
by Denys Yevenko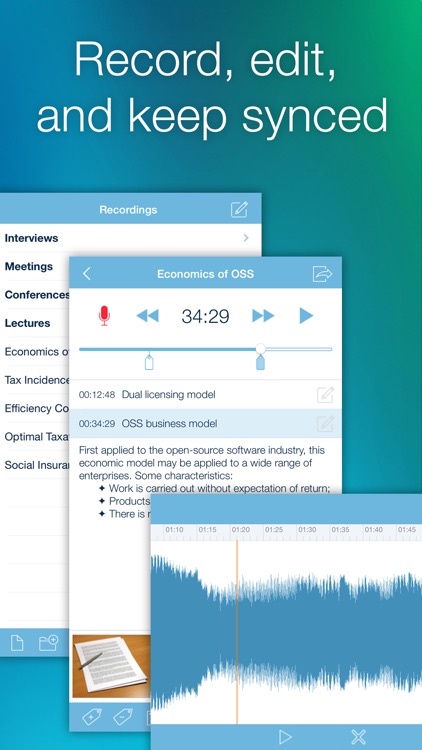 What is it about?
••• Today Only Mac version – 40% Off •••
For those who...
It's the perfect app for students and business professionals.
Not for those who...
If the native audio recording app in iOS is good enough for you, you can probably skip this one.
Why we love it
If you need more control over your audio recordings and how they're manage, this is the perfect app for you. It's loaded with bells and whistles.
App Store Description
••• Today Only Mac version – 40% Off •••
eXtra Voice Recorder is a combination of a high-quality audio recorder, a multi-functional audio editor and an easy-to-use audio files manager. With eXtra Voice Recorder all your recordings will be fully organized and available whenever you need them. You can add notes and photos to each recording, bookmark important parts for ease of navigation, continue recordings and save them directly to the cloud for universal accessibility. Moreover, the app offers a host of handy features for instant file sharing, so sharing your recordings will only be a matter of a couple of taps.

-= The Mac version is available at http://xwavesoft.com =-

eXtra Voice Recorder offers the following:
• Multi-level file manager to keep your recordings organized
• Resume previously created recordings
• Supply your recordings with comments
• Bookmark the most important parts of recordings
• Add photos to your recordings
• Keep photos synced with audio
• Edit recordings with split, trim, and delete features
• Keep your recordings synced across your iPhone, iPad and Mac
• Keep your recordings synced with Dropbox
• Share recordings via Wi-Fi, AirDrop, Messages, Email or iTunes File Sharing
• Keep notes in recording Meta tags that are available for other apps
• Adjustable quality of recording
• Audio scrubbing with variable speed
• Built-in search to find recordings by title or comments
• Record in the background mode even when the device is locked
• Import recordings from other apps
• Upload your recordings to Google Drive, Evernote and other apps
• Record directly to high-quality m4a (AAC) files
• Designed for iPhone, iPod touch and iPad
• It's also available on Mac