A world of images to customize your Apple Watch face
Facer Watch Faces
by Little Labs, Inc.
watch trailer
FREE

in the App Store
Facer, the leading watchface customization platform is finally available for Apple Watch. Personalize your watchface with the most stylish & chic images available. See a different watch face every time you turn your wrist.
Many themes to choose from. You want lots of pictures to customize your Watch face? Facer provides that, with new themes added periodically to help you keep your Apple Watch as fresh and new as you want.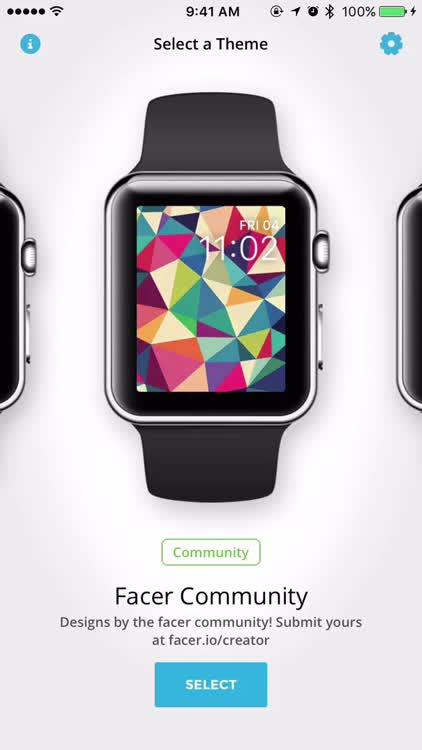 A whole community of Watch faces. Not only can you download other people's images for your Apple Watch, but you can create your own with ease.
Even more themes. Instagram to Tumblr, NASA to Garfield, you can find plenty of new content for your Apple Watch in Facer. There are even educational themes to learn French, Spanish, the periodic table, and the constellations.
What is it about?
You can select a live theme or channel for a constant stream of new images. Partners include Instagram, Tumblr, Unsplash, Superfamous, Gratisography, Vecteezy, NASA and more. New themes & live feeds added weekly. Or create & share your own watchface at www.facer.io/creator
For those who...
Don't have an Apple Watch
Would rather not use photographs for their Watch faces
Not for those who...
Facer is probably the premiere choice when it comes to personalizing your Apple Watch face. The number of themes available, and the breadth of content available in those themes, is sure to keep your Watch fresh every time you look at it. If you want to create your own Watch faces, the creator at facer.io is easy to use.
Why we love it
* Want custom Apple Watch faces on their wrist * Love beautiful photography
Facer Watch Faces is FREE but there are more add-ons
$0.99

Garfield

$0.99

Popeye

$0.99

Betty Boop

$0.99

¡Si Si!

$0.99

Constellations Watch Face Channel

$0.99

Periodic Table Watch Face Channel

$0.99

Ghostbusters

$0.99

Oui Oui! Watch Face Channel

$1.99

Tumblr Watch Face Channel

$0.99

Star Trek Beyond
App Store Description
* Now with support for Samsung Gear and Android Wear watches!

Supercharge your smartwatch and unlock its full potential with Facer, the leading smartwatch customization platform.

MOST POPULAR WATCH FACE PLATFORM
Facer is the most popular watch face platform in the world, with millions of smartwatch users today! Don't settle for the default watch faces & backgrounds...Don't be Default.

TOP BRANDS
Find hundreds of premium faces from the world's leading brands like Tetris™, Star Trek, Garfield, Ghostbusters and more. There are new brands being added all the time so keep an eye out for new watch faces.

ORIGINAL DESIGNS
Facer curates collections of original designs from talented watch face designers to bring you the most beautiful and dynamic faces available

MAKE YOUR OWN WATCH FACE
Make your own watch faces with our powerful web-based editor at https://www.facer.io/creator (note: view on your laptop or desktop for full functionality).

FEEDBACK & TROUBLESHOOTING
-You can send feedback directly to [email protected] and we will promptly reply and address your concern or grant a refund if we cannot fix your issue.
-If you are enjoying our watch faces, we always appreciate a positive review

COMPATIBLE WITH TONS OF DEVICES
Facer is compatible with Apple Watch, Samsung Gear S2/S3, and all of the latest Android Wear devices, including Nixon Mission, Polar m600, Michael Kors Smartwatch, Asus Zenwatch 3, Moto 360 Sport, Casio WSD-F10, Tag Heuer Smartwatch, Moto 360 1 & Moto 360 2nd gen, Huawei Android watch, Asus Zen Watch 1 & 2, Sony Smartwatch 3, LG G Android watch, LG G R Android watch, LG Urbane smartwatch, Samsung Gear smartwatch and more

CONNECT
Create your watch face www.facer.io
Support: [email protected]
About us: www.little-labs.com