Welcome to the best practice of photo / image captioning

FinkYou - Easily Add Text and Badges on Your Photos and Images
by Mehmet Yalcin Parmaksiz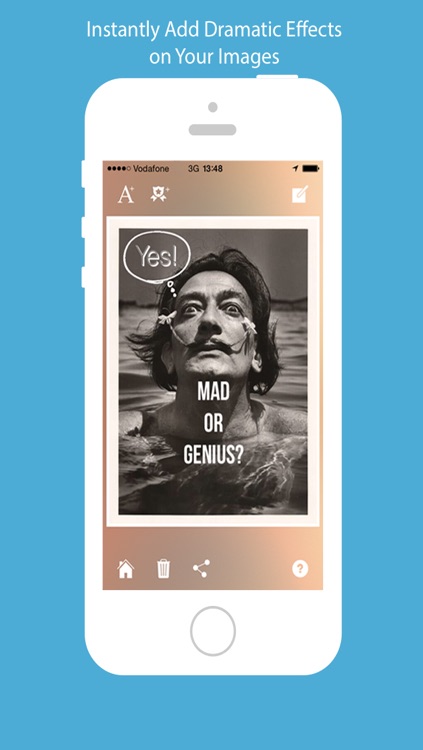 What is it about?
Welcome to the best practice of photo / image captioning!
For those who...
It's for anyone who is looking for a quick way to enhance their photos.
Not for those who...
FinkYou is a little shy on content. It doesn't even have filters. If you want a do-it-all photography app, this isn't it.
Why we love it
If you want a quick and simple way to add text to your photos, you've found it.
FinkYou is $1.99 but there are more add-ons
$0.99

3rd pack badges

$0.99

4th pack badges

$0.99

8th pack badges

$0.99

50 Fonts

$0.99

5th pack badges

$0.99

7th pack badges

$0.99

1st pack badge
App Store Description
Welcome to the best practice of photo / image captioning!

We got bored of what we were using for image enhancing.

We just wanted to add text and badges for our Instagram, Facebook and Tumblr images. So we asked ourselves if we can produce a better one.

Simple. Solid. Easy.

Then Fink You appeared!

Adding texts and badges on images was never this much easy.

Use Fink You! to add texts and badges on your Instagram, Facebook, Tumblr and Pinterest images. Make banners, posters, ads to enhance your photos.

We plan to use and develop this app for years. Hope you do the same and help us with your feedbacks.

BENEFITS:
- Easily add texts and badges to your images on the go!
- Double up your visibility of your presence on your social media accounts!
- Instantly add dramatic effects on your images.
- Make posters, banners and advertisements in seconds.
- Strengthen your "image message" by adding texts and shapes on it.

FEATURES:
- Import your photos directly from your Facebook and Instagram account. You can import from your Camera Roll too.
- More than 100 fonts and badges to choose from.
- Comes with "World's Most Used 50 Fonts" package.
- User interface friendly.
- Change colour and opacity of texts and images.
- Add as many layers as you want.
- Pinch, Zoom, Rotate badges and texts to get the exact look you want to get.
- Export and share your images directly to your Facebook, Instagram and Twitter accounts. If you want, you can save your work to your Camera Roll to send them via e-mail later.

What Our First Users Said;

"I've searched long and hard for the best CAPS app and this is it!!"

"This app is your right hand for your social media images"

"It's helped me to be more attractive than I have EVER been."

"Those of you that want something to make you better on social media, this app will help you get there."

"I made a banner in 30 seconds for my website. Thanks."

Enjoy!
Tenedos Apps