Requires OS 4

First-Hand History of America
by Librainia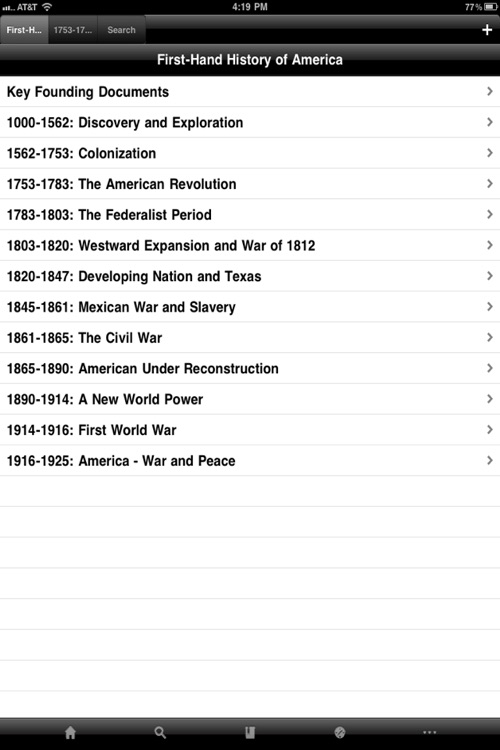 What is it about?
Requires OS 4.2 or better.
App Store Description
Requires OS 4.2 or better.

This is the absolute best app for American History available including nearly 700 documents and accounts. This one-of-a-kind set includes 12 volumes of original sources spanning 9 centuries. No other app gives you more firsthand accounts and documents of American history than this unique collection.

Updates:
Updates will come frequently adding more and more documents with each update.

"This is pure history, without all the filters of contemporary interpretation. …a welcome addition to the library of anyone who wants to better understand where America has come from—and where we should be now."
•Jay A. Parry, author, The Real George Washington

Includes:
Key Founding Documents
• Includes Magna Carta, Mayflower Compact, First Written Constitution, Declaration of Independence, Articles of Confederation, and the Constitution of the United States.

Volume 1: Discovery & Exploration of America – 1000-1542
*Includes 39 Accounts:
•Pre-Columbian Voyages
•Travels of Marco Polo
•Journal of Columbus
and Many More

Volume 2: Colonization of America – 1562-1733
*Includes 63 Accounts:
•First Charter of Virginia
•Settlement of Jamestown
•Witchcraft in New England
•Bacon's Rebellion
and Many More

Volume 3: The American Revolution – 1745-1784
*Includes 85 Accounts:
•The Stamp Act and its Repeal
•The Boston Tea Party
•Patrick Henry's Call to Arms
and Many More

Volume 4: The Federalist Period – 1785-1801
*Includes 32 Accounts:
•Madison's Framing The Constitution
•Invention of the Cotton Gin
•Washington's Farewell Address
and Many More

Volume 5: Westward Expansion & The War of 1812 – 1802-1820
*Includes 52 Accounts:
•Lewis and Clark Expedition
•Causes of the War of 1812
•Battle of New Orleans
and Many More

Volume 6: Developing Nation & Texas – 1820-1847
*Includes 84 Accounts:
•First Seminole War
•The Monroe Doctrine
•Black Hawk War
•Invention of the Telegraph
and Many More

Volume 7: Mexican War & Slavery – 1846-1860
*Includes 58 Accounts:
•Discovery of Gold in California
•Clay Compromise
•Dred Scott Decision
•Lincoln on the First Debate with Douglas
and Many More

Volume 8: The Civil War – 1861-1865
*Includes 65 Accounts:
•First Battle of Bull Run
•Death of Stonewall Jackson
•Gettysburg Address
•Assassination of Lincoln
and Many More

Volume 9: America Under Reconstruction – 1865-1890
*Includes 63 Accounts:
•Plea for General Amnesty
•The Ku-Klux Klan
•Invention of the Telephone
•Edison's Electric Light Invention
and Many More

Volume 10: A New World Power – 1890-1914
*Includes 58 Accounts
•Henry Ford and the Automobile
•Discovery of Gold in Alaska
•Assassination of McKinley
•Building of the Panama Canal
and Many More

Volume 11: The First World War – 1914-1916
*Includes 48 Accounts:
•Willy-Nicky Telegrams
•Britain Fails at Gallipoli
•"They Shall Not Pass" at Verdun
and Many More

Volume 12: America War and Peace – 1916-1925
*Includes 43 Accounts:
•The Zimmermann Telegram
•America Declares War on Germany
•Breaking the Hindenburg Line
•Signing the Treaty of Versailles
and Many More

Main Features:
•Create multiple tabs (study and compare several documents simultaneously)
•Auto-scrolling (variable speed, portrait/landscape)
•Adjustable font size
•Double-tap to toggle full screen
•Night mode – black background with white text
•Highlighting (individual words, phrases, paragraphs; includes 12 colors, bold, underline, and italics)
•Bookmarks
•Personal Notes
•Document Select Rolodex (quick navigation tool for finding/selecting a document)
•Full Search
•Return to where you left off reading when you open the program
Disclaimer:
AppAdvice does not own this application and only provides images and links contained in the iTunes Search API, to help our users find the best apps to download. If you are the developer of this app and would like your information removed, please send a request to
[email protected]
and your information will be removed.