Create and Watch Eye-Catching Visual Stories on the Fly With Flyr
Flyr - Create Video Stories in Seconds!
by FlyrTV, Inc.
watch trailer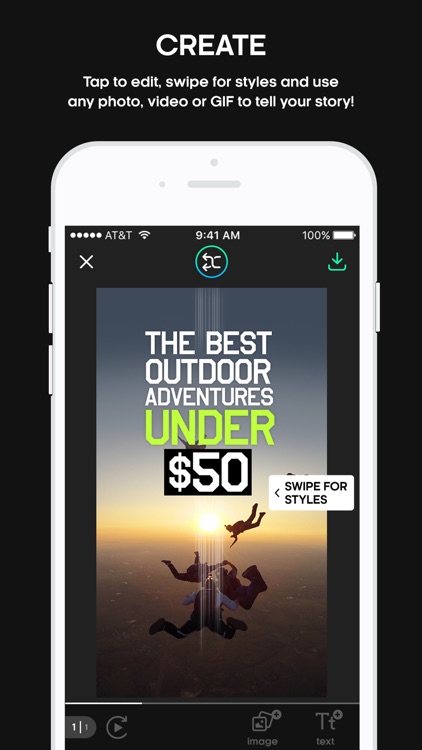 FREE

in the App Store
The story format that features streams of photos and videos has been so popular that it's been cloned from Snapchat, which pioneered it, by Facebook — first with Instagram Stories, then with Messenger Day, and then with WhatsApp Status. It's highly addictive, compelling viewers to stay glued to their devices' screens for the latest visual updates from the users and brands that they follow. So it's hardly a mystery that other apps are trying to join the storytelling party. And one of the apps to do so is Flyr.
Create. Flyr boasts automated design and video editing for quick and easy content creation. Touted as "Tinder for graphic design," its Power Swipe feature allows you to simply swipe to reveal the app's algorithmically generated combinations of layouts, colors, and designs. It also incorporates AI in its suggestions of photos, videos, and GIFs that you can use in your story. All this without requiring extra time for rendering and uploading.
Watch. Tap through Flyr's proprietary video player to watch a variety of interactive stories, complete with support for hyperlinks that can drive viewers to relevant webpages. Stories are also editable even after publishing. At launch, Flyr features six channels where you can watch fast-paced stories about memes, news, and more: Dr. Speckz, Entrepreneur, Fail_44, JStreet, Nuggets, and VIP.
Share. Sharing is caring, and Flyr happens to care about the ease that sharing stories should be done with. Flyr features responsive exporting, which automatically resizes the story you want to share to fit the platform of your choice, be it Snapchat, Instagram, Twitter, Facebook, or iMessage.
What is it about?
Flyr is a platform that enables you to create, watch, and share interactive and interesting video-based stories. Above all, it prides itself in offering speed. There's speed in the way it facilitates content creation. There's speed in its intuitive video player. And there's speed in its exporting of stories for sharing on other platforms.
For those who...
love watching video-based stories.
want a quick and easy app to create stories.
Not for those who...
think stories are vastly overrated.
would rather content yourself with old-fashioned text-based stories.
Why we love it
Flyr is an exciting new platform for visual stories. Its plethora of layouts, colors, and designs is reason enough to check it out. But the fact that it also features an AI-powered media engine, a zippy video player, and responsive exporting gives this fun and easy-to-use app more to recommend itself.
Flyr - Create Video Stories in Seconds! is FREE but there are more add-ons
App Store Description
Make stories in seconds! Create animated videos with stunning text, gifs and motion graphics for Snapchat, Instagram and Facebook.

- Instant Animations - Text, images and videos come to life with fast-moving motion graphics
- Premium Content - Access to 100+ million beautiful, professional photos and videos directly inside the app
- Template Wizard - Start stories with ease by following a simple 3-step template process

and more!

- Swipe to Design - 1,000,000+ unique layouts, colors and styles with a single swipe
- GIFS and videos - Add your favorite videos, GIFs and photos
- Responsive Exporting - Save any size, post anywhere
- Text Layers - Add multiple titles and copy
- Stickers - Pick from a variety of icons, buttons, shapes and emojis or upload your own!

Upgrade your social posts on-the-fly, while getting the highest viewership and engagement rates as possible for your brand. 10x more videos, 10x faster, no question.

"An app for rapid creation of Snapchat Discover-style stories" - TechCrunch

"Flyr is making it easier to create [stories] and share them to multiple platforms, including Snapchat and Instagram Stories." - Business Insider

Use Flyr to:

- Increase engagement in your socials
- Create short trailers from long videos
- Have fun creating unique animated gifs
- Design an animated birthday post for your mom

Watch it in action here: http://flyrtv.com

As creators, we knew the biggest pain points when making stories, so we found a better way. A way to produce impressive vertical videos without taking hours or needing a computer.

*For best results, we recommend using on iPhone 6 or newer

Welcome to the video revolution. Your story, your way.

Flyr Pro Price: $9.99/month USD (may vary by location)

Subscription Details:

Payment will be charged to your credit card on your iTunes Account at time of purchase. Your subscription will automatically renew following your Free Trial Period unless auto-renew is turned off at least 24 hours before the end of the current period. You can manage your subscription or turn off auto-renew in your iTunes Account Settings after purchase. If you turn off auto-renew in the middle of a subscription period, you will still have access to all pro features until the end of the period. No partial refunds will be given for turning off auto-renew in the middle of a subscription period.