Geography Duel is a split screen world trivia game that pits two players against each other on the same device

Geography Duel - Two Player Split Screen World Trivia Game for Kids and Adults
by Ellie's Games, LLC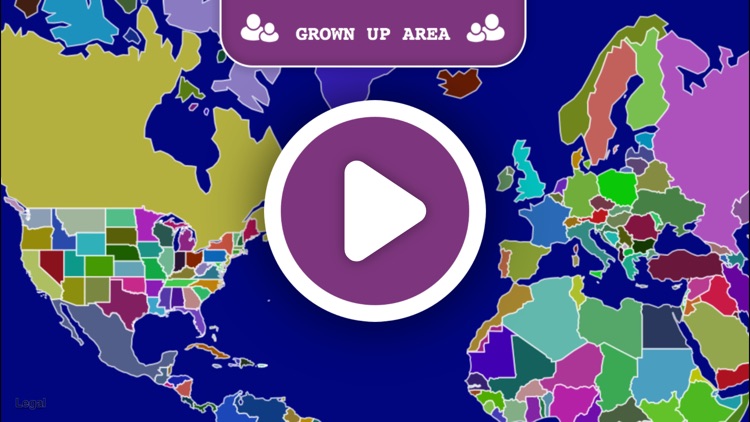 What is it about?
Geography Duel is a split screen world trivia game that pits two players against each other on the same device! Search through States or Countries. Change settings for each player to level the playing field. New single player mode is great for geography practice! Big test coming up? Create a list with all the locations and use Geography Duel to make studying fun!
For those who...
It's ideal for both parents and teachers that want to help their children study the world.
Not for those who...
The single player mode doesn't have a timer, so there really isn't much pushing the player along. If you want a single player challenge, you won't find it here.
Why we love it
If you want your child work on their geography, they're going to enjoy doing so in Geography Duel. It's a ton of fun whether played alone or against a friend or family member.
App Store Description
Geography Duel is a split screen world trivia game that pits two players against each other on the same device! Search through States or Countries. Change settings for each player to level the playing field. New single player mode is great for geography practice! Big test coming up? Create a list with all the locations and use Geography Duel to make studying fun!

"This was quite the refresher course. A simple geography quiz game that made playing with a friend fun and competitive! Now I know where all 50 states are!"
- SuperdyDad

"Wonderful game to practice states, capitals and countries. The two player version is the best, but I really enjoyed trying to find all the countries. The colors are so fun and I like that it tells me when we guess incorrectly."
- canadabanana

The split-screen interface is perfect for two players on your iPad!

FEATURES:

● Split Screen Interface
● Single Player Mode
● Highly Configurable
● Customized Lists


SETTINGS:

● Colors
● Map Type
● Search Locations (States, Countries)


HOW TO PLAY:

Adjust the settings for both players to ensure an equal playing field. Adults should enable countries if playing younger children. Try to find the locations before your opponent!

ABOUT:

With over a million games played, Ellie's Games' offers simple, intuitive educational fun for all ages. From split-screen two player math games, to bright playful connect-the-dot styled games there's something for everyone! With games designed specifically for my daughter Ellie, my apps focus on positive reinforcement and frustration free gameplay.

Have a great suggestion for Ellie's Games? Please send it to [email protected]

Check out Ellie's other games:
- Math Duel
- Dot Collector
- Alphabet Dots
- Counting Dots
- Color Dots
- Matching
- Color Squares
- Dot Connector
- Color Dots
- Toddler Training Tool
- Vet Island

Keywords to help you find Ellie's Games:
preschool, games, kids, educational, learning, kindergarten, toddler, early, animals, abby, flash, words, reading, puzzle, amazing, baby, first, brain, toddlers, memory, match, train, children, letters, science, homeschool, development, touch, infant, fun, app, skills, peekaboo, count, soothing, development, rattle, babies, toy, zoo, playing, abc, stimulate, minds, sensory, smart, finger, coordination, reaction, time, baby, counting, child, son, daughter, mom, dad, grandpa, grandma, classroom, student, teach, teaching, learn, schooling, pet, animal, doctor, coord, font, case, lowercase, uppercase, shows, videos, cartoons, connect the dots, dot to dot, geo, split screen