The best app to calculate gestational age
Gestational Age Calculator
by Zebas Studios SA de CV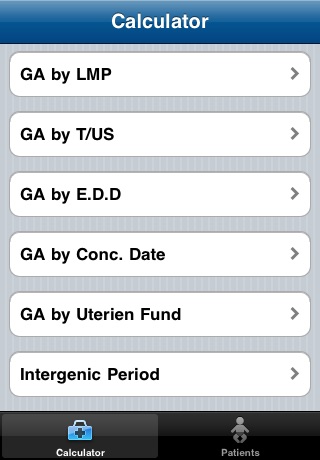 What is it about?
The best app to calculate gestational age.
App Store Description
The best app to calculate gestational age.
-Versatile
-Complete
-Fast
-Precise
-Reliable
-Easy
-Simple
-Friendly
-Intuitive

If you are a Gynecologist, Resident, Doctor, Intern, Nurse, Medicine Student or simply pregnant this is the app for you!

Characteristics:
-Calculates gestational age in weeks and days.
-Calculates the estimated delivery date.
-Conception date.
-Dates when age will be: 12, 34 and 38 weeks.
-Displays estimated fetal information based on international databases.
(DMSG, LCR, DBP, CC, CA, LF, Cerebelo, Fetal Weight and Fetal length).

Calculations based on:
-Last Menstruation Period
-Traspolated Ultrasound
-Estimated Delivery Date
-Conception Date
-Uterine Fund

The app can also calculate the intergenic period!

The app will also allow you to make a list of patients, with the option to capture their medical history so it is available to you on the go.

You can sort your patient list by name or gest. age.