When you want the perfect snapshot, make sure it's Golden Hour
GoldenHourOne
by Hana Kusova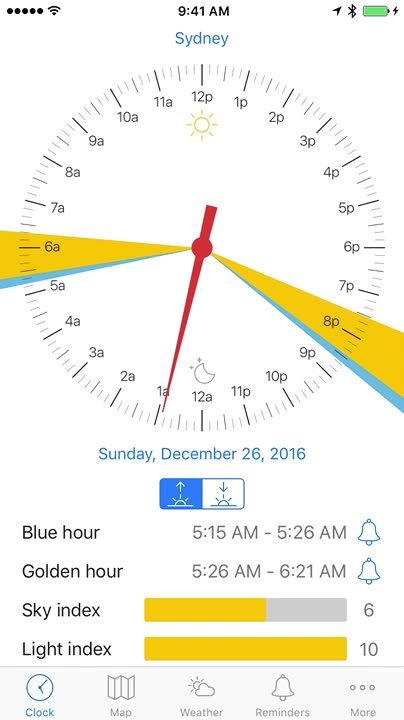 $3.99

in the App Store
GoldenHour.One is a simple app that lets photographers know when it is the best time to be outside to take the perfect photo.
What is it about?
GoldenHour.One is a simple and basic app that is designed by a photographer for photographers. With this app, photographers can determine when Golden Hour occurs, or even Blue Hour, and even when a dramatic sky will happen. Using weather forecasts from all over the world, GoldenHour.One can determine light and sky index levels to help you get that perfect shot. The app can also notify you of events and help you pick out the best spot to photograph from as well. It's a must for any serious photographer.
For those who...
Serious photographers who want to know when golden hour is each day
Like to take photographs outdoors
Not for those who...
Don't care about golden hour
Aren't serious about outdoor photography
Why we love it
Taking great photos outdoors can be hard when the lighting is not right. Fortunately, this simple app helps you know when the right time is, as well as finding the perfect spot to take photos from.
App Store Description
Your personal assistant for outdoor photography.

Featured by Apple on "Apps that we love", from FStooper he got "seal of approval", selected by NoFilmSchool.com as "Coolest Filmmaking Gadget of 2016".

GoldenHour.One helps you to find the best time, place and weather for your outdoor pictures. GoldenHour.one knows in advance your chance for a good photo. It can predict the light, sky and moon indexes from local weather forecast anywhere in the world.

= Exceptional Features =
• Sky Index - shows you a chance for dramatic sky,
• Light Index - shows a chance for portraits landscape and architecture photos.
• Moon Index - shows a chance for moon photo.
• One quick glance and you know, if you go to take a photo or not.

Select any place on the map and GoldenHour.One will show you the sun position during the golden hour.
If the sun is not where you have imagined, you can either move the pin to a new position or use the slider to pick another date when the sun is in the desired position.
GHO won't let you miss any opportunity.
Pick any event you would like to be reminded of and GoldenHour.One will remind you in advance.

= Features =
• Clean and easy to use interface
• Golden and blue hour
• Moon hour - best time for moon photo
• Sky Index - predicting the chance for a dramatic photo of sunrise or sunset.
• Light Index - predicting conditions for portraits panoramas and architecture.
• Moon Index - predicting conditions for moon photo.
•5-day photography specific weather forecast.
• Unique weather descriptions from a photographer's perspective - knows what to expect when taking a photo.
• Visual search on the map: move the pin as you need it.
• Find the best place for your photo on the map.
• Check the line of sight of the sun and moon for any date and time.
• Map compass mode.
• List of favorite locations and events for future use.
• Time/direction of the sun and moon rise/set.
• View azimuth and altitude of the sun/moon for any time of day/night
• Moon phase, age and illumination.
• Civil, nautical and astronomical twilight.
• Celestial events including moon phases, lunar eclipse and solar eclipse
• Network connection not required for rise/set time, azimuths and sun/moon position
• Automatic time zone detection.
• Elevation above sea level.
• Distance, bearings and elevation angle between any two points
• Works everywhere. Worldwide.
• A beautifully crafted visual experience.

I am interested in your opinions and ideas; you can send me them directly from the app.


They wrote about us:
Fstoppers.com, KodakIT, LifeHacker.com, DigitalTrends.com, DigiFotoPro.nl, Snapmunk.com, techjo.jp …

".... GoldenHour.One gets the Fstoppers seal of approval." - Fstoppers.com

"Finding perfect light has never been easier - we are loving this golden hour app for photographers" - KodakIt.com

"Coolest Filmmaking Gadget of 2016" - NoFilmSchool.com

"The app serves as a great tool to plan shots with the perfect light conditions" - iThinkDifferent.com

"Overall, it's one of the best designed and most thoroughly thought out golden hour apps available." - DigitalTrends.com

Olivier Sarbil, photojournalist, war reporter
"Good help with GoldenHour.One app to get right time and place for shooting at the golden hour."

Adam Batchelor, director of photography
"Testing the app GoldenHour.One it's done a great job at pinpointing the perfect time and place to get that Terrence Malick style shot."

by Graus85
"This is a must for photographer at all levels! Lots of functionalities and alerts! Recommend!"
Disclaimer:
AppAdvice does not own this application and only provides images and links contained in the iTunes Search API, to help our users find the best apps to download. If you are the developer of this app and would like your information removed, please send a request to
[email protected]
and your information will be removed.