Top 10 USA with TONS of downloads worldwide
Hotdog Wars
by Games for Friends LLC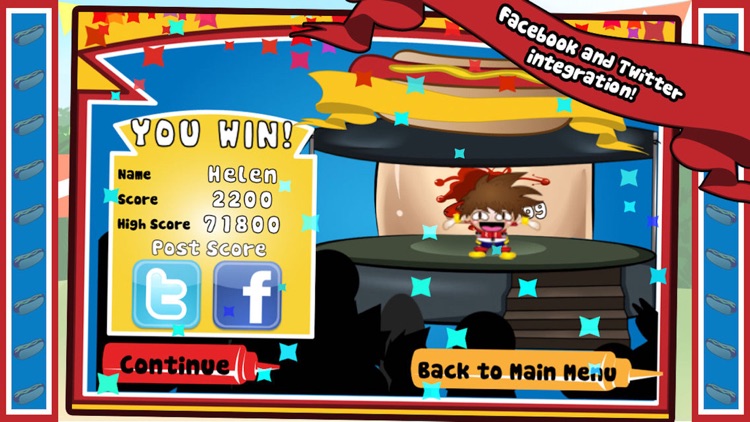 What is it about?
Top 10 USA with TONS of downloads worldwide
Hotdog Wars is FREE but there are more add-ons
$1.99

Remove ads and unlock 3 characters

$0.99

100 Credits!
App Store Description
Top 10 USA with TONS of downloads worldwide

Follow us on Twitter via @kooapps to receive free promo codes and new game launch raffle prizes!

Trendy on Twitter check it out - http://twitter.com/search?q=hotdog wars

App Store Quotes:
---------------------------------
"Omg this game is so awesome. It is so addicting I can't put it down : )"

"I LOVE THIS GAME"


According to legend, the first Hotdog Wars contest was held in July of 1916 between four people, the champion declared to be the most patriotic.

Now more than 90 yrs. later the tradition continues, with over 20 contestants of different country origins, they ride on the "bus of champions". Vying for the coveted international "bejeweled" mustard-yellow belt, a belt rumored to be of "unknown age and value".

Do you think you have the guts to be the next one to hold the belt? Then what are you waiting for?! Battle 20 characters in 20 levels and rise to the top of the food eating pyramid and be the next Hotdog Wars Champion!


FEATURES:
---------------------------------
- 20 cartoon characters to LOL while compete in eating hotdogs
- 20 fun levels that will crack you up
- Leaderboard to compare scores with friends
- Facebook & Twitter integration
- Simple controls, just tap left-right-left

CONTACT INFO:
---------------------------------
- Any questions or suggestions?
- Any problems/crashes?
Email us at [email protected]

Become a fan of Hotdog Wars on Facebook!
Our Website - http://hotdogwars.kooapps.com/

Please write us a review : ) We value your thoughts highly and appreciate all feedback. Thanks!