*** 48 Hour Sale - 50% Off - Buy Soon ***

How To Make Your Face Smaller & Thinner; Secret Reveal For Your Skinny & Slimmer Face
by Anarie Mape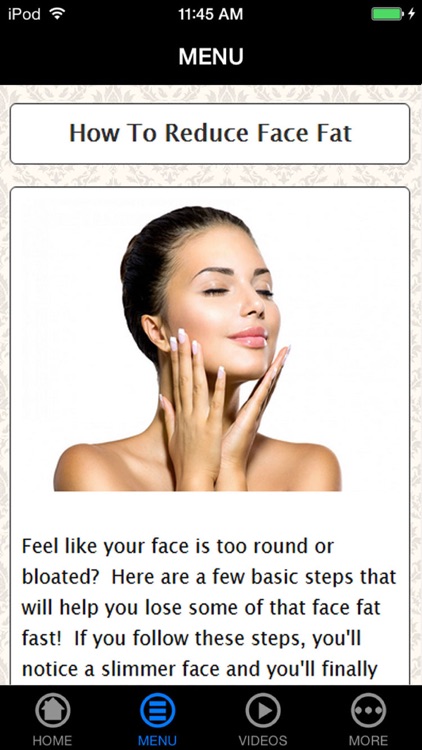 What is it about?
*** 48 Hour Sale - 50% Off - Buy Soon ***
App Store Description
*** 48 Hour Sale - 50% Off - Buy Soon ***

Buy Now Before Price Goes Back Up!

Just about everyone would like to change something about their face. Whether it skinny chizzled cheeks or a thinner neck, everyone probably would change something if they could. It's a defining factor in the initial image people get of you, so it's important to make yours as attractive as possible so that you can feel confident and carry yourself with pride! Now, this APP is about to reveal the secret of how to make your face smaller & thinner. Let's Get Started.


Featuring,

[+] HOW TO REDUCE FACE FAT

[+] EXERCISE REGULARLY

[+] CHANGE YOUR LOOK

[+] TIPS FOR WOMEN

[+] TIPS FOR MEN

[+] EXERCISING TIPS

[+] LOSE FACE FAT EASILY WITHOUT A SURGERY

[+] VALUABLE EXPERT ADVICE

[+] MAKEUP TIPS & TRICKS

[+] NATURAL TIPS TO LOSE FACE WEIGHT

[+] UCC Video Tutorials.

[+] In-App Notepad.

[+] In-App Picture Share.

[+] In-App Goal Tracker.

[+] In-App BMI Calculator,

.......Much Much More!

Well, What Are You Waiting For? Download and Learn "How To Make Your Face Thinner & Smaller"

Get it Now Before Promotion Ends!