Your iPhone or WiFi+Cellular iPad becomes a high-performance GPS receiver with USA NOAA Raster Nautical Charts
i Sail GPS : NOAA Charts
by James Associates Inc.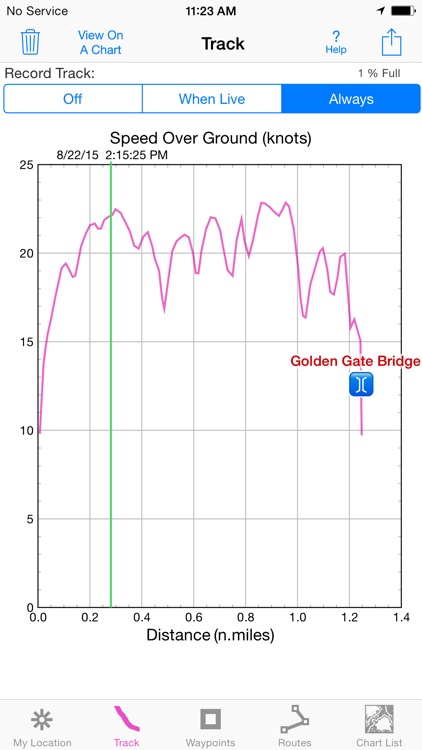 What is it about?
Your iPhone or WiFi+Cellular iPad becomes a high-performance GPS receiver with USA NOAA Raster Nautical Charts!
App Store Description
Your iPhone or WiFi+Cellular iPad becomes a high-performance GPS receiver with USA NOAA Raster Nautical Charts!
Rated "Best Choice — Excellent" by Practical-Sailor.com

On the water in a bad storm and your chart plotter just failed? Download this app now. You will have full navigation capabilities to get safely back to port. Better yet, buy iSailGPS today so you will already have it if you find yourself in this situation, even in an area with no cell service. No sign up, ads, subscription, or in-app purchase required, making this less expensive & higher quality than the "free" apps

TRACKS, WAYPOINTS, ROUTES

▶ Record a track. View it on the chart and in a speed graph. Record in the background. View time of track points

▶ Mark waypoints by their position on a chart, by tapping a geotagged photo, by projecting from a known point, or by searching place names. Refine a waypoint position when you arrive

▶ Set a quick GoTo waypoint or a full route and see the course, heading, bearing, distance, cross track error, Velocity Made Good & Estimated Time of Arrival at your destination and intermediate points

▶ Man Overboard. With one button push, mark your current position & start navigating to it

▶ Create routes using waypoints, recorded tracks, or imported GPX files. Advanced route editing

▶ Export GPX waypoint, route and track files via eMail, Messages, Import With, AirDrop, iCloud Drive, Dropbox or iTunes

▶ Send KML files to display immediately in GoogleEarth


USA NOAA RNC CHARTS

▶ Forever-free access to all NOAA Raster Nautical Charts (RNC) for USA waters. Download using WiFi or cell service

▶ Store up to 750 charts to use anytime without cell service. Charts from our server have a shorter download time, use less of your monthly data allotment & use less storage

▶ Stitches charts and automatically switches between downloaded charts as you sail. Choose detailed or overview charts

▶ Enjoy the high resolution and what's-all-around detail of the NOAA RNC Charts. They are a welcome advantage over ENC Vector Charts, which only show a coastline, depths, navigation aids & minimal details

▶ Print charts overlaid with waypoints, routes & tracks. Share chart images & locations using email, Twitter, Facebook, Messages, Photos, Import With, AirDrop or the clipboard

▶ NOAA charts don't include most inland rivers & small lakes. Use our iHikeGPS app for these


HOW TOS

▶ Tap Help in the app

▶ Online Manual: isailgps.com

▶ Email developer: [email protected]


RASTER CHARTS VS. VECTOR CHARTS

The National Oceanic & Atmospheric Administration provides both RNC (raster) and ENC (vector) charts.

The great advantage of the RNC charts used by iSailGPS is the high level of detail produced by professional cartographers that is unobtainable on any vector-based chart.

These RNC Charts differ from vector charts in that each chart covers a specific area, just as paper nautical charts do. A new chart is switched to when traveling out of the area covered by the previous chart. For most locations, there are multiple charts at different scales with different levels of detail & areas of coverage.

Paper charts can have multiple panels, each showing a different area or scale. Each digital panel is individually displayed by iSailGPS with a north-up orientation.

Other, more expensive marine software uses these same RNC charts. iSailGPS is priced to make it readily available to all sailors.


DEVICE REQUIREMENTS

● No device requires a cellular data plan to use iSailGPS

● iPad 2 or later with WiFi+cellular, & iPhone 4 or later support full navigation

● iPad 2 or later with WiFi-only, & iPod touch (5th gen or later) require an iOS-compatible external GPS receiver to show your location on the water & record tracks. View charts using the iOS device alone

● Continued use of GPS running in the background can dramatically decrease battery life


Winner of the Practical Sailor Editors' Choice Award

Sailing becomes safer and more fun with iSailGPS!