Apply to jobs with ease with CareerBuilder's free US job search app
Jobs by CareerBuilder
by CareerBuilder, LLC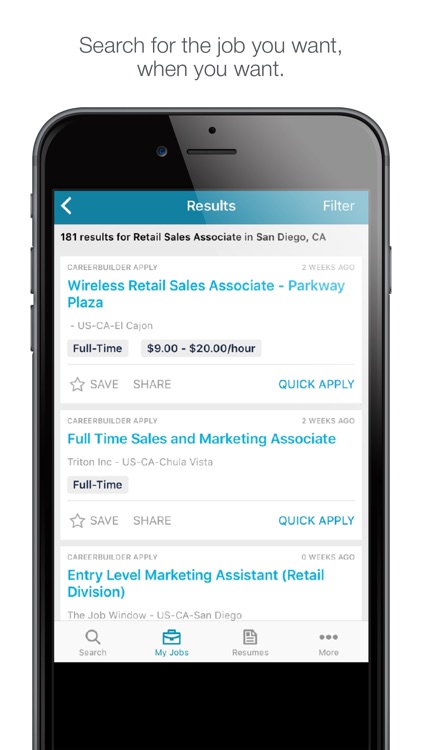 What is it about?
If you use CareerBuilder on the web, then check out the Jobs by CareerBuilder app for your mobile device. Search for jobs anywhere in the United States, filter results to narrow your choices, and then apply from within the app. You can track jobs you have viewed and applied for as well as save those that interest you for later. The app is easy to use and great for finding the ideal job for you.
Why we love it
Jobs by CareerBuilder is a terrific job search app for finding, applying, tracking, and managing jobs all in one spot.
App Details
Last updated
June 15, 2017
Release date
May 11, 2012
App Store Description
Apply to jobs with ease with CareerBuilder's free US job search app. As the largest job site in the US, we'll make sure you have the most recent job postings right at your fingertips.

Easily upload your resume directly from your Dropbox or Google+ account. Adjust filters to customize your search. Apply to jobs quickly, and keep track of job applications that you submit.

Fine Tune Your Job Search
• Find jobs nearby or anywhere else in the US only
• Apply to jobs instantly from within the app.
• Get similar job recommendations based on the jobs you apply to.
• Filter search results to quickly find the most relevant jobs.

Manage Your Jobs
• Track jobs you've viewed, applied to and emailed.
• View job application history.
• Save jobs you're interested in so you can apply later.
• Discover new jobs and share them with friends using your favorite social network.