「キングダム ハーツ」シリーズ初のスマホアプリが登場!
KINGDOM HEARTS Union χ[Cross]
by SQUARE ENIX INC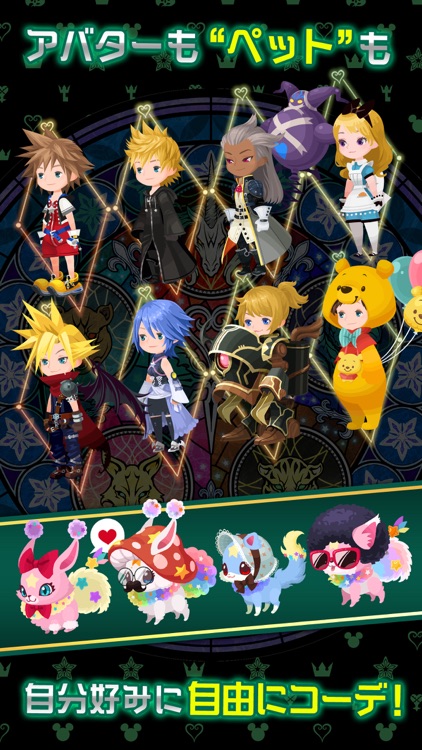 What is it about?
「キングダム ハーツ」シリーズ初のスマホアプリが登場!
Battle epic bosses. Face off against tough Heartless bosses in raid battles. Use your medals for hard-hitting attacks and call upon friends for help.
Upgrade your avatar. Gain access to unique avatar boards to get upgrades for your character as well as new outfits!
Turn-based combat. Face off against Heartless in turn-based combat settings. Tap to attack, swipe to do an AOE attack, and flick character medals for special moves. Medals harness the power of Disney and Final Fantasy heroes and villains.
KINGDOM HEARTS Union χ[Cross] is FREE but there are more add-ons
¥1,400

ジュエル1600個

¥9,800

ジュエル14500個

¥2,900

ジュエル3600個

¥240

ジュエル240個

¥720

ジュエル780個

¥4,200

ジュエル5520個

¥6,800

ジュエル9600個
App Store Description
「キングダム ハーツ」シリーズ初のスマホアプリが登場!
ディズニーの世界、始まるキミだけの物語。
--------------------------------------------
ディズニーの世界を冒険してストーリーを楽しもう!
--------------------------------------------
キングダム ハーツはここから始まる。
様々なワールドで「光(ルクス)」を集めながら、
おとぎ話の主人公となってユニオン クロスでしか味わえないストーリーを体験しよう!

--------------------------------------------
人気のキャラクターが勢ぞろい!簡単操作で爽快バトル!
--------------------------------------------
タップやフリックだけでド派手なバトルが展開!
バトルで使うメダルにはディズニーやファイナルファンタジーのおなじみ人気キャラクターが登場し、あなたの戦いをサポートしてくれます。
更に、メダルのデッキ編成や使い方次第で幅広い作戦を立てることが可能!自分だけの戦略で立ちはだかる敵を殲滅しよう!

--------------------------------------------
最大6人の仲間と同時プレイ!!やり込み要素もボリューム大!
--------------------------------------------
マルチクエストでは仲間と一緒にフィールドを冒険できます。リアルタイムに協力して強敵を倒そう!
また物語を進めると開催される「コロシアム」では、自分の力を試すチャンス!
仲間と競い合いながらランキング上位を目指そう!

--------------------------------------------
ステキに自分をコーディネート!どんどん増えるアバターを楽しもう!
--------------------------------------------
自分の分身となるアバターは、自由にコーディネートが可能。
キャラクターにちなんだものや、季節ごとのイベントなど、かわいいアバターがたくさん!自分だけのコーディネートを楽しもう!