Two-factor authentication made easy
LastPass Authenticator
by LogMeIn, Inc.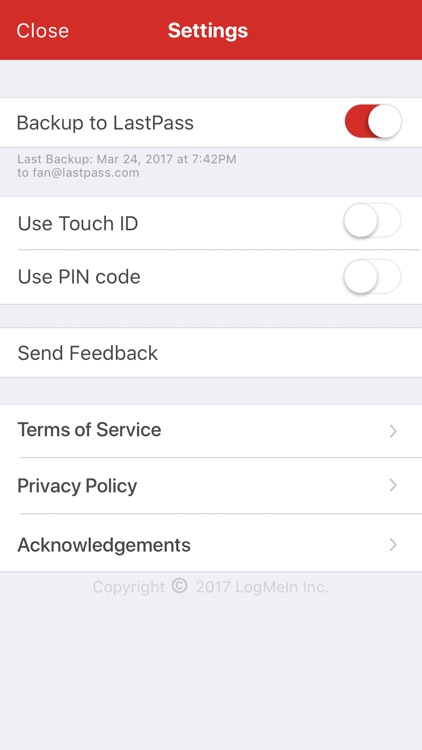 FREE

in the App Store
LastPass Authenticator is a companion to the LastPass service for those who prefer two-factor authentication for extra security.
Secure setup. To get started with LastPass Authenticator, you have to activate it with your LastPass account. On your computer, log in to LastPass and open your vault, go to Account Settings, select Multifactor Options, click the edit button for LastPass Authenticator, follow the prompts, and then scan the barcode displayed on the screen using the LastPass Authenticator app. After setting your preferences and saving your account changes, the app and your LastPass account will be automatically paired.
Secure login. When you next log in to your LastPass account or your account with another supported service, open LastPass Authenticator to get a 6-digit, 30-second code, or send your authorized mobile device an SMS code that you can enter into the login prompt. With your LastPass account, you can also use the app to approve or deny the authentication request via the automated push notification.
What is it about?
Similar to Google Authenticator and 1Password, LastPass Authenticator is built around the idea of streamlining the otherwise cumbersome process of two-factor authentication, which adds a layer of security to logins by requiring a separate verification component in addition to the usual username and password combination.
For those who...
Are users of LastPass.
Appreciate the importance of two-factor authentication.
Frequently log in to LastPass and other services that support Google Authenticator.
Not for those who...
Use a password management service other than LastPass.
Don't like to use two-factor authentication.
Why we love it
LastPass Authenticator makes it easy to implement two-factor authentication for your accounts with LastPass and other services. Consequently, you'll be encouraged to continually carry out a key practice toward the optimal protection of your data, in conjunction with the main LastPass service itself.
App Store Description
LastPass Authenticator offers effortless two-factor authentication for your LastPass account and other supported apps. With one-tap verification and secure cloud backup, LastPass Authenticator gives you all the security, without any of the frustration.

ADD MORE SECURITY
Safeguard your LastPass account by requiring two-factor authentication codes when signing in. Two-factor authentication improves your digital security by protecting your account with an additional login step. Even if your password is compromised, your account can't be accessed without the two-factor authentication code.

You can even mark a device as "trusted", so you won't be prompted for codes on that device while your account remains protected by two-factor authentication.

TURNING IT ON
To turn on LastPass Authenticator for your LastPass account:

1. Download LastPass Authenticator to your mobile device.
2. Log in to LastPass on your computer and launch "Account Settings" from your vault.
3. In "Multifactor Options", edit LastPass Authenticator and view the barcode.
4. Scan the barcode with the LastPass Authenticator app.
5. Set your preferences and save your changes.

LastPass Authenticator can also be turned on for any service or app that supports Google Authenticator or TOTP-based two-factor authentication.

LOGGING IN
To login to your LastPass account or other supported vendor service:
1. Open the app to generate a 6-digit, 30-second code OR approve/deny an automated push notification
2. Alternatively, send SMS code
3. Enter the code into the login prompt on your device OR hit approve/deny request

FEATURES
- Generates 6-digit codes every 30 seconds
- Push notifications for one-tap approval
- Optional encrypted backup to restore your tokens on a new/reinstalled device
- Support for SMS codes
- Automated set-up via QR code
- Support for LastPass accounts
- Support for other TOTP-compatible services and apps (including any that support Google Authenticator)
- Add multiple accounts
- Available on Android and iOS