N26 — The Mobile Bank
N26 – The Mobile Bank
by Number26 GmbH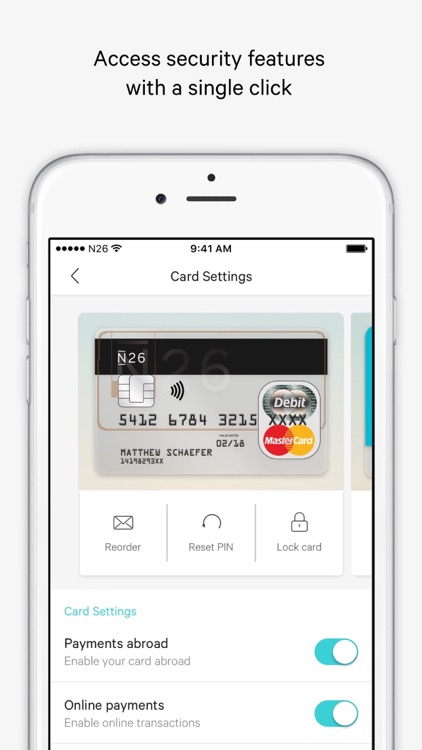 What is it about?
N26 — The Mobile Bank
App Details
Last updated
August 3, 2017
Release date
February 4, 2015
N26 – The Mobile Bank supports Siri commands
Send
6€
to
Markus
for
lunch
with
N26
Send
money
to
Andrea
using
N26
Send 6€ to Markus for lunch with N26
Send money to Andrea using N26
App Store Description
N26 — The Mobile Bank
N26 is Europe's first completely mobile bank, trusted by more than 300.000 customers. Get a bank account, Mastercard and core personal banking features like MoneyBeam for instant cash transfers between contacts. Add any number of financial products like overdraft, personal credit or investments. Download the N26 app and create an account from your phone in less than 8 minutes. With N26, you can run your entire financial life from your phone.

N26 features include:
- MoneyBeam –– instant cash transfers using only a contact's email address or phone number
- TransferWise — international money transfers into 19 different currencies
- Realtime account activity push notifications
- In-app card control to lock or reorder your card, enable payments abroad, enable online payments, and set withdrawal and payment limits
- Automatic spending categorization
- Up to 5 free ATM withdrawals per month from any ATM, based on a Fair Use policy

N26 products include:
- Overdraft — overdraft up to €1.000 with 8,9% interest rate approved within minutes, and up to €5.000 for existing customers
- N26 Credit — paperless personal credit loan between €1.000 and €25.000
- N26 Invest — long-term investment tool with low minimum principal and automatic periodic contributions
- N26 Savings –– fixed term savings account with high interest rates up to 1,48%
- N26 Insurance –– digital insurance dashboard to manage all your policies in one place
- N26 Black — premium account and Mastercard with comprehensive insurance coverage
- N26 Business — account and Mastercard for freelancers and self-employed customers with 0.1% cashback on all purchases

Safety & Security
- Your money is protected by the German Deposit Protection Fund up to €100.000
- Your data is secured according to German data protection requirements

Ideas & Feedback
We're able to create an awesome product because you give us awesome ideas and feedback. We listen to your input and make it work so email us at [email protected] or comment in the app (Control Center > Service > Product Ideas).

N26 has over 5.000 5-star reviews, and has been featured internationally in TechCrunch, WIRED, The Financial Times and Forbes, and in Zeit, Süddeutsche Zeitung, Spiegel Online, Bild and FAZ in Germany.