The best crossword in the world is better than ever
NYTimes Crossword - Daily Word Puzzle Game
by The New York Times Company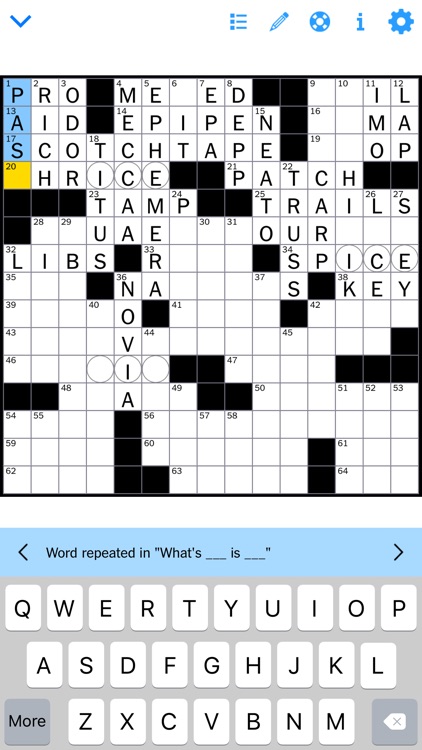 What is it about?
The best crossword in the world is better than ever! Enjoy the same puzzles printed in the daily newspaper in the crossword app built by The New York Times.
Can you handle the dailies? NYTimes Crossword provides the same puzzle each day on the app as it does in The New York Times newspaper. Just type in your answers after reviewing the clues, move through those clues easily, and click anywhere on the board to move to another area.
Check out mini puzzles. If you are overwhelmed by the daily challenge, try out the mini puzzles. These are shorter due to the smaller board and available without any subscription.
NYTimes Crossword is FREE but there are more add-ons
Free

Free Starter Pack

$6.99

New York Times Crossword Subscription

Free

Jumbo Mondays

$39.99

New York Times Crossword Subscription

Free

Introducing the Midi

Free

75th Anniversary

$8.99

Mega-Mondays

$4.99

Best Easy Puzzles Ever

$0.99

Bite-Size Minis

$8.99

Easy Jumbo Pack
App Store Description
The best crossword in the world is better than ever! Enjoy the same puzzles printed in the daily newspaper in the crossword app built by The New York Times.

Start playing with unlimited access to the daily puzzles for seven days. After that, subscribe for full access to The Crossword on iOS and at NYTimes.com.

PLAY ANYWHERE
The Crossword subscription gives you access to The Crossword in the app and on NYTimes.com. Just connect or create an account and play anywhere. Your puzzles will be available in the app and on the web.

DAILY PUZZLE
This is the same puzzle that's printed every day in The New York Times newspaper. Each daily puzzle is available the evening before at 10 p.m. E.T. (6 p.m. E.T. on weekends); enjoy Tuesday's puzzle on Monday at 10 p.m. Practice and learn how to solve the puzzle on Monday or Tuesday, or challenge yourself with even more challenging puzzles later in the week.

MINI PUZZLE
Mini Puzzles are short, sweet and available every day without a subscription! Get a quick crossword fix when you don't have time for a daily puzzle.

PUZZLE PACKS
Download these themed puzzles and add them to your collection. The first puzzle in each pack is free to try. Check back for new packs!

PAST PUZZLES
Subscribers can also play over 20 years of classic puzzles from our archives.

MODERN PUZZLE FEATURES
Solve puzzles with tricks like rebuses, related clues, checking, revealing and more!

Subscription options include an annual subscription at $39.99 per year and a monthly subscription at $6.99 per month. This amount will be charged to your iTunes account if purchased within the app. Your subscription will automatically renew at the end of its term unless you cancel it at least 24 hours before expiration. You can turn off auto-renew at any time from your iTunes account settings.

Questions? Suggestions? Issues? Please contact us at [email protected] or from within the app itself. Your feedback is important to us and we'll do our best to assist you.

Please note: A subscription to The New York Times Crossword does not include access to any other New York Times products, including but not limited to NYTimes.com or mobile news content, e-reader additions, Times Premier, NYT Now, or other apps on non-iOS devices. No cancellations are allowed during active subscription period.

Privacy Policy: http://www.nytimes.com/content/help/itunes/privacy-policy.html
Terms of Use: http://www.nytimes.com/content/help/itunes/terms-of-service.html