OBD Evolution makes your mobile device an analysis and diagnostic tool for your vehicle
OBD Evolution - OBD2 Scan & Diagnostics Tool
by Droge GmbH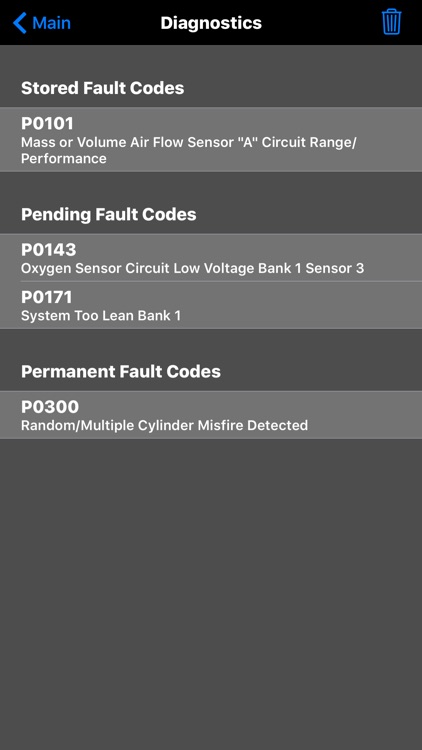 What is it about?
OBD Evolution makes your mobile device an analysis and diagnostic tool for your vehicle.
App Store Description
OBD Evolution makes your mobile device an analysis and diagnostic tool for your vehicle.

You are interested in more details about your vehicle than shown on the built-in dashboard? Then this is definitely the right app for you!

If your Malfunction Indicator Light is on and you want to know why, then this app can help you find the reason.

All Mode 1 PIDs of the SAE standard J1979 are supported - their values can be displayed in 382 different gauges, as long as the PIDs are supported by your vehicle.

Additionally, all emission relevant diagnostic trouble codes supported by your vehicle can be read out. For the OBD II trouble codes defined in SAE standard J2102 (currently 8,300), the standard description is displayed as well.

Please note:
- Your vehicle needs to be OBD II compliant
- An ELM327 compatible adapter is required:
1) Either Any Wi-Fi adapter or
2) A Bluetooth LE adapter from the following list:
- CACAGOO
- Carista
- Kiwi 3
- KKmoon Mini
- KONNWEI
- KUFUNG
- Ldex
- LELink
- TONWON
- Vgate iCar 2
- Vgate iCar Pro
- Viecar

-------------------------------------------

The gauges visualize accurate, comprehensive, and easily readable information.

So you need only a single gauge in order to show 9 or 10 (depending on fuel type) different Emissions Readiness values in plain text.

Additionally, existing Configuration Information PIDs are used which contain rescaling factors for some PIDs. As a consequence you get correctly rescaled values for ER, O2 sensor voltage / current, MAP, and MAF.

-------------------------------------------

Short connection and reconnection times:

The creation of a new vehicle profile (containing all OBD-II relevant information) typically takes between 10 and 30 seconds, depending on the parameters supported and the protocol used by the vehicle. In rare cases it might take up to one minute.

A vehicle with a profile already stored in the app typically connects in 5 to 10 seconds.

-------------------------------------------

Main functionalities:

Easy handling of multiple vehicles:
- New vehicle profiles are automatically created and stored
- Vehicles with stored profiles are recognized => no manual profile change needed

Intuitive handling of gauges:
- Create, modify, and delete gauges with few clicks
- Move gauges by simply touching and moving them, even beyond existing pages
- Resize gauges by touching them and performing standard pinch movements
- Let the app create and delete dashboard pages automatically

Emissions testing:
- Clear malfunction indicator light, diagnostic trouble codes, and emissions readiness values

DTC database check:
- Enter a diagnostic trouble code and get the description

Map View:
- Follow your current trip with a colored track, showing your GPS speed
- Examine your former trips, recorded from release 1.6.0
- See the location of all your vehicles connected since release 1.5.3
- Choose between three different map types

Voice control:
- Navigate through several menus
- Change some settings
- Read and clear error codes and emissions readiness values
- Change pages in Dashboard
without releasing the steering wheel!

Appearances
- Select a photo as a background image for the dashboard
- Select different background images for square shaped and/or round gauges
- Change colors and some sizes like pointer length/width

Complete coverage of standardized Mode 1 PIDs - support of sensors like (extract):
- Turbocharger
- Charge Air Cooler Temperature
- Exhaust System
- Particulate Filter
- Engine Run Time
- NOx Sensor Data
- NOx Sensor Corrected Data
- NOx Reagent System Data
- Particulate Matter Sensor Data
- SCR Inducement System State
- Evap System Vapor Pressure
- Transmission Actual Gear
- Diesel Exhaust Fluid Dosing
- Vehicle Odometer

-------------------------------------------

Comments, questions, or suggestions are always welcome!
Simply mail us at [email protected]!