The app that brings you handpicked quality matches everyday.
Once - Quality dating
by Once Dating AG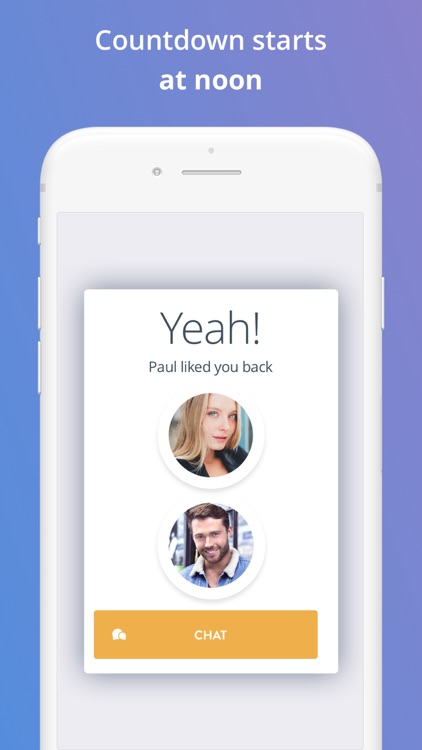 What is it about?
Once is the only dating app that brings you quality matches everyday, and this is thanks to our matchmakers, our love experts. If you want to be adventurous, why don't you become your own matchmaker? Yes, you can pick your own rendez-vous for the next day. Because you do not have to swipe through thousands of profiles, you can focus on only the high quality matches we send you everyday, giving you the time to find the one right for you.
For those who...
Want to find the perfect match without investing all of their time
Why we love it
Once is all about simplicity and ideal for anyone who lives a busy lifestyle.
Once - Quality dating is FREE but there are more add-ons
$4.99

Buy 5 Crowns

$9.99

Once Infinite - Sales

$8.99

Buy 5 Crowns

$5.99

Buy 5 Crowns

$17.99

Buy 15 Crowns

$10.99

Buy 5 Crowns

$9.99

Buy 5 Crowns

$14.99

Buy 15 Crowns

$24.99

Buy 30 Crowns

$26.99

Buy 30 Crowns
App Store Description
Once – the only dating app that brings you handpicked quality matches everyday.
Tired of swiping endlessly without finding that special someone? Trust our matchmakers to find THE one for you. Once brings back some magic to the online dating world as it is all about quality over quantity. How? Everyday at noon you get matches that are specifically picked for you by our matchmakers and you have 24 hours to decide if you want to give it a go – 24 hours of full attention, yes my friend.

Once is a free dating app, hurry up, try it out!

Handpicked matches for you –

Once is the only dating app that brings you quality matches everyday, and this is thanks to our matchmakers – our love experts. If you want to be adventurous, why don't YOU become your own matchmaker? Yes, you can pick your own rendez-vous for the next day. How cool is that?

Get their full attention for a day -

With Once, you get 24 hours of attention from matches chosen specifically for you. Because you do not have to swipe through thousands of profiles, you can focus on only the high quality matches we send you everyday - giving you the time to find the one right for you. We said this is serious dating....believe us now?

No waste of time –

Want to meet someone, flirt, love, but don't have time for it? Don't worry - our matchmakers take care of everything! Checking your match of the day will only take a minute.

Once is the only dating app that listens to your heart –

Because only your heart truly knows what you want, use your FitBit to measure your heart rate when looking at your match of the day. It will tell you if you really like him or her! Your heart never lies!

They talked about us and loved it:

The BBC "While other apps focus on providing you with a wide choice of singles, Once strives to provide quality over quantity"

Time Out: "Once is all about simplicity and ideal for the busy Londoner in all of us."

Mashable: "This new dating app returns to old school human matchmaking."

Tech Crunch: "Dating app Once uses your heart rate to help you find love."

The Guardian: "Tinder isn't the only app in town for dating"

*** Auto-renewable Subscriptions ***

The app now offers auto-renewable subscriptions. Subscribing to our VIP offer will provide

- 3 more matches per day
- Better matches
- Unblurred chat requests
- Max matching distance
- Access to the list of people who like you

You can subscribe for 1 month, 3 months and 6 months at $19.49/month for 1 month, $43.99 for 3 months or $58.99 for 6 months

Terms of the subscriptions are here:
https://getonce.com/en/terms?pricing=1-$19.49,3-$43.99,6-$58.99#appstore

Privacy: https://getonce.com/en/terms#privacy

General terms and conditions: https://getonce.com/en/terms#terms