When you need to track your period and calculate ovulation
Ovia Fertility Period Tracker
by Ovuline, Inc.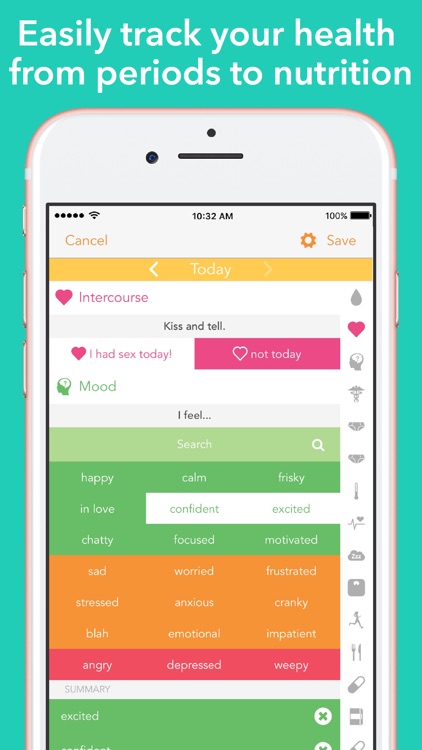 FREE

in the App Store
Ovia Fertility is a comprehensive all-in-one app for any woman who cares about their menstrual cycle.
Total control of your cycle. Ovia Fertility is a powerful app that gives women full control over their cycles. The overview gives you a general glance of how your reproductive health is, and you can see when your next period will hit thanks to the accurate prediction algorithm. Log your activity for the day, which includes things like how heavy your flow is, how you feel emotionally, what exercise you've done, and more. Once the app knows how your lifestyle is, it gets better at giving you accurate predictions of your cycle.
Easy to set up. While Ovia Fertility is a powerful and comprehensive tracker for your menstrual cycle, it is pretty simple to set up. Just answer a few questions, pick out the dates of your last period, and the app will get to work. Nothing too complicated, right?
What is it about?
When you want to not only keep track of your period, but make sure you know when you're the most fertile to have a baby, then Ovia Fertility is the app for you. This comprehensive women's health app lets you input your data so that the algorithm can get to work and give you accurate predictions of your next period and fertile ovulation windows. In addition to being a tracker, the app also provides women with useful and helpful articles regarding fertility and conception, and you can also share your data with your partner and export to an Excel spreadsheet. And if you're worried about prying eyes, the app can be protected by a PIN number. If you're in the market for a powerful and comprehensive female health tracking package, then Ovia Fertility is one of the best apps you can download.
For those who...
Want a comprehensive app that not only tracks periods but fertility as well
Want a sleek looking app that isn't just pink and girly
Not for those who...
Don't need to track fertility
Are fine with tracking their periods manually in a regular calendar
Why we love it
Ovia Fertility is a powerful period and fertility tracker that gives us accurate predictions so we are not caught by surprise anymore. It is also very helpful for women who are planning on getting pregnant thanks to the fertility window information that it gives.
Ovia Fertility Period Tracker is FREE but there are more add-ons
$0.99

Ovia Vivid

$19.99

Expert Advice - 1 question

$49.99

Expert Advice - Unlimited questions
App Store Description
*** Track your cycle | Get pregnant 3x faster! ***

Track your period, ovulation, symptoms, moods, and so much more in one beautiful app!

Ovia Fertility is the most trusted and accurate fertility app. With customized ovulation predictions based on your unique cycle, Ovia Fertility makes it fun and easy to manage your health and achieve your goals.

How? When you log your data, our proprietary algorithm will help you track your cycle and predict your exact ovulation dates and fertile window, even if you have irregular periods!

If you're ready to get pregnant, Ovia Fertility helps women conceive 3x faster than the national average, with over 2,000,000 pregnancies reported!

ESSENTIAL TOOLS & FEATURES
◆ Ovulation calculator and calendar
◆ Period tracker
◆ 2000+ articles and tips on fertility, conception, and reproductive health
◆ Data-driven predictions of fertility and ovulation
◆ Non-TTC mode for women not trying to conceive
◆ Community: ask and answer questions anonymously
◆ Option to export data to Excel
◆ Personalized background with various colorful themes

COMPREHENSIVE HEALTH TRACKER
°°° Period and cycle
°°° Moods and physical symptoms
°°° Intercourse
°°° Nutrition and weight
°°° Activity and exercise
°°° Sleep
°°° Ovulation and pregnancy tests
°°° Cervical fluid
°°° Medications
°°° Blood pressure
°°° Basal body temperature (BBT)

CUSTOMIZABLE FOR YOUR UNIQUE LIFESTYLE
◆ Receive support for irregular periods
◆ Share data and sync your calendar with your partner
◆ Receive detailed health summaries and statistics
◆ Use Apple Health integration to share weight, steps, blood pressure, and body temperature data
◆ Sync your FitBit, Jawbone, and Nokia fitness tracking devices
◆ Back up your data securely in iCloud
◆ Protect your app with a PIN number
◆ Take the health assessment to unlock more tips & tools

LOVE FROM OUR USERS
◆ "It has everything! Absolutely everything!! From moods to cramps to what your period and spotting looks like to when you have sex. It's like having a best friend in your pocket."

◆ "With an irregular cycle, it's been extremely hard for me to track my fertility, but with Ovia Fertility, I love that MY data is being processed for ME."

◆ "BFP this morning! Conceived on cycle with Ovia after trouble for two years more or less. I honestly never thought I would have so much fun tracking my data, this has been a very enjoyable experience to conclude a very difficult time."

**OVIA HEALTH**
Ovia Health uses data science and your daily information to deliver personalized plans, milestones, and immediate alerts for health risks. It's made available through insurers and employers worldwide who share our goals of helping women monitor their reproductive health and start families with confidence. If we partner with your employer or insurer (and you identify them in the app), you'll have access to an expanded set of tools and features!

THE HISTORY & SCIENCE BEHIND OVIA HEALTH
Ovia Health is a digital health company that uses mobile technology to help women and families live healthier lives. The Ovia Health apps have helped millions of women and families on their fertility, pregnancy, and parenting journeys. With billions of data points collected and analyzed, Ovia Health uses data-driven science to help women conceive up to 3x faster than the national average, have healthier pregnancies, and start families with confidence.

STAY IN TOUCH
Blog: http://blog.oviahealth.com
Facebook: http://www.facebook.com/oviahealth
Instagram: @oviahealth
Twitter: @oviahealth

CUSTOMER SERVICE
At Ovia Health, we're always working to improve your experience with our products. Have an idea for Ovia? Let us know! Email us at [email protected]