Speak French like a pro
Oxford French Dictionary 2017
by MobiSystems, Inc.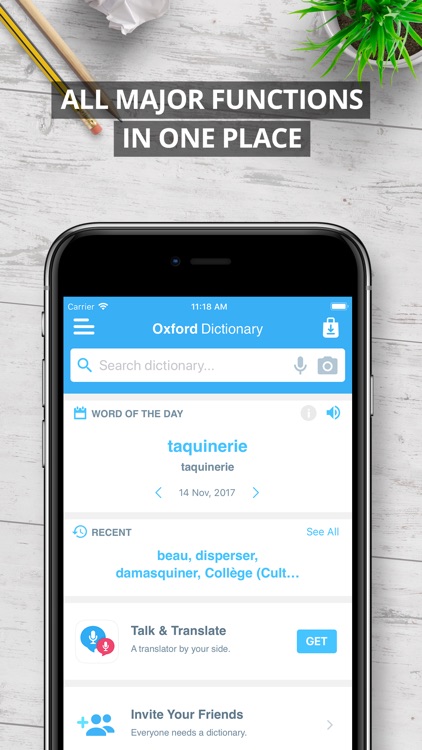 FREE

in the App Store
This app makes it easy to translate French words into English and vice versa. Never be lost again while you're in France.
Search easily. You can effortlessly find words using a clear, functional, and easy-to-use interface. The integrated search tools activate automatically the moment you start typing: Search autocomplete helps find words quickly by displaying predictions as you type.
Learn easily. Learning tools helps you further enhance your vocabulary: 'Favorites' feature to create custom folders with lists of words from the extensive library. 'Recent' list to help you easily review looked-up words. 'Word of the day' section to help expand your vocabulary every day.
What is it about?
French is a beautiful and stunning language, but mastering it can be hard. With this app, it's easy to look up a word you want to know how to say in French and translate it to English, and vice versa.
Why we love it
French is a nice language to learn and can be very useful. This app makes it easy to translate what you need to French and vice versa to English.
Oxford French Dictionary 2017 is FREE but there are more add-ons
$19.99

Oxford French Dictionary Free IAP

$9.99

OFDFree_50

$11.99

OFDFree_40
App Store Description
WHAT MAKES OXFORD DICTIONARY OF FRENCH BETTER THAN OTHER DICTIONARIES?
 • The very latest vocabulary, with over 320,000 words, phrases and meanings
 • With tens of thousands of regionally specific entries The Oxford Dictionary of French reflects the unique richness and global adaptability of French.
 • 75,000 audio pronunciations of both common and rare words, including those with varying pronunciations (Premium only)
 • NEW! With the addition of a convenient Home page, a sleeker and more intuitive visual layout, as well as innovations in the speed of searches you can delve right into the intricacies of French faster and easier than ever!
 • NEW! Translate and learn as you speak by using Talk & Translate– A speech recognition and text-to-speech app separate from this dictionary, which you can download for Free from the App Store. Whether you're travelling or simply want to optimize your study of French, the great synergy between the two apps will be there to help you.

Tailored to professionals, students, and academics, as well as anyone who needs a comprehensive and authoritative dictionary of current French at work or at home.

SEARCH TOOLS - effortlessly find words thanks to a clear, functional, and easy-to-use interface.
Designed to provide the most comprehensive search experience the dictionary combines several search tools to match or suggest what you are looking for, including:
 • Search autocomplete helps you find words quickly by displaying predictions as you type
 • Keyword lookup allows you to search within compound words and phrases
 • Looking for a specific word but don't know how it's spelled? We've got you covered with our automatic 'Fuzzy filter' to correct word spelling, as well as 'Wild card' ('*' or '?') to replace a letter or entire parts of a word
 • Camera search looks up words in the camera viewfinder and displays results in seconds.
 • Use our Voice search when you don't know how an entry is spelled
 • Share word definitions via installed apps on your device
• Swipe-to-delete functionality in the Recent and Favorites menus.

LEARNING TOOLS - engaging features that help you further enhance your vocabulary.
 • Designed to give you the freedom to structure your studies the way you see fit the 'Favorites' option allows you to create custom folders with lists of words from the vast library of entries.
 • 'Recent' list to easily review looked-up words
 • Learn a new word every day with our 'Word of the day' option.

Get even more with PREMIUM:
 • Audio pronunciation - Learn words faster by listening to how they're pronounced
 • Offline mode - No WiFi, no problem. Save words on your device to be viewed without the need of an internet connection
 • Priority support - Get expedited support for any app-related issues
 • No ads - no more in-app advertisements