Little ones can enjoy coloring and watching their creations in action.
Papumba Kids Coloring World
by Papumba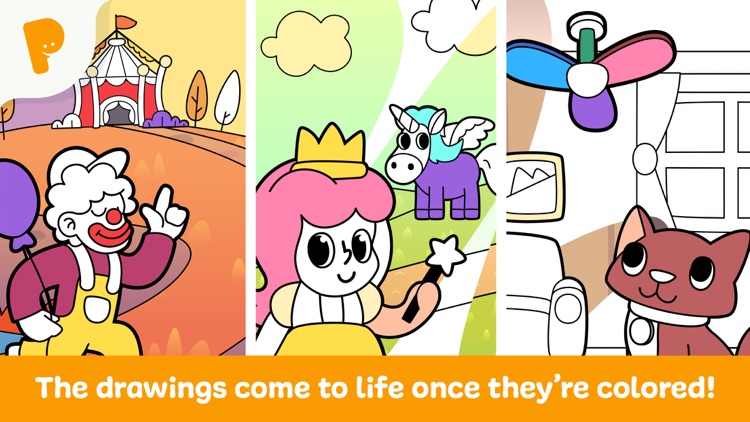 $2.99

in the App Store
Kids Coloring World offers a variety of objects and people to color, several coloring tools, and lively animations when the drawings are complete.
Lots to color. Just use the slider across the bottom to check out all of the coloring options. You can pick any of the items to color and even change them later if you like. From a house to a truck to a tree to a farmer, there are plenty of items to color.
Fun coloring tools. There is a variety of coloring tools to make something silly, fun, or just unique. Choose from crayons, paint brushes, sprays, sparkles, and patterns. Just tap the arrow to move up and down through the color and shade options.
Create a cool picture. Once you pick an object or person to color, the real fun begins. The app does not have a tap-to-fill option, so coloring is more realistic. Just move your finger around to fill in the space and see your awesome picture in progress.
Watch it all come alive. When your masterpiece is complete, just tap OK and watch it all come to life. From falling fruit to dancing lamp posts, it is great fun to see those colored creations in action.
What is it about?
Kids Coloring World is a very enjoyable app for your children. They will not only have fun creating their works of art, but also watching them come alive. For parents, the app also provides interesting stats for you to view. See how long your kids played, how much time they spent on each drawing, how many pictures they completed, and more.
For those who...
Have children that love to color
Are adults who enjoy coloring apps for kids
Not for those who...
Do not have children that like to color
Prefer their kids use physical coloring books
Why we love it
When it is time for your little ones to color, a new app called Kids Coloring World brings their masterpieces to life. The app has a variety of coloring tools, objects and people to color, and is super easy and fun.
Papumba Kids Coloring World is $2.99 but there are more add-ons
$5.99

Premium pack

$3.99

Super Offer

$1.99

House
App Store Description
** Featured in New Apps We Love - App Store **

Expand your child's creativity with Kids Coloring World, a beautifully illustrated, animated coloring book that comes to life with your child's imagination!

Your child will make creations come alive by exploring seven immersive worlds with lovingly drawn characters and scenes that teach them about the world around them (ranging from city life to farms and parks). Only your little one's coloring can unlock the animations behind these engaging scenes!

Intuitive and deceptively simple, this unique, sophisticated app is a great way to let kids explore colors, patterns, and textures in open-ended ways that are sure to bring them back to this fun, relaxed, and creative virtual world! Children will hone their fine motor skills—without even realizing it—in this stress-free, relaxing experience. Perfect for little kids ages 3-5 (but we warn you that the older kids—or even parents—will want a turn too!).

Features:
- Explore with open-ended creativity as you watch your kids' creations come to life before your eyes.
- Engage with illustrations and scenes lovingly drawn and animated by talented illustrators.
- Use crayons, brushes, sprays, and sparkles and patterns to bring life and color to each drawing for endless possibilities.
- Parents can view and share a portfolio of your kids' drawings, as well as other cool features that we implemented as a result of parent feedback.
- Designed for kids ages 3-5 (but older kids and even you might want to take a turn too!).
- Choose from 15 languages, including: English, Spanish, German, Portuguese and more!
- Ad-free experience that kids can explore at their own pace (no time limits or pressure).

Download Kids Coloring World now to let your child exercise boundless imagination and open-ended creativity through this animated world of art and color!

We love hearing from parents and kids (our biggest fans)! Do you have any ideas for new characters or features for our app? If so, please let us know!

Website: www.papumba.com
Email: [email protected]
Follow us on Facebook: https://www.facebook.com/papumbagames