"Parakeets" is used by over 400,000 parakeet owners
Parakeets
by Michael Andrei Trimm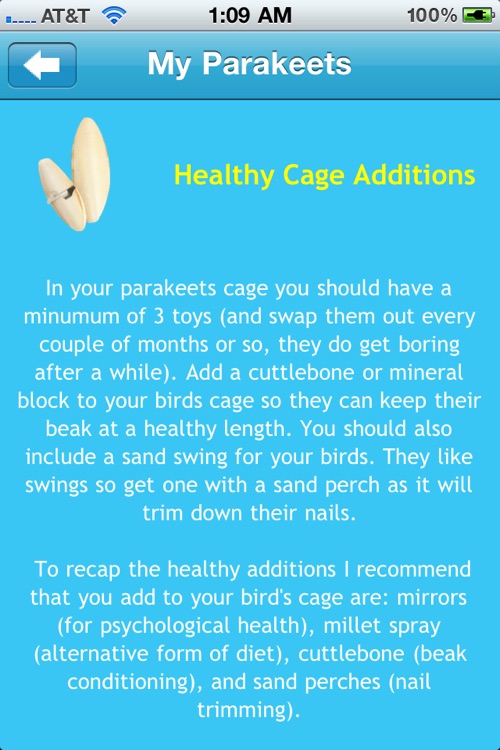 What is it about?
"Parakeets" is used by over 400,000 parakeet owners! Thanks everybody for downloading and enjoying 'Parakeets'!
Parakeets is $0.99 but there are more add-ons
App Store Description
"Parakeets" is used by over 400,000 parakeet owners! Thanks everybody for downloading and enjoying 'Parakeets'!

Parakeets' "Pro-Care" in-app purchase will be $2.99 from now on (from $4.99) to help alleviate costs to our customers. Don't worry, the app works great without it and your Parakeet will love you for downloading it. Read our reviews and see for yourself. Parakeets will make your new best friend's life incredible!

Status update for Parakeets 2: New features to include "parakeet songs", 20 new pro-care articles (totally re-written), German language support, iPhone 5 support, iPad support, brand new interface, background sounds (so you can multitask and entertain your birds), "parakeets social" (share your stories, pictures, and videos of your birds for other members on Parakeets). The app update will be free and available mid 2013.

If you have a parakeet, download this app now and open it. Your parakeet will love you because they are very social birds. When they hear other parakeets they go nuts and become wicked happy. This app has parakeet sounds that your bird will love!

1. Download and open this app; and put it in the same room as your bird. The background music of my two parakeets happily chirping will make your birds day!

2. Special profiles of my two birds and how I got them. Their names are Lilly and Alvin

3. Watch a video of the birds exceptionally happy and chirping. This will also excite your bird too!

4. 17 Premiere write-ups that will teach you my tips and tricks that I use with my parakeets. My birds are awfully happy as a result of the care I give them. I have seen other parakeets who haven't received this care and they are distinctly less happy. Check out the articles for $4.99 (in-app purchase) and start making those adjustments with your bird, they'll be much healthier and happier with the changes.
- 1. Keeping Your Bird Clean
- 2. Prevent INSTANT death!
- 3. How They Keep Themselves Clean
- 4. Parakeet Diet/Food
- 5. Parakeet Treats
- 6. Parakeet Homes
- 7. Healthy Cage Additions
- 8. Sleeping Habits
- 9. Keeping Your Parakeet Amused
- 10. Get Your Parakeet To Talk
- 11. Parakeets In The Car
- 12. Stop Parakeets From Biting
- 13. Stop Your Parakeet From Freaking Out When You Stick Your Hand In Their Cage
- 14. When Your Parakeet Is Bad
- 15. What She's Telling You...
- 16. How Many Parakeets To Get
- 17. Fighting Parakeets

5. Check out a special collection of YouTube videos that I hand picked!


Download this FREE app today and start living the life with your Parakeet. They are great pets to have. If you are serious about your Parakeet, buy the 'care' section and enjoy the articles I wrote for you. Let me know what you think in the comments (and don't forget to rate this app when you buy it).

- Pro Care section provides as-is information, use at own digression and risk.

FYI - If your bird bites you. It's scared of you. They are living being - they have to warm up to you. It's like if a Giant started playing classical music to you and then started stoking you. You'd try to get away. Before you go and post a bad review about common sense, think for a moment and question yourself.
Disclaimer:
AppAdvice does not own this application and only provides images and links contained in the iTunes Search API, to help our users find the best apps to download. If you are the developer of this app and would like your information removed, please send a request to
[email protected]
and your information will be removed.