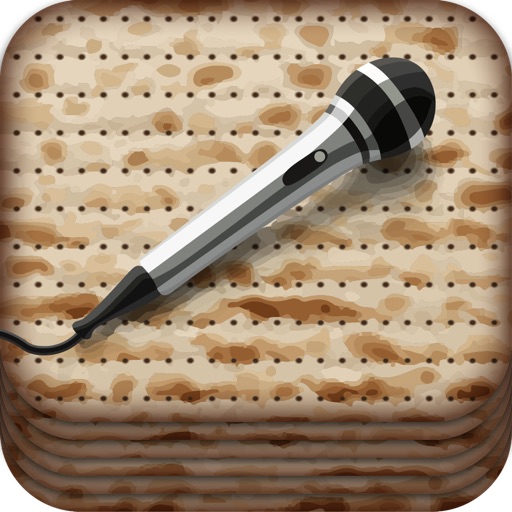 Description in:english - עברית - français - русский - español

Passover Karaoke
by alon ecker
What is it about?
Description in:english - עברית - français - русский - español
App Store Description
Description in:english - עברית - français - русский - español


english
----------
--- Great app for kids to enjoy learning all the passover songs ---

- All the melodies -

- All the words -

- Vocals included !!! -



- Get your cameras ready:

The kids won't stop singing at the Seder,

Grandma and grandpa won't stop smiling with pleasure!



- Don't worry,

This year there is no need to invent new tunes to the good old familiar songs!


-- חג שמח :) --


- And...your sister in law, bless her, will die of envy when she sees your little genius singing like a king!



- In case of emergency during the Seder, you can always use the app as PLAYBACK for unknown songs :)





עברית
----------
--- אפליקציה לילדים ללימוד חוויתי של כל שירי ליל הסדר ---

- כל הלחנים -

- כל השירים -

- כולל השירה !!! -




- תכינו את המצלמות:

הילד לא יפסיק לשיר בליל הסדר,

וסבא וסבתא יחייכו מאוזן לאוזן מרוב נחת !



- ואל תדאגו,

השנה, כבר לא צריך להמציא מנגינות חדשות לשירים הישנים והטובים !


-- חג שמח :) --


- ו....גיסתך שתחיה, תמות מקנאה כשהיא תראה את הגאון הקטן שלך שר כמו מלך !


- כל שיר מגיע עם המאפיינים הבאים:
- מילות השיר
- הלחן
- שירה - זמר ששר את השיר

- שני ערוצי שמע (אודיו) מופרדים:
- נגינת הפסנתר
- שירת הזמר


- ולמקרה הצורך, תמיד אפשר להשתמש באפליקציה כ-פלייבק חרום במהלך הסדר :)




français
----------
--- Application d'apprentissage ludique des chansons de Pessah pour les enfants ---

- Toutes les musiques -

- Les mots -

- Voix inclus !!! -




- Préparez les caméras:

Votre enfant n'arrêtera plus de chanter pendant toute la soirée du Seder,

Et c'est le sourire de bonheur des grands-parents qui ne leur descendra pas des lèvres!



- Ne vous inquiétez pas,

Cette année, plus besoin d'inventer de nouvelles mélodies aux bonnes vieilles chansons!



-- חג שמח :) --



- Et… votre belle-sœur sera bleue de jalousie en voyant votre petit génie chanter comme un roi!



- Et si besoin,

vous pouvez toujours utiliser l'application comme PLAYBACK d'urgence pendant le Séder !




русский
----------
--- Практическое приложение для обучения детей всех песен Пасхи ---

- Все мелодии -

- все слова -

- Включая поэзию !!! -



- Подготовте камеры

Дети не перестану петь Седер,

И бабушки и дедушки будут улыбаться от уха до уха с удовольствием!




- Не волнуйтесь,

В этом году, больше не придется придумывать новые мелодии для старых добрых песень!

-- С праздником :) --


- включает:

2 разделенных звуковых каналов: музыка и вокал



español
----------
--- Aplicación de aprendizaje experiencial para enseñar a los niños las canciones de Pesaj ---


- Todas las melodías -

- Todas las letras -

- Incluyendo el canto !!! -



- Preparad las cámaras fotográficas:

el niño no parará de cantar durante todo el Seder,

¡y los abuelos no dejarán de sonreír de oreja a oreja de tanto placer !


- No os preocupéis,

¡Este año ya no será necesario inventar nuevas melodías para las buenas viejas canciones!



- Y... tu cuñada,

que Dios le de larga vida, ¡se morirá de envidia cuando vea cómo tu pequeño genio canta todas las canciones como un Rey !

-- חג שמח :) --
Disclaimer:
AppAdvice does not own this application and only provides images and links contained in the iTunes Search API, to help our users find the best apps to download. If you are the developer of this app and would like your information removed, please send a request to
[email protected]
and your information will be removed.