Pro Evolution Soccer returns for 2017.
PES 2017 -PRO EVOLUTION SOCCER-
by KONAMI
watch trailer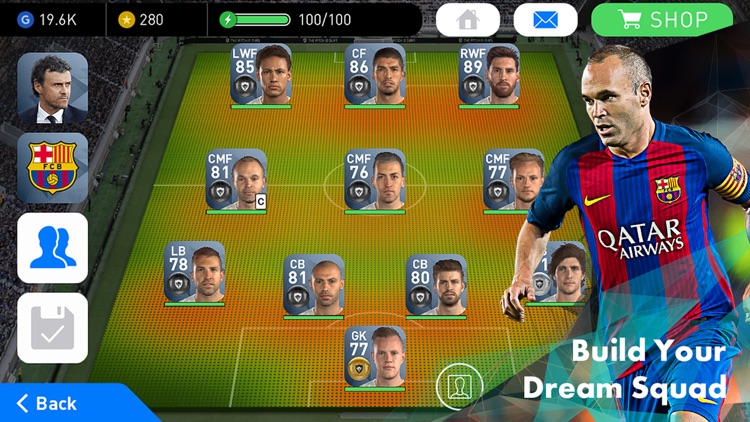 FREE

in the App Store
Pro Evolution Soccer returns for 2017 with all new graphics, simplified touch controls, and new game modes. The major emphasis of the game is to build your own team, like "Ultimate Team" mode in Fifa. Sadly, PES doesn't let you choose your favorite team with the current roster, and play the season.
What is it about?
Experience the latest entry in the PRO EVOLUTION SOCCER series on your Mobile Device! Featuring official partnerships with club giants FC BARCELONA, LIVERPOOL FC, BORUSSIA DORTMUND, and official licenses with top teams and players from Europe, Latin America and Asia!
PES 2017 is FREE but there are more add-ons
$2.99

300 myClub Coins

$0.99

100 myClub Coins

$9.99

1,050 myClub Coins

$19.99

2,150 myClub Coins

$29.99

3,300 myClub Coins

$99.99

12,000 myClub Coins

$49.99

5,800 myClub Coins
App Store Description
Experience the latest entry in the PRO EVOLUTION SOCCER series on your Mobile Device! Featuring official partnerships with club giants FC BARCELONA, LIVERPOOL FC, BORUSSIA DORTMUND, and official licenses with top teams and players from Europe, Latin America and Asia!

PES 2017 Has Gone Mobile!

THE PES 2017 MOBILE EXPERIENCE
Take total control of every action on the field in a way that only the PRO EVOLUTION SOCCER franchise can deliver!
Natural player movements, precision passing, and in-depth tactics bring the true experience of the beautiful game to your mobile device!

SWIPE TO PASS! TAP TO SHOOT!
Controller actions have been optimized to make playing on your mobile device feel as smooth and exciting as a PES action game should! Utilize PES "Advanced" controls for precise passing and controlled shooting. "Classic" virtual pad controls are also available.
Master your technique and feel the excitement of scoring the winning goal in the ultimate action soccer game!

OFFICIAL CLUB PARTNERSHIPS
Scout and recruit thousands of soccer stars from the best teams in Europe, South America, and Asia.
Prepare to feel what it takes to play with or against stars like Lionel Messi, Neymar, Luis Suarez, Andres Iniesta, and Gerard Pique.

THE OFFICIAL "UEFA CHAMPIONS LEAGUE"!
Experience official visuals from the "UEFA Champions League" as you compete against the top teams in Europe.

BUILD YOUR WINNING ELEVEN TEAM
Acquire players through Scouts, Agents, or the Scout Auction.
Choose the best players to fit your unique tactics (e.g. Giroud has excellent physicality and Ozil excellent balance)
Every player is unique and every match is a new experience!

PLAY VS IN REALTIME PVP!
Challenge Friends in "Local Match" or discover new rivals in "Online Match" mode. PES 2017 mobile now lets you play PES on-the-go, anytime and anywhere.


[Download Notes]
Wi-Fi or PC/Mac version iTunes are required for downloading "PES/Winning Eleven 2017."
*3G・LTE is not supported.
*The same condition is applied for the App update.

[System Requirements]
This app is an online game. Please enjoy the game with stable internet connection.

[Title Display]
If you select Japanese in the language settings of the game application, "Winning Eleven 2017" will be displayed. If you select a language other than Japanese, "PES2017 -PRO EVOLUTION SOCCER-" will be displayed.

[In-app Products]
This game application is a free to play but note that you can purchase paid items additionally.

100 myClub Coins
300 myClub Coins
1,050 myClub Coins (1,000 paid myClub Coins + 50 free myClub Coins)
2,150 myClub Coins (2,000 paid myClub Coins + 150 free myClub Coins)
3,300 myClub Coins (3,000 paid myClub Coins + 300 free myClub Coins)
5,800 myClub Coins (5,000 paid myClub Coins + 800 free myClub Coins)
12,000 myClub Coins (10,000 paid myClub Coins + 2,000 free myClub Coins)