Get some much needed rest
Pillow: Smart sleep tracking
by Neybox Digital Ltd.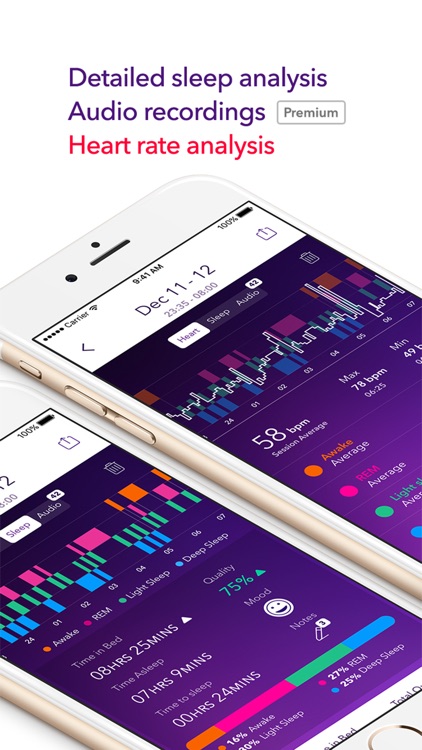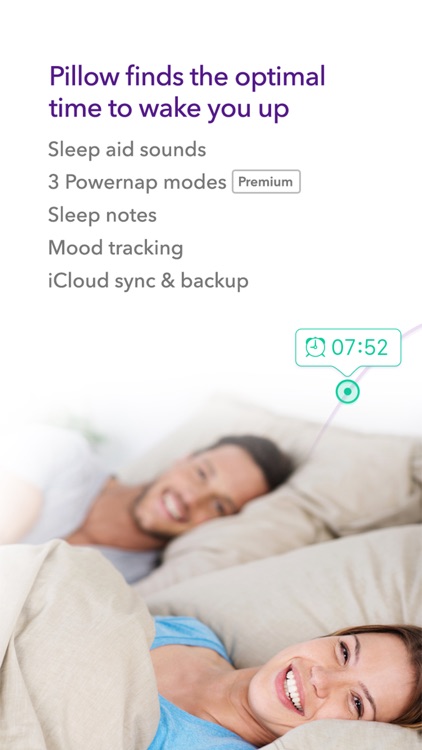 FREE

in the App Store
Pillow is a gorgeous app that has an advanced tracking algorithm for accurate results. You'll get detailed statistics and analysis of your sleep patterns, and even recommendations and tips on how to improve.
What is it about?
Pillow features a beautiful design and it makes sleep tracking rather interesting. They claim to have the most advanced algorithm for sleep tracking, which should provide you with some of the most accurate results yet. Over time, you will gain valuable insight into your sleeping habits and patterns, since Pillow will provide you with detailed statistics. The app even records sounds while you sleep, in case you've ever wondered if you snore or talk in your sleep. There is also support for analyzing short naps and sleep sessions, so it's not just a full night's rest. You can use the app's alarm clock feature to also wake up in the best phase of your sleep, which leads to more restful mornings. If you want basic sleep tracking, then the initial download should have you covered, but more features are unlocked through the Premium upgrade.
For those who...
Want the best sleep tracking algorithm and statistics.
Prefer beautiful apps.
Not for those who...
Don't care about how the app looks.
Just want basic tracking.
Why we love it
It's gorgeous and packs in a ton of features for a reasonable price.
Pillow is FREE but there are more add-ons
App Store Description
Pillow is an advanced sleep tracking alarm clock that can effortlessly measure and track your sleep quality. Wake up refreshed and learn more about the benefits of great sleep.

Included in Best New Health & Fitness apps on the App Store.
Featured in The New York Times, The Washington Post, CTV Canada AM, The Guardian, The Hindu and many more.

APPLE WATCH SUPPORT
- You can now track you sleep using your Apple Watch.
- View last night's report right on your Apple Watch, along with the heart rate analysis for the night.

INTEGRATION WITH APPLE'S HEALTH APP
- Automatically adds your sleep duration to the Health app after each sleep session
- Visualise inside the app how your sleep quality is affected by a variety of health and fitness metrics including weight, heart rate, blood pressure, caffeine and alcohol consumption, dietary calories and Nike Fuel activity. [Premium Feature]

TRACK YOUR SLEEP QUALITY WITH ACCURACY
- Advanced sleep analysis algorithm, based on the latest scientific findings in sleep research.
- Accurate sleep tracking algorithm that detects both motion and sound patterns.
- Detailed sleep stage diagram (Awake, REM, Light Sleep, Deep Sleep) and sleep session statistics.
- Heart rate analysis for each sleep session (requires connection with Apple Health)
- Detects and analyses naps and short sleeping sessions.
- No calibration required.

SOUND RECORDINGS
- Records sounds during your sleep.
- Play, export or delete any audio recording. [Premium feature]
- Smart audio recording algorithm, discards noise.

OPTIMAL WAKE UP TIME
- Pillow monitors your sleep cycles and selects the best possible time to wake you up, just a few minutes before the alarm you have setup.
- Adjustable time window for the smart wake up period.

SNOOZE LAB [Premium Feature]
- Personalized experiments & recommendations.
- Constantly updated with the latest scientific research and sleep related facts.
- Achievements to keep you motivated.

BEAUTIFUL & EASY TO USE UI
- Beautifully animated, intuitive gesture based interfaced
- Clean iOS8 inspired design.
- Easy to access help screens and video guide.

DETAILED SLEEP HISTORY TRACKING [Premium feature]
- Explore your sleep history with Week,Month,Year and All Time overviews.
- Data integration with Apple's Health
- M7 & Runkeeper activity data integration: View your physical activity in comparison to your sleep quality.
- Discover your sleep profile.

DATA BACKUP & SYNC
- iCloud support: Pillow uses iCloud to safely backup your sleep data and audio recordings.
- Sync your sleep data and audio recordings between your devices.
- Connect to your Runkeeper account to automatically update your sleep data and share it with other apps.
- Export your database to .csv format.

5 SLEEP TRACKING MODES
- Switch between any combination of app functionality:
Sleep cycles, Audio recordings and Alarm.

3 POWERNAP MODES [Premium feature]
- Select between power, recovery and full cycle nap

MOOD REPORTING
- Easily enter your mood after each sleep session and see how it relates to your sleep quality

SLEEP NOTES
- Add your personal notes to every sleep session

SLEEP AID MELODIES AND WAKE UP SOUNDS
- Carefully selected wake up sounds.
- Select any song from your iTunes library to use as wake up sound. [Premium feature]
- Sleep aid melodies and ambient soundscapes to help you fall asleep.
- Optional vibration settings.

2 ALARM DEACTIVATION MODES
- Press and hold to stop
- Shake the device for a short period.

3D Touch support
- Quick start an alarm
- Quick start a nap
- View your the diagram of your last recorded sleep session

PREMIUM VERSION (available as an in-app purchase) unlocks the following features:
- Detailed sleep statistics
- Unlimited history
- Full access to sound recordings
- Powernap modes
- Access to all wake-up melodies
- Access to all sleep aid programs
- Snooze lab: Personalised sleep tips
- Wakeup melodies from your iTunes library

Web: http://www.neybox.com/pillow
Twitter: @neyboxhq